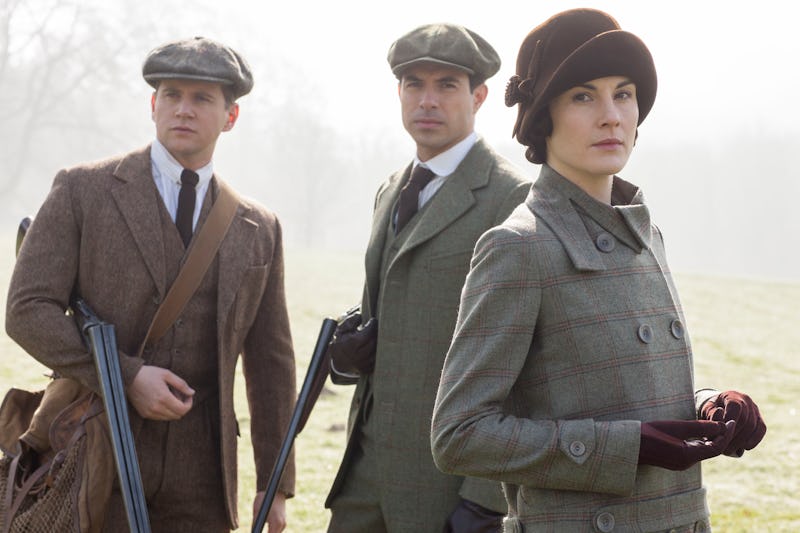 I'm one of those weird people that plays by the rules and isn't pirating Season 5 of Downton Abbey from the UK (I think that Mr. Carson would approve). Of course, I'm quite anxious to see how Lady Mary's love triangle with Lord Gillingham and Charles Blake pans out, but based on the Downton Abbey Season 5 trailer, we will be seeing more than just Lady Mary getting romanced. Fans in the US won't be getting to see who Lady Mary will chose until January (it's not as far as it sounds!), so we may as well gossip about her — and everyone else at Downton — while we wait.
Avoiding spoilers for the show is harder than farming pigs, but I'm trying my darndest and only focusing on the glorious minute that the Season 5 trailer offers us poor Americans. Besides Carson's fears of the future, the Dowager Countess's sassiness, and Daisy complaints about working in the kitchen (so business as usual), we see that there will be a fire and perhaps Edith's secret child being exposed. But I'm most excited for all of the romantic encounters that the trailer also teased. It looks like we are bound for some prim and proper scandal — the kind that only Downton Abbey can offer.
So, let's check out the potential couples that Season 5 of Downton may show us.
Mary Will Choose Gillingham — or Blake
I'll admit Lord Gillingham is easy on the eyes, but I'm Team Blake all the way. He is more grounded like Matthew (RIP) and Gillingham has just been too creepily devoted to Mary (and the last thing she needs is a bigger ego). But the trailer does not make me feel confident that she'll choose Charles Blake as it showed Gillingham having a "scandalous suggestion" and going in for a kiss. I'm hoping this is one big red herring — Mary doesn't need to settle down with either of them just yet, so she can have her fun, but she better ultimately choose Blake in the end.
Tom Is Most Likely Still with Sarah
The preview shows Tom Branson giving a kiss to someone in the rain, who is more likely than not Sarah Bunting — the school teacher he started seeing in Season 4. Actress Daisy Lewis is definitely in Season 5 (although she will be moving to America, which may mean she'll be off the show after this season). But Tom deserves some happiness after the death of Sybil (RIP), so perhaps a Downton wedding is in order?
Cora Could Be Having an Affair?!
Newcomer Richard E. Grant will be playing art historian Simon Bricker and I'm suspicious that he's making some moves on Lady Grantham. I may be jumping the gun here, but Bricker says, "I think everything about Downton is beautiful" while talking to Cora in the preview. Now, that could mean "I think all of the art in Downton is beautiful," but this is freakin' Downton Abbey for goodness' sake, so I think he means, "I think all of your body in Downton is beautiful," ya know what I mean? Considering how angry I was when Lord Grantham had his dalliance with the maid back in Season 2, I'm not sure how I'll feel about this. Cora does have a completely warped view of the world, but I'm not sure it's warped enough to cheat on her beloved Robert.
Jimmy Will Have a Vistor to His Downstairs
There's another new person to enter the Downton scene in Season 5 and that's actress Anna Chancellor. She'll be portraying Lady Anstruther, and from the looks of it, she's going to end up in bed with the cocksure footman James (AKA Jimmy). Ivy learned the hard way that Jimmy is only interested in one thing from a woman and I'm sure he'll be insufferable with his cockiness at landing a Lady lady, but I'm hoping Anstruther will knock this "naughty boy" down a few pegs.
With all this juiciness going down in Season 5, I take back what I say about January being not too far away. What am I nuts?! That's months away. Hm, maybe I should look into seeing what's going on in Downton a bit early . . . just don't tell Carson.
Images: Nick Briggs/Carnival Films 2014 for MASTERPIECE; lizziecrawleyuk, fightinginalovewar, downtonreactiongifs (2)/Tumblr