She May Not Be Done With 'AHS' Just Yet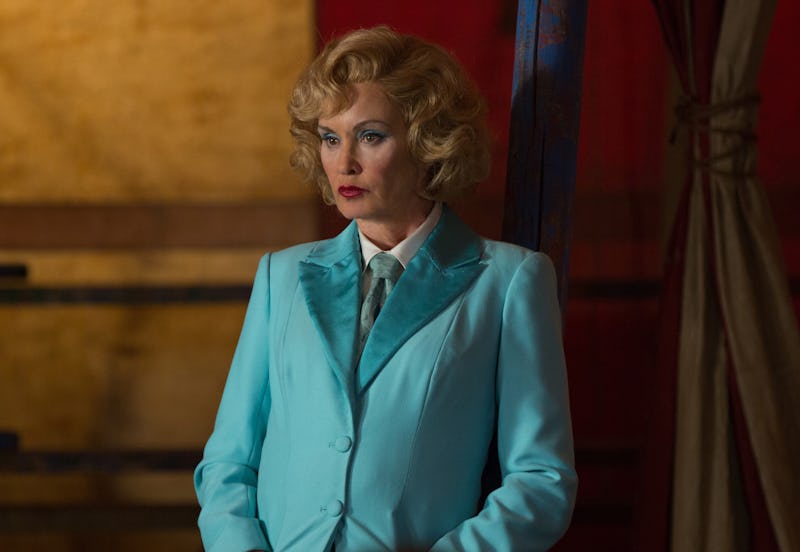 Here's some freakishly good news to start your work week. FX just announced on Monday that its popular anthology series American Horror Story has been renewed for a fifth season, thus allowing Ryan Murphy to once again be the ring leader of our greatest nightmares. Of course, this news — as exciting as it is — shouldn't really come as a huge surprise to anyone considering how well AHS has been doing in the ratings department lately. In fact, Freak Show 's premiere set the record of being the most-watched TV episode in the network's history. (What can I say? The general public loves to be terrified.) Obviously, it's a little too early to know which actors will be returning for whatever Season 5 horrors Murphy has in store, however, this early pick-up has left me re-asking one very important question — is Jessica Lange still planning to leave American Horror Story after Season 4?
I know, I know, Lange has said that she's done with the series at least a coupe hundred dozen times. (Believe me, I've cried after hearing each and every statement.) But that doesn't mean she's not allowed to change her mind if she wants to, especially since absolutely no one wants her to go. (Lange is the Queen of Sass, after all.) Yes, I think this early renewal could be the latest in a long line of things to finally convince her to stay on the show for at least another year (or two, or 10). I mean, think about it…
The Series Has Reached a Popularity High
As the ratings more than prove, AHS is getting more and more popular with each and every season — a fact that I'm sure Lange is equally aware of. It may be harder than she thinks to step down from such a hot franchise, especially since she's one of the show's biggest draws. Just look at Lange's performance of David Bowie's "Life on Mars?" and you'll know what I'm talking about. This woman is pure talent through-and-through. We know it. She more than likely knows that we know it. Which may tempt her to ride out this popularity high for a little while longer. (Please?)
She Won an Emmy This Year
Though she was shockingly overlooked last year for her brilliant portrayal of Asylum's no-nonsense head nun Sister Jude, Lange got the recognition she deserved this year after nabbing an Emmy for her role as Coven's supremely devious witch Fiona Goode. Perhaps this extra bit of admiration will remind this fierce actress just how much her work is valued and appreciated, thereby giving Lange the incentive she needed to remain part of the AHS family.
Ryan Murphy Is On Our Side
No matter how much we think we want Lange to stay on the show, odds are Murphy wants it even more. And he hasn't given up on trying to make that happen. In fact, during a recent interview with TVLine, Murphy admitted that he's been tempting Lange to stay and it might just be working:
It always starts with a character for Jessica, so I think I'd have to present her with something she was very interested in. Before, I was met with a really quick "No." Now, I'm hearing, "Well, let's keep talking." So I thought that was a very good sign. … I think if I presented her with the right character, and it could work with her schedule, she might be interested. … That's my hope.
I mean, I may be biased considering I've been in complete and utter denial about this departure since Day 1, but you have to admit that the idea of her return sounds a lot more promising than it did even a few months ago. And since Murphy pretty much offers Lange carte blanche on this show, I have a hard time believing it's something she'll be able to easily walk away from. So please, Lange, don't let us get our hopes up for nothing.
Images: Michele K. Short/FX; Wifflegif (3); televisionacad/Tumblr