'Magic Mike XXL' Needs You For a Very Hard Job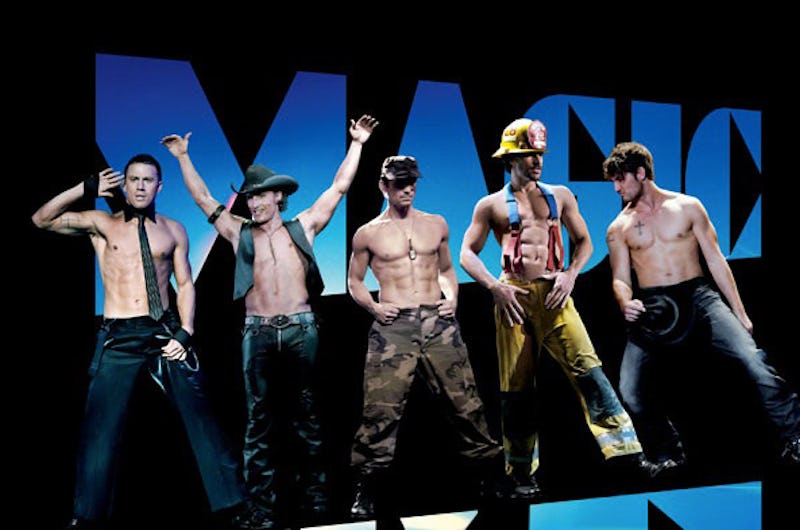 Ladies, do you want to be in Magic Mike XXL? I know I have your attention now. The upcoming sequel to Magic Mike is going to be bigger, badder, and packed with more nudity than the original, three things I know we're all excited about. Despite the fact that Matthew McConaughey won't be in Magic Mike XXL, the cast that they do have lined up to do the film is so epic that we practically need it to come out now, now, now. Sadly, it's still filming, but — not so sadly — you can be a part of it. If you're in the Savannah, Georgia area on October 23, 24, or 25, then Magic Mike XXL is looking for 300 women to appear in the audience at the strip show. You won't be getting paid, but, um, you get to watch a celebrity strip show.
I know what you're thinking. "I have a job. I have bills to pay. Ain't nobody got time to miss out on a paycheck just to go watch Channing Tatum take his shirt off. I can see that for free on HBO." However, you would also hate for the film industry to suffer just because you couldn't make the great sacrifice of volunteering for this casting offer. So you volunteer, thinking you'll never get selected until suddenly you hear that you've made it. And now you have no idea what to do.
Don't worry, I'm here for you. Here's a step-by-step guide on how to handle being an audience member on the Magic Mike XXL set.
1. Try Not to Faint
When you first receive word that you have been selected as one of the 300 extras, the important thing to do is to remember to keep breathing. The urge to scream and faint will be at an all-time high, but if you pass out and hit your head then someone else might take your spot. Keep your cool and then scream by yourself in private later.
2. Bring a Friend
When watching a bunch of actors pretending to be male strippers, you might understandably find yourself overwhelmed by feels. While this will be one of the few times you can scream in public without having anyone stare at you, it would help to have a friend at your side who can hold your hand and understand what you mean when you dissolve into half-sentences, random gurgling, and squeals of, "I CANNOT EVEN."
3. Get Good Seats
Not only do you want to make sure that the camera gets your good side when it flashes over the audience for a shot, but you don't want to miss the opportunity to get clothes flung at you from the stage. I mean, what is the point of volunteering for the hardship of watching Channing Tatum rip his clothes off if you don't even get to touch the clothes, am I right?
4. Drink Lots of Water
All that screaming you're going to be doing is going to be absolute hell on your throat. Not to mention it will be hot and sweaty in there by the very nature of the show. Make sure you keep yourself hydrated so you can scream louder and for longer when the performers come onto the stage.
5. Get Your Payment Upfront
All right, so they're not actually paying you money for this. But you will be getting a "free cast and crew T-shirt, boxed lunch and a chance to watch a star-studded strip performance" according to People, all of which you should make sure to collect upfront. Why? Well, do you think your brain is going to be working well enough after the performance to remember that you didn't just come here to watch the show? Get that boxed lunch, girl!
6. Volunteer Again
Magic Mike XXL is all about a traveling strip show and, well, after this you'll be a veteran Strip Show Audience Member. Pass on your wealth of wisdom to the novices by volunteering to be in the audience on every pit stop the film crew makes. This is your way of giving back to the community. And, you know, getting more boxed lunches.
Image: hottest-of-them-all, melankoly-a, perfectionfiction, chaseaustin, whatshouldbetchescallme, archivistsrock/Tumblr