The Best Spooky Scary Pop Music Videos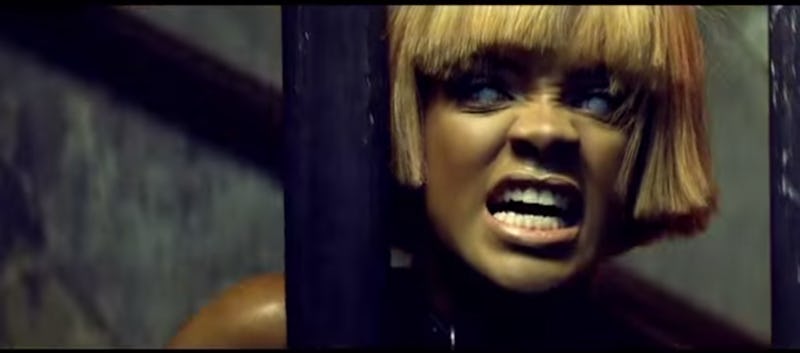 After I watched Melanie Martinez's uber creepy "Carousel" music video too many times to count Thursday evening, I went on a YouTube search-a-thon. I was in the mood to put all of the spooky music vids in my eyeballs. And hey, if there is any time to embark on a spooky music video journey, it is any second of any day in October. Excuse me, of any day in Spooktober. I began my marathon with forever freaky vids like "Closer" by Nine Inch Nails and TOOL's "Sober." I tried to watch Aphex Twin's "Come To Daddy," but I would be lying if I said I made it to the end. (TBH, I don't think I've ever made it to the end.) After I played Marilyn Manson's "Tourniquet," I decided to switch gears. It was time to watch scary pop music videos.
Yeah, the '90s rock scene has the Scariest Effin' Videos Ever thing on lock, but that doesn't mean it's the only genre of music that's put out freaky music videos. Pop can get weird with it, too. (I mean, hi. The video for the very poppy song "Carousel" was the catalyst for this adventure.) Here are a few of my favorite spooky pop vids:
"Disturbia" by Rihanna
Those white-out eyeballs are just the tip of the possessed iceberg.
"Rock DJ" by Robbie Williams
Oh, don't mind Robbie! He's just peeling his skin off! NBD!
"Kids" by MGMT
The video for this indie pop song is unsettling AF.
"Ghost" by Michael Jackson
It's all fun and choreography UNTIL MJ'S FACE MELTS AND AND FALLS OFF.
"Nothing Really Matters" by Madonna
Back when this music video was in heavy rotation, I would scramble for the remote whenever it popped up on MTV or VH1. I had to change the channel before the ish, er, floating bodies hit the fan.
"Walking On Air" by Kerli
THAT MARIONETTE CAN GTFO.
"Haunted" by Beyoncé
I wrote about this video at length the day after the album hit iTunes, and I still hold that it is a stunning, albeit disturbing nightmare. That room with the twins? Chills on chills on chills.
"Everybody (Backstreet's Back)" by the Backstreet Boys
Ugh, those mice running all over the banquet table? NOPE.
"Thriller" by Michael Jackson
DUH DOYE.
Image: RihannaVEVO/YouTube