Maybe She's Better Off with Another Masked Hero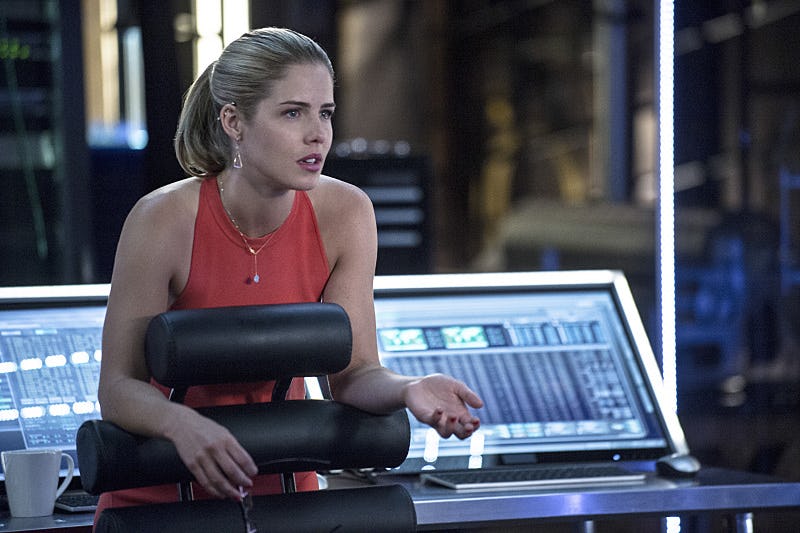 I can't be the only one who saw that, right? While we were all in the midst of crying over the death of Sara Lance in Arrow Season 3, Felicity found someone's shoulder to cry on. She leans right into Roy Harper, and the two of them embrace. I didn't think anything of it, other than, "aw, that's sweet." But then it happened again at Sara's nighttime funeral. While Oliver is trying to comfort an inconsolable Laurel, Felicity leans into Roy again. While I doubt anyone's ever considered a relationship between Felicity and Roy, now that I've mentioned it, would it necessarily be a bad thing? Or could it be a GREAT thing?
Once again, the blinding haze from Olicity seems to have diverted our eyes away from any other potential suitors. I, like many of you, am a proud card-carrying member of the Oliver and Felicity Forever club. But you know, there are other suitable matches out there. From all the rumors circulating from the set this past summer/early fall, I was under the impression that eventually a relationship between Ray Palmer and Felicity would bloom. He's been described as a guy who can match her wits and banter, and he did drop a whole lot of money to woo her back to Oliver's fleeting company. She seems to slowly be taking a liking to him, if only because she's ready to embrace all that she's been missing from her life so far.
But then we have Roy, who's still holding an ever-burning candle for Thea. It's horribly sweet that even after five months have passed since she left, Roy still has her picture on his phone background. But if that last scene of Arrow is any indication of what's coming between the two of them, they are definitely extending their vacation in Breakup City. When Thea eventually returns to Starling City, she's undoubtedly going to be pissed and probably won't fall back into Roy's arms. It seems that their relationship is done and if not forever, at least for a while.
So we have Felicity, who has finally realized that she wants more in life than what Oliver can offer (and though that includes washboard abs, it lacks any sort of openness) and we have Roy, who is pretty close to snuffing out his Thea eternal flame. They're already good close friends. They already know way too much about each other. And they just might be a 'shipper pairing we never even thought to consider.
In the interview with BuddyTV below, the ever adorable Colton Haynes describes the oncoming relationship with Felicity as not so much a "relationship," but one made up of a friendly rivalry.
Sure, wink wink, Team Arrow. Honestly, their relationship might kind of be cool to explore. Though they're not necessarily the stock "sidekicks" of the show, both of their storylines could use a little fleshing out. We will get the mysterious backstory of Felicity Smoak in an upcoming episode, where we'll meet her former ex. Maybe this is just the right kind of information we need to decide who's best to 'ship Felicity with once and for all. Is it Oliver? Ray Palmer? Barry Allen? Or is it Roy? We just want the best for Felicity, right? Maybe Season 3 will teach us that Roy's actually the masked vigilante of her dreams.
Images: Cate Cameron/The CW; Giphy