Everyone Is Back for 'Vanderpump Rules' Season 3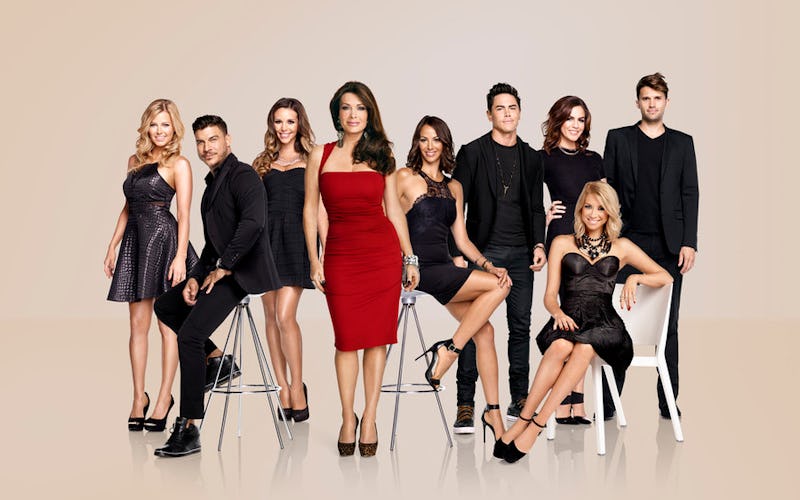 If you aren't familiar with Vanderpump Rules, it's basically Bravo's version of a nighttime high school soap opera. Now that Vanderpump Rules Season 3 is premiering on Nov. 3, it's time to head back to SUR for another year. When you have a hit reality show on your hands, the last thing you want to do is mess with perfection. We already know that even a move from Los Angeles to New York couldn't keep former alpha-waitress Stassi Schroeder away from Season 3, and now we know that the rest of the cast is following suit. As seen in Bravo's Vanderpump Rules trailer, everyone from Seasons 1 and 2 is back for another round of drunken birthday partying, boyfriend musical chairs, and everything else that comes with being a server at SUR.
And in addition to all the usual suspects, we have two more recurring cast members that were added in order to drum up even more drama for Season 3 — Tom Sandoval's girlfriend, Ariana Madix, and Tom Schwartz, whose relationship with Katie Maloney is getting serious enough that he's now her BF, coworker, and costar. Here's who you'll be able to see when the show returns.
Jax Taylor
Everyone's favorite sweater-wearing hunk (of carrot) is back with a renewed drive to get his life together. He's planning to get a nose job, finally get his stuff together at work, and he swears he won't cheat on his girlfriend, even though he immediately got tangled in a love triangle between Tiffany Matthews and Carmen Dickman.
Stassi Schroeder
She's back in LA, but she's no longer a SUR-ver. Instead, she's allegedly there just because her boyfriend, Patrick, had to move back. But now that there are rumors that she'll be getting her own spinoff series, I wonder if she had another reason for returning to the West coast...
Scheana Marie
This year, Scheana is the queen bee of the restaurant. She's always been a favorite of Lisa Vanderpump, and she quickly became popular once Stassi was gone. As always, Scheana is a total exhibitionist, but this time instead of singing, she's putting her wedding on display by inviting the whole cast and the Bravo cameras to cover her big day.
Tom Sandoval
Tom and Ariana's relationship is still going strong, and if they weren't forced to work together, he'd never have anything to do with his ex, Kristen.
Katie Maloney
A K-named waitress fighting with her long term boyfriend Tom about getting engaged? Deja vu. We'll see if Katie is luckier about getting Tom Schwartz to propose than Kristen was.
Kristen Doute
No matter how much Kristen insists that she's over Tom, she still can't stop needling with Ariana and trying to make Tom jealous of her relationship with the 22-year-old busboy.
Tom Schwartz
The other Tom S. is still with Katie, but the whole season will be another test of their relationship as she tries to get him to commit.
Ariana Madix
The newest cast member, Ariana, hasn't had much screen time, but this will be the true test of whether or not she can hack it in the big leagues. SUR is missing a certain blonde waitress… maybe Ariana will be the one to take her place. I mean, according to this Instagram pic, she reads, so that gives her an edge over most of her castmates.
Lisa Vanderpump
In addition to sort of mentoring the cast of #PumpRules, Lisa is working on the next season of The Real Housewives of Beverly Hills and on opening her latest restaurant/gay club, Pump, which will be covered in Season 3 of Vanderpump Rules. Lisa always manages to stay out of the fray while still egging on every fight from the sidelines. She's the show's real star — that's why it's her name in the title.
Images: Tommy Garcia/Bravo; Getty Images (2); ariana252525/Instagram