Beware of Reagan James, 'Voice' Contestants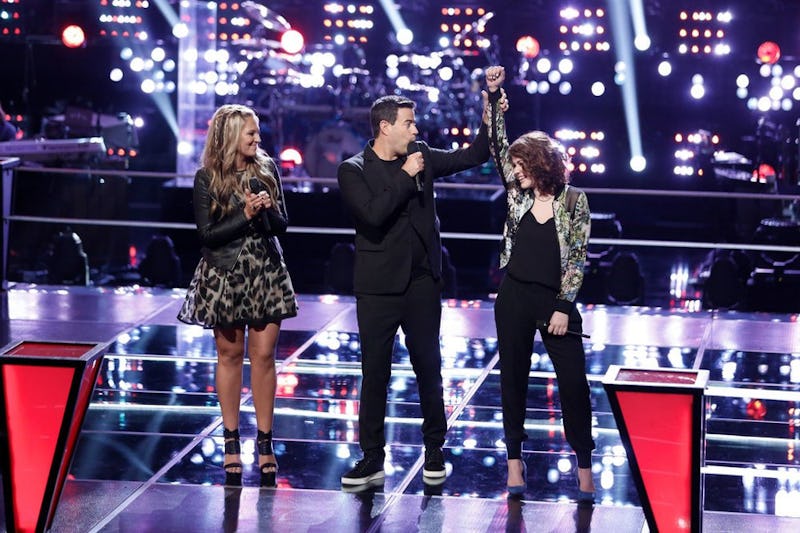 Look, I'm going to call it right now — Reagan James could potentially win The Voice Season 7. And, honestly, I wouldn't be surprised if she did. The 15-year-old Texas native showed in her blind audition that she's in it to win it and after Tuesday night's The Voice battle round, she proved to be a vicious gladiator in the ring. Reagan James and pop-singer Kensington Moore battled on Lorde's "Team" on Tuesday night, but it was obvious from the very first rehearsal that Reagan was going to kill it. Which is why this was less of a battle and more like a massacre, a kind of painful one at that.
Unfortunately for Kensington, she fell ill with kidney stones during the rehearsal process, which probably put her at a slight disadvantage. (Don't worry, Blake caught up with her and made up the rehearsal time so she would be prepared.) But even before her illness, Kensington struggled with identifying where her voice flowed into her falsetto on the high notes. Meanwhile, Blake and advisers Little Big Town were astonished by "all of the little things" Reagan effortless did with her voice during their rehearsals for the battle. I mean, it couldn't be more obvious that the odds were in Reagan's favor with this one.
When the pair took the stage on Tuesday night, Reagan just blew the performance away. She was loose and comfortable with herself while Kensington, while her voice was totally incredible, was static in comparison and, at the risk of sounding harsh, boring. And the judges obviously noticed. Gwen and Pharrell complained that they still weren't over not having Reagan on their team and Adam basically told her that she was already a star. I mean, they did throw a handful of compliments Kensington's way regarding her powerful voice, but it was clear who the winner was before Blake even decided.
All I can say about this pair's "Team" performance is that every contestant should be worried about Reagan James right about now. Because she proved on Tuesday night that her talent will shred you on stage.
Watch Reagan and Kensington's brutal battle round here:
Image: Tyler Golden/NBC