A New 'OUAT' Character Could Be from Emma's Past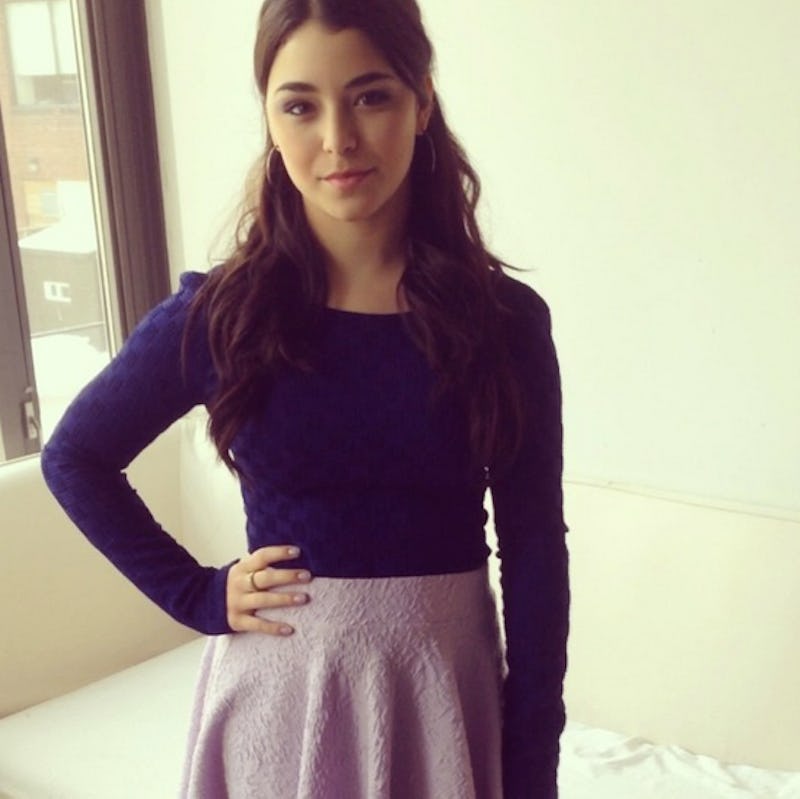 There are a lot of new faces in Storybrooke on Once Upon a Time. Maid Marian escaped her death by going back to Maine with Hook and Emma, there are two new ice queens in town, and Will Scarlet has taken up residence in the woods. Now another new character, Lily, previously speculated to be Henry's romantic interest, debuts in this Sunday's episode "Breaking Glass." She was described in the ABC casting call as a punk, a charmer, and an opportunist. Lily will be played by Nicole Muñoz, one of the stars of Defiance on SyFy. She is no stranger to the genre and will make a good addition on Once Upon a Time.
I'm happy that the show is adding what appears to be an original character — unless she's Tiger Lily, the dead mom from The Secret Garden, or a new version of Lilo sans Stich. The previous reports that Lily would be 14-year-old Henry's love interest seem to have been untrue, as Muñoz is 20. However, this unconfirmed synopsis for Episode 5 from Broadway World describes a flashback in which "young Emma finds herself a kindred spirit when she befriends a girl who, like her, is a runaway orphan," so maybe Emma is the one who meets Lily in her late teens. However that's not the only possibility, so let's break down the options.
She's a Flashback Character
If Lily is the orphan that Emma befriends, is she also a teenage Snow Queen? We know the Snow Queen has met Emma Swan before, but we don't know how or when. It would explain the recognition, but there is a much more interesting possible reason for their connection.
My theory is that Lily is the orphan that befriends Emma, and the adult Snow Queen tries to adopt them because she knows that Emma has magical powers and Lily does too. Maybe Lily goes with with her and Emma does not. The Snow Queen seems to be of the opinion that those with powers will never be understood by the masses. Perhaps she takes in anyone living in the real world who is magically gifted. Emma's relationship with Lily is probably meant to mirror her relationship with Regina, which TVLine reports will figure heavily into this episode.
She's a Storybrooke Character
Another character listed on IMDb for the episode is "Lily's Dad," which could mean she's not an orphan with Emma, unless we see him in a flashback within the flashback or he is Lily's foster father, stepfather, or adoptive father. But that is intriguing enough to make me want to explore other options for the character's identity. I have to at least consider that the character Lily lives in Storybrooke.
According again to the synopsis, Belle will be babysitting Prince Neal for a "nervous" Snow and Charming so that they can have a night on the 'brooke. Maybe Lily is one of the potential sitters that the Royals interview, and while the little punk doesn't ultimately get the job, we were introduced to a new character who will come back in future episodes for a more important plot.
She's both?
It is of course entirely possible that Lily met Emma in the past and lives in Storybrooke in the present while remaining the same age if she was cursed, traveled through some sort of portal, spent some time in Neverland and added "Tiger" to her moniker, or what have you. She would join the laundry list of characters that have aged unconventionally on OUAT that includes Neal, Hook, Pinnochio, Rumplestiltskin, Peter Pan, the Darling Family, everyone in Regina's curse and... well, really all of the characters on this show except Emma and Henry. It's a trend.
Images: nicolemunuz94/Instagram; Giphy (2); welcome-to-storybrooke/Tumblr