'The Originals' Is Running With This Love Triangle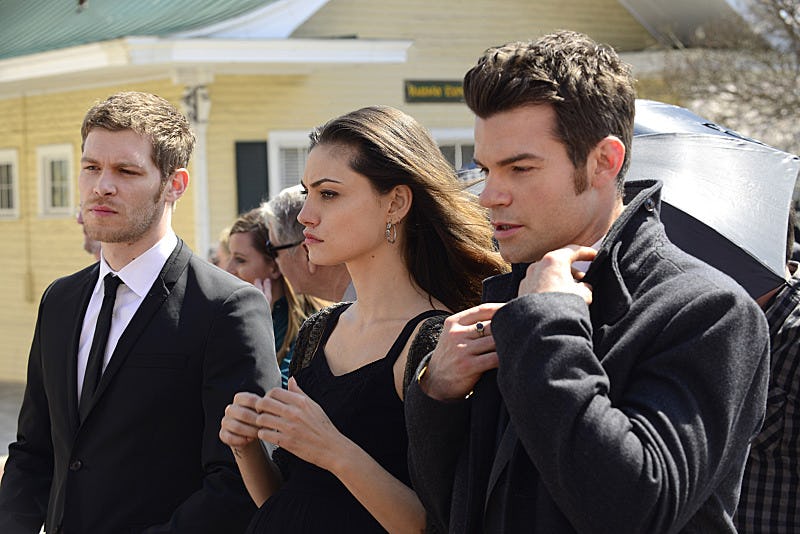 Stop it, Originals — I'm begging you because I really can't take it anymore. The Originals Season 2 has been straight-up insanity since its season premiere on Oct. 6. And things are just crazier, which actually might be an understatement considering the evil genius mastermind that is Esther Mikaelson is running rampant around the French Quarter. Last Monday, The Originals revealed Esther's plan to make her children suffer until they begged to be put out of their misery. During The Originals, "Red Door," Hayley will have to pick Elijah or Klaus when both Original brothers are in danger from their recently returned parents. So, who does she choose?
The promo for The Originals fourth episode didn't reveal much about what type of torture Esther will inflict on Elijah — but it did reveal that Klaus and his dear, old dad, Mikael, are going to come face-to-face. And, as I'm sure you can imagine, it won't be a pleasant meeting. As for Elijah, The CW revealed the episode's synopsis with these photos of Nina Dobrev's Originals crossover that Esther's going to torture him into submission by making him relive his romance with Tatia, the original doppelgänger. Riveting stuff, right, Originals fans?
OK, fine, I'm still a little bitter about the fact that Julie Plec decided to take this route (aka more doppelgängers) with the Originals and TVD crossover episode. There was so much potential here for a Klaroline reunion (especially since TVD seems to be pushing her away) but, alas, here we are. But, apparently, "Live and Let Die" won't be devoid of present-day emotional conflict altogether. The synopsis also reveals that Hayley's going to have to make a big decision about how important Haylijah is to her future.
According to The CW's reveal, Hayley's going to enlist Marcel to help her find Elijah and rescue him from wherever Esther has him held captive. BUT, before she can commit fully to that, she'll learn that Klaus is also in trouble — at which point, the new hybrid will have to decide who she should help first. So, even though The Originals had Hayley confront Elijah about freezing her out during last Monday's episode, they're going to throw Haylijah back under the bus again. Because, I mean, what's a Julie Plec series without a love triangle involving two brothers. Even though it's obvious that Hayley's not ready to let Elijah go, it won't actually be that easy for her to follow her heart on this one. So, who will she choose and who should she choose? The answer might not be the same to those two questions.
Who Hayley Should Choose: Elijah
I'm a firm believer in the fact that Haylijah is the most important 'ship on The Originals and the one with the most potential for plenty of reasons. But as far as The Originals Season 2 is concerned, it's important that it succeeds because it'd break the vicious cycle of Elijah sacrificing his happiness for Klaus. I'm sorry, but I just can't get behind the idea of Elijah destroying his relationships for his brother's benefit. Also, there's the simple fact that Hayley and Elijah actually like each other and it's a romance that's been building since the beginning of Season 1. If Hayley follows her heart, it would lead her straight to Elijah and that's exactly what she should do.
Who Hayley Will Choose: Klaus
Even as a firm Haylijah supporter, I know that Hayley's feeling a deep connection to Klaus — he's the only other supernatural creature like her and, ever since Elijah enlisted him to help Hayley, she's gotten a lot better. Yes, she still wants to rip witches' throats out, but she's increasingly less sullen and violent these days now that Klaus has taken her under his wing. There's also the fact that Hayley grew up without parents and she's obviously not going to leave Klaus to possibly die and have baby Hope grow up without a father as well. And, that alone, will drive Hayley to run to Klaus' side first — well, that and the fact that she's kicked Mikael's ass once before already and she'll be confident that she could go head-to-head with him again and win.
Either way, however, I'm still disappointed that The Originals is taking this route with Haylijah and the possible Klayley 'ships. This series was a breath of fresh air in the romance department — mostly because its parent series, The Vampire Diaries, had become so overrun with romance and love triangles that it was exhausting to watch. I've said it before and I absolutely still believe it, The Originals characters deserve better than to fall into TVD's old patterns. Get it right, Julie Plec.
Image: Guy D'Alema, Annette Brown (2)/The CW