How to Dress Like Guilty Remnant for Halloween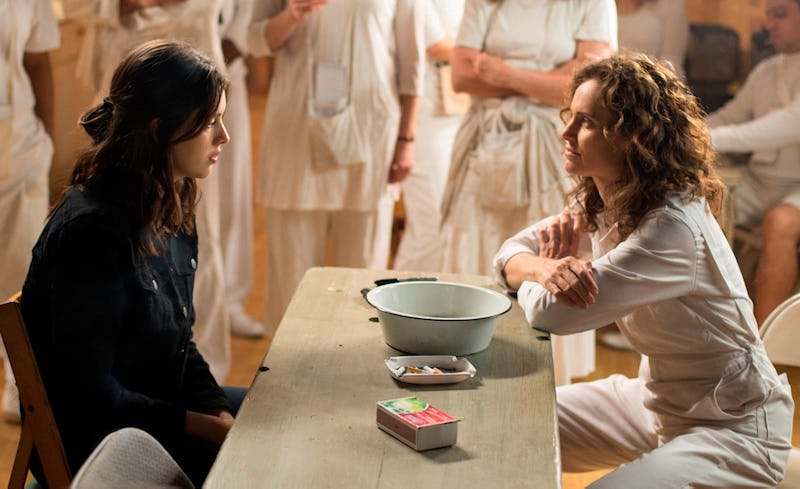 Season 1 of acclaimed HBO drama The Leftovers gave us so many gifts this year: a thrilling sense of foreboding, Justin Theroux in uniform, and a great excuse to pass off the laziest Halloween costume ever as a timely cultural reference. For those who watch the show, you totally know I'm referring to the GR. Mapleton, N.Y.'s resident political fringe group of ivory-clad ominous lurkers known as Guilty Remnant makes for the perfect Halloween costume inspo for procrastinators who don't really want to speak to anyone.
For those of you who don't watch the show, first of all, rectify that now. The three days left before H-Ween is more than enough time to catch up. To give you some light background, the GR is a protest group/cult that does horrifically chilling things to remind a society in denial of the rapture-like event that changed the world irrevocably. Remnant members take vows of silence, smoke like grizzled old roadhouse barflies, constantly loiter around people's houses, and wear white, all day, every day.
Translation: a GR costume suits your last minute Halloween costume needs. It's super easy, it gives you an excuse to method act, and it relieves you from speaking with anyone at the party you feel entirely ambivalent about attending.
Funny that you mention it... This year, I'm stepping out on Halloween in custom Remnant swag.
Here I am in street clothes, pre-Remnant makeover. Like Liv Tyler, erm, I mean Meg Abbot, I'm as enthusiastic as a new recruit about to hack down a tree in the name of hazing. Best one-and-a-half minutes of television this year.
BEHOLD! My remnant ensemble. I'm ready to be super seasonally inappropriate. Luckily, because there's plenty of white on the clearance racks at the very moment, you can probably find some deeply discounted separates at your local mall/outlet/thrift store. For instance, I got my sweatshirt from the J. Crew sale section for around 25 bucks. The pants are Levi's from the local outlet mall, but there's a solid option on sale on The Gap's website. Any white tennis shoes will do, no matter how dirty.
Remember, you're in a cult. The cause is bigger than your vanity. I'm wearing my artfully distressed (aka grungily dirt-stained) Supergas, but any white sneaks will do. It's really that simple. When you put it all together, you've got the perfect ensemble to blend in with a fresh snowfall.
I laugh in the face of your "no white after Labor Day" rule. Now, onto your makeup and hair...
Just kidding! You don't need to do anything to your face or mane to be a remnant member. Beauty is for heathens.
What you will need is a method of communication with the outside world. You can't talk, remember? However, you can write. Some of the Remnant members wear notepad necklaces, so I decided to fashion my own out of an old spiral notepad and some dental floss.
Easy as pie!
And it blends right in with your outfit. Next, you'll need to pick up a pack of either candy cigarettes or real ones. I'm opting for candy cigarettes, because I'd like an excuse to eat as many sugary treats as possible.
Lastly, make sure to bundle up. If you have a white jacket, bring it along. You'll need the pockets since a purse is hard to pull off when attempting to look like a recluse.
And voila! You're officially inducted into the GR. Now, all you need to do is practice your best menacing expression. I feel like mine's getting there...
Well, I've still got 72 hours to work out the kinks. Then, I'll be ready to loiter ominously.
You. Betta. Lurk.
Image: Arielle Dachille/Bustle (10); HBO (2); Candy Crate