Ultron Breaks Up an Avenger Party in New Clip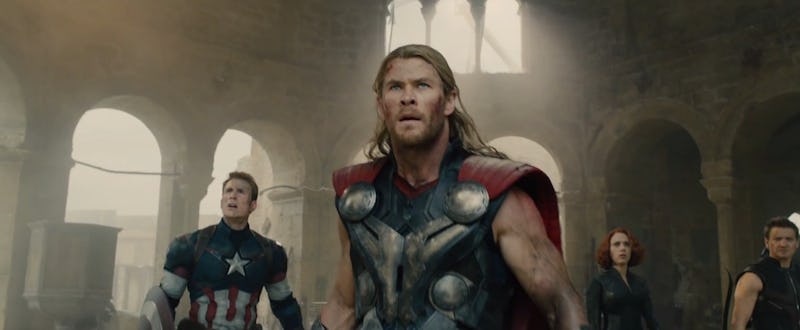 I have to be honest, I was kind of glad that the trailer for Avengers: Age of Ultron leaked ahead of schedule — we have waited long enough for a look at what is bound to be the best movie since, well, Captain America: The Winter Soldier. But I was also disappointed that it didn't premiere during Agents of S.H.I.E.L.D., because I can only convince so many people to watch that show on my own. Luckily, ABC decided to still give us something exclusive during Tuesday night's S.H.I.E.L.D. and showed a new Avengers: Age of Ultron clip. And it was exactly what we needed.
While the original Age of Ultron trailer is terrifically creepy and did a great job of hinting at what's to come from the Marvel Cinematic Universe in general as we head into a new round of movies, the extended version's new clip confirmed that Age of Ultron will feature something very important that was missing from the trailer: a sense of humor. The MCU movies stand out from other superhero films, and action movies in general, for perfectly balancing comedy with the story, action scenes, and complex mythology. From Tony Stark's sarcastic quips to Steve Rogers' bafflement at modern technology to Black Widow's straight-faced putdowns, when you're not following the near constant action of an MCU movie, you're laughing.
That's why it was such a relief when this new Age of Ultron clip showed the Avengers hanging out, taking turns at trying to lift Thor's hammer, Mjolnir. It was like a Sword in the Stone-themed party filled with beautiful, ass-kicking people. In just a few moments, the personality of each Avenger shown through the scene, and one hero's attempt to take the hammer actually seemed to worry Thor (I bet you can guess who). Check out the full scene below in the extended version of the trailer.
Like clockwork, the low-key banter is interrupted by Ultron himself, segueing into the fast-paced trailer. Because that's what MCU movies do. They wait until you're happily comfortable, chuckling at the Avengers' antics just like Maria Hill, and then they rip the rug out from under you, introducing the film's big villain.
If the original trailer didn't already convince you that Age of Ultron would continue the trend of making MCU movies that manage to top their predecessors, this should've done the trick.
Image: Disney