Are Cary & Kalinda Engame on 'The Good Wife'?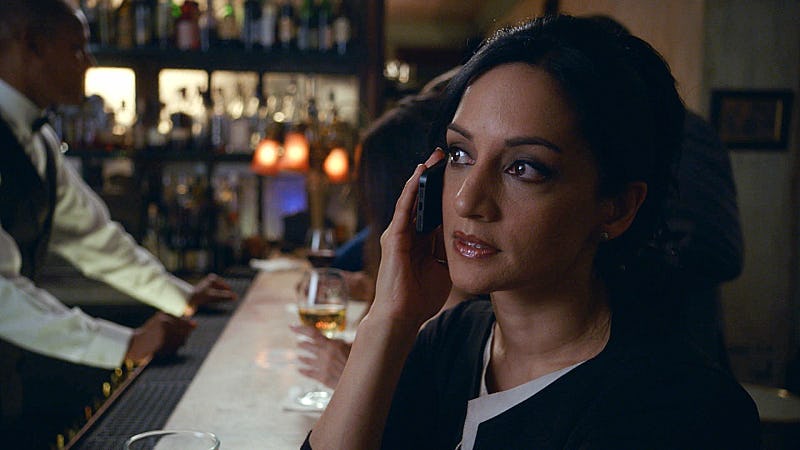 Kalinda Sharma (Archie Panjabi) began The Good Wife as a queer, enigmatic detective full of smoldering sensuality, emotional intelligence, and the best leather jacket collection this side of Lake Michigan. Is it any wonder she became a fan favorite? But the writers soon lost grip on her character especially when they tried to fill in her backstory with this weird, boring, abusive husband plot line in Season 4. As much as I love Panjabi's acting she deserves better and the show does too. For the most part, The Good Wife's Kalinda is defined by everyone she uses and seduces. We get it, writers. She's sexy. Kalinda's nebulously defined relationship with Cary Agos (Matt Czuchry) gave her a little bit more heart that we hadn't seen enough of since her friendship with Alicia (Julianna Marguiles) imploded. With Panjabi leaving The Good Wife this season the course of Kalinda's relationship with Cary has become murkier than ever.
There is no way Kalinda will be killed off like Will (Josh Charles) was last season. So, don't expect any teary eyed, blood-smeared dying confessions of love. And with Cary's pre-trial services officer (Linda Lavin) making sure he doesn't interact with Kalinda as part of his bail agreement, things are about to get even more difficult for them.
One reason it is hard to predict what's going to happen is because the show hasn't really given us an idea of what they really want from each other. Is this just a casual relationship? Or is this something more? We see that they care about each other. As Czuchry told the Daily Beast:
I really like how they've handled the relationship between Cary and Kalinda. They've gotten closer. When Cary was jailed, Kalinda was the first person fighting for him. In moments of tragedy and trauma you find out who your friends are or aren't. And this made her closer to him.
What complicates the situation further is the fact that it was recently reported that Jess Weixler may be leaving The Good Wife. Weixler tweeted in response to a fan question:
Wait, what? With Panjabi leaving and Weixler probably not coming back who will take over the role of in-house private detective afterwards? What does this say about where Kalinda and Cary will end up? Weixler's tweet adds fuel to my theory that this is probably the last season of the show.
While it hasn't been announced officially as such, Season 6 of The Good Wife definitely feels like the makings of the final season. Plots are developing at a breakneck speed. But most importantly, everything is coming full circle. Alicia and her firm have taken over the old Lockhard/Gardner offices and she is occupying Will's old office and reflecting his shrewd cunning in ways she never did before. ASA Finn Polmar (Matthew Goode) feels very much like the Alicia we knew in Season 1 with his moral integrity and open nature. But if my theory that this is the last season is true, what does that mean for Cary and Kalinda?
Considering the rumor of Kalinda's expanded role as the firm's sole investigator, I bet she's going to have a major conflict of interest when it comes to handling Cary's case. Might we see another shadowy figure from her past? Probably not. Instead, my bet is that it will be something Kalinda has already done that forces her to leave the life she created in order to save Cary and make sure he doesn't go to prison.
Plus, some rumors also point to the idea that Cary will be going back to prison. There is a lot of dirt on Kalinda and Finn has proven he isn't afraid to play hardball on Cary no matter how much he likes Alicia. Like Czuchry says in that same interview with The Daily Beast, "...with Kalinda or with drinking or any of these elements, there's still a chance Cary can go back to jail."
If the show continues beyond Season 6, I think their relationship will end in a far more opaque fashion with Kalinda moving onto a better job in a new city, but giving Cary no finality. Kalinda has always been a character who operates in the shadows only letting people see what she wants them to see. Her exit from the relationship with Cary will be the same even as her affection for him continues to grow more apparent with each episode. I hope the writers of this otherwise amazing show prove me wrong and give Kalinda/Cary fans everywhere the sendoff they deserve. An ending that is true to the characters but also gives the relationship a sense of finality. A girl can dream...
Images: CBS; weasleyette/Tumblr