How Are 'AHS: Freak Show' & 'Asylum' Connected?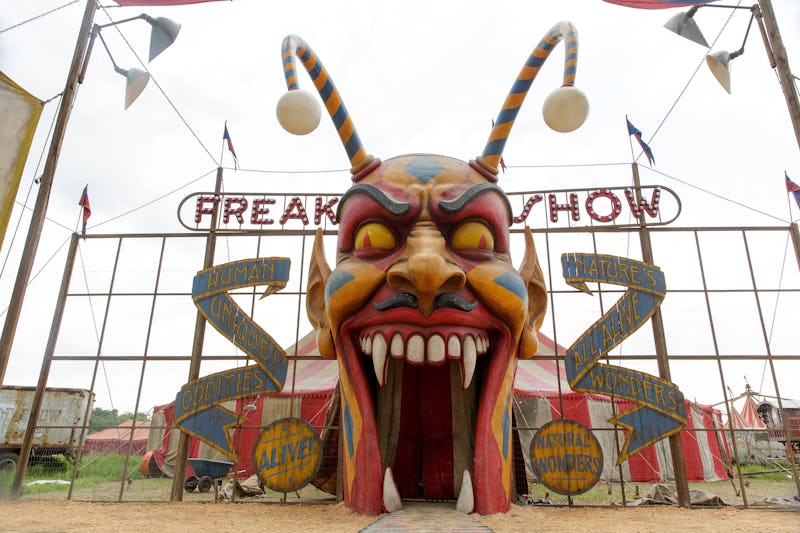 We're still early into American Horror Story: Freak Show and the new season is already separating itself from the three previous seasons. Though the fourth installment of the FX anthology series features many of the same tropes as Murder House, Asylum, and Coven, it stands out in one important way — American Horror Story: Freak Show is the first season of the series to suggest that there could be some connection between the others. We learned months ago that Freak Show would include recurring character Pepper from second season Asylum as one of the so-called "freaks" in Elsa Mars' show and then it was announced that actress Lily Rabe will reprise her role as Sister Mary Eunice from American Horror Story: Asylum in Freak Show, which means that the worlds of Season 2 and Season 4 of the series are officially connected. And now, Ryan Murphy admitted all AHS seasons are connected, so does that change things for AHS: Freak Show?
This new connection between Freak Show and Asylum will no doubt excite fans — Rabe's character in Season 2 was easily one of the actress' strongest performances on the series, and it's interesting to see her bring the the Sister back. At the same time, it does have some interesting implications for Freak Show, namely that it begs the question as to whether Pepper and Sister Mary Eunice are aware that the people they interact with in Freak Show share a face with the people they will meet later in life, when they arrive at Briarcliff Asylum. It's particularly odd considering that, in theory, Freak Show could act as a prequel to Asylum — Season 2 and Season 4 are the only seasons of American Horror Story that appear to work out in that way — at least until Murphy decides to explain all these so-called connections.
The suggestion that Freak Show and Asylum could be connected in a traditional sense — as in, all of the characters in Freak Show and Asylum are one and the same, but for some reason use different names — doesn't exactly fit. Yes, Elsa Mars could, in theory, become Sister Jude — Jude did want to become a star before became a nun, and it wouldn't be particularly challenging to fake an accent or change one's name — but it doesn't work with the rest of the cast, nor explain why characters who previously knew one another would interact in vastly different ways. And yet, Pepper and Sister Mary Eunice do appear on both seasons — so how exactly does that work?
The simplest explanation is that the writers want us to suspend our disbelief and assume that the characters do not recognize one another because, despite the similarities in features, they just aren't the same people. It makes a little bit of sense — it's not like we'll ever have to worry about Sister Jude running into Elsa Mars. At the same time, I do wish that we were given some sort of concrete explanation for why the same characters would be recurring across Season 2 and Season 4 — possibly a supernatural one. There are many theories as to how American Horror Story could connect each season without breaking previously established rules, but my money is still on the idea that there are multiples of characters' "souls" running around the planet at various times in history, differing in their own paths due to their life experiences and circumstances. The explanation wouldn't be simple, but this is American Horror Story — why not give something a supernatural explanation?
But no matter the reason behind Rabe's return to the series, I'm excited to have Sister Mary Eunice back. Sure, she won't have the devil inside her this time around, but it's always nice to see a familiar face from Asylum. At least we now know two characters who will definitely survive the series — if only because we know where they end up in Asylum.
Image: Michele K. Short/FX; Giphy (2)