Why Is 'RHOA' Husband Apollo Nida In Prison?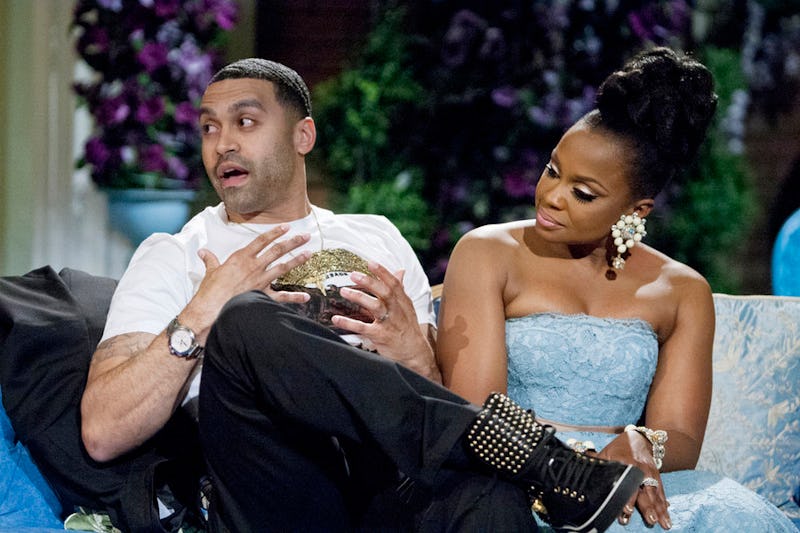 If you're missing the Housewives/crime drama crossover that is the ongoing season of The Real Housewives of New Jersey, look no further than its time slot replacement The Real Housewives of Atlanta. Phaedra Parks' husband, Apollo Nida, was convicted and given eight years in prison for a variety of fraud charges. He was brought up on charges of bank fraud, identity theft, and money laundering, and entered a guilty plea for conspiracy to commit mail, wire, and bank fraud. Yikes.
This isn't the first time Nida's been to jail. He served time from 2004 - 2009 for auto title fraud. But this time will be very different. This time involved an extensive network of identity thefts and fake loans that stole millions. He could have received a lot more jail time — Nida was eligible for up to 30 years.
Phaedra has always bragged about all of her "jobbbssss" and been the proud breadwinner of the family, but she must have kept her finances separate from his. Unlike Teresa Giudice, she didn't sign anything, use her name for anything — Phaedra Parks knows what she's doing financially.
But not, I suppose, what her husband is doing, since she was excluded entirely from the court case. It seems a little unlikely that she had absolutely no idea what was going on, considering that she's a smart and successful business owner and lawyer while he's the guy who can't stop talking to Kenya Moore even when she keeps accusing him of flirting with her. However, Nida took full responsibility for the conspiracy. Parks called things off with Nida as this came to light, especially after he made disparaging remarks about her lack of support during a radio show interview about Nida's sentencing.
He surrendered himself to federal prison in Kentucky this September, but not before getting into a very public fight with Phaedra at the house they once shared in Atlanta. After the police were allegedly called, Nida left their home and surrendered himself to the prison just a short time later. There was no crazy car chase in a white Bronco or anything, but it was a very public breakdown of their quickly finished marriage. The whole thing was caught on tape by the producers of The Real Housewives of Atlanta and, from the looks of the trailers and from what Bravo has been saying, Nida and Phaedra's fight will be on RHOA later this season.
Image: Wilford Harewood/Bravo; RealityTVGifs/Tumblr