7 Shows To Watch If You Ever Leave Stars Hollow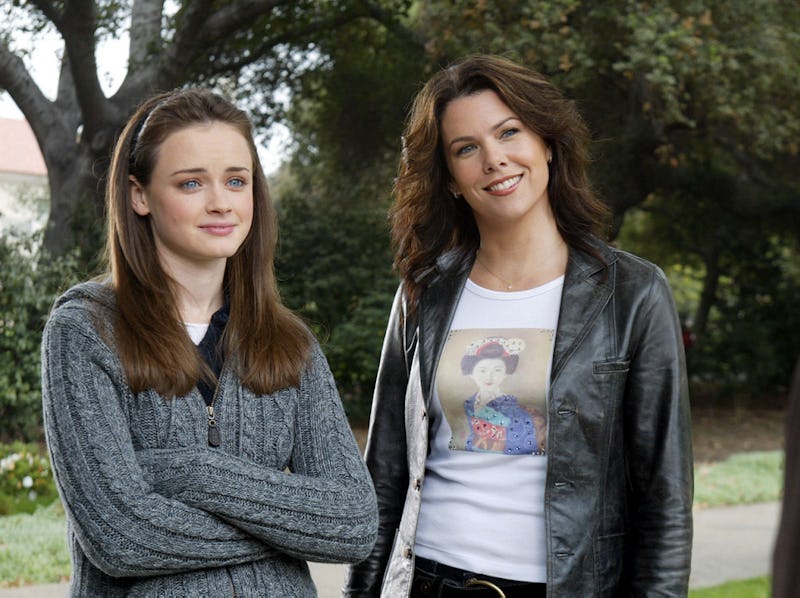 I know what you're thinking. After you finish watching all seven seasons of Gilmore Girls , why would you not just watch Gilmore Girls again? I mean, what if you missed something? What if you just love Lorelai and Rory so much that you're not ready to let go? What if you're a masochist like me and want to watch Rory and Jess' relationship fail again? All great questions that, unfortunately, I can't answer and a great point that I won't refute. Gilmore Girls is on Netflix now, after all, you could keep watching it forever. But for those of you who, once you finish a series, can put it to rest and move on, you're probably already thinking about what you should watch next. And now that you're a diehard fan, I'm sure you're starting to think about which ones are right for you to follow up the great series or to make you forget about Amy Sherman-Palladino's Gilmore Girls ending.
So, what should you watch next on your Netflix journey? There's something for every Gilmore Girls fan on Netflix — especially the ones that are still not over the fact that "Here Comes The Son," which was supposed to be a backdoor pilot for a Jess Mariano spinoff series, didn't get picked up. And, luckily for you, fast-talking, coffee-loving, bandana-wearing Gilmore fan, this handy list will guide you in the right direction.
If You Wish You Could Live In Stars Hollow:
Hart of Dixie
How many times have you wondered: Is Stars Hollow a real place? If you've done the research at least once, you probably know that it's not. The quaint Connecticut town where Rory grew up is actually a permanent fixture at the Warner Bros. studio in Los Angeles. About as far from New England as you could get (I bet you have a new appreciation for all of those snowstorm episodes now). BUT, while Gilmore Girls is over, a new series has called Stars Hollow its own — The CW's Hart of Dixie. Sure, it's called Bluebell now, but the iconic gazebo is still there and you can actually recognize where Luke's Diner and Dosey's Market would be.
Also, the new season of Hart of Dixie premieres on Jan. 9, so you have plenty of time to catch up, fall in love (because Rachel Bilson is adorable), and tune in so it doesn't get canceled. THANKS.
If You're Still Upset About How Rory & Lorelai's Relationships Turned Out:
One Tree Hill
OK, this one wasn't shot on the Stars Hollow set, but if you really love small town TV shows, One Tree Hill could be the next series on your journey. Also a CW series, Tree Hill, N.C. is the drama answer to Gilmore Girls' comedy. You'll be sucked in and get the fulfillment of actually seeing the relationships you're rooting for work out. It's a win-win. You'll also get a break from the relentless comedy AND you won't want to rip your hair out in frustration like you did when Jess told Rory he loved her and she just couldn't say it back.
(This also might be a shameless plug for my favorite TV show of all time, but also, Brooke Davis.)
If You Are Still In Love With Jess Mariano:
Heroes
Are there any Gilmore Girls fans out there that aren't still wondering what it would've been like if Rory just got her act together and told Jess how much she loved him? I'm convinced that the entire fan base is still waiting for the Gilmore Girls movie to come out and reveal that Jess and Rory ended up getting married and being in love forever. But, anyway, if you're just jonesing for more Milo Ventimiglia in your life (because Jess' cameos in the later seasons of Gilmore Girls were unfulfilling at best), Heroes is on Netflix. Arguably Ventimiglia's second-biggest role to date and definitely proof that some things get better with age.
If You've Ever Imagined Killing Christopher:
Sons of Anarchy
Remember that one time Christopher rolled up to Stars Hollow on his motorcycle thinking he was all cool and whatever? Well, he never would've been able to run with Jax Teller and the SoA crew. Which, as far as I'm concerned, makes him a poser — especially because the next time he came to Stars Hollow, he was driving some lame car and ruining everyone's lives. Christopher is a life-ruiner and a series-ruiner when you think about how he and Lorelai got married (WHY DID THAT HAPPEN?), so it's OK if you've thought about killing him. Luckily, SoA will fulfill your murderous streak without you actually having to kill anyone. Oh, and also motorcycles.
If You Wish Lauren Graham Could Be Your Real Mom:
Parenthood
This one's for all of you Lauren Graham lovers out there. We've already proven here at Bustle that Lorelai Gilmore and Sarah Braverman are the same character, from their relationships with their daughters to their choices in men. But, Parenthood is also a great option because if you ever dreamt that Lorelai was your mom while watching Gilmore Girls, this series will absolutely give you your fix. Lauren Graham should just always play mom roles so I can imagine her supporting me in drinking thousands of gallons of coffee in my lifetime.
If You Miss Dean & Really Want To See A Gilmore Girls Reference:
Supernatural
OK, first of all, WHO ARE YOU THAT YOU MISS DEAN? I'm sorry, I shouldn't be shaming you for your choice of Dean over the far superior Jess. But, whether you miss Dean and his silly, floppy hair or not, Supernatural does feature a pretty incredible Gilmore Girls reference in the Season 2 episode, "Hollywood Babylon." So Supernatural is really a gift for Dean fans and Dean haters. And with nine seasons available on Netflix and the tenth currently airing on The CW, Lorelai Gilmore would be able to hate-watch all the Dean (well, technically Sam) scenes forever and love every minute of it. And, really, when I'm picking a TV series to binge, I'm obviously thinking, "What Would Lorelai Do?"
If You Want To Watch TV Like Lorelai & Rory:
Food Network Reality Series
I don't know why I feel this way, but I feel like Lorelai and Rory would've gotten a kick out of Food Network's reality and competition series. Can't you see them, on the couch under a pile of wildly unhealthy snacks, watching Cutthroat Kitchen or Chopped and just killing it with the commentary? Netflix offers the first seasons of Cutthroat Kitchen, Chopped, and Restaurant: Impossible (along with a few Guy Fieri seasons that the Gilmore's definitely wouldn't like), so when you combine them all, it's almost as if you're watching new series. And just think about the commentary. THINK ABOUT IT.
Images: The CW (2); Danny Feld, Sergei Bachlakov/The CW; NBC; Prashant Gupta/FX; Paul Drinkwater/NBC; Chopped/Facebook