'The Voice' Team Adam Has No Female Singers Left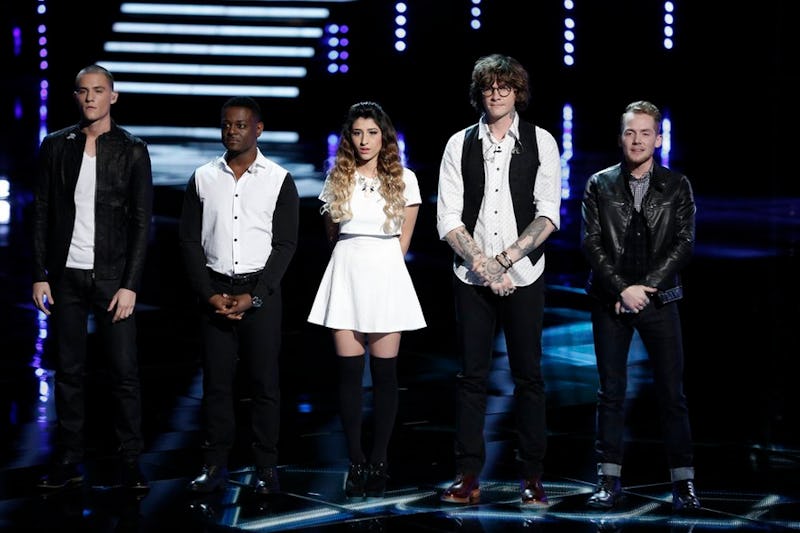 Anyone who's witnessed one before knows that elimination nights on The Voice are emotional occasions (as proved by Gwen Stefani's breakdown when she announced who she'd be saving), and this Wednesday night's episode was no different. Making a cut from 20 contestants to 12 is a big deal, and since eight people had to go home, chances are that in those eight were some talented people who could've succeeded had they been given the chance to stay. One of the biggest shockers of the evening were who Adam Levine decided to send home, and this time around it was Mia Pfirrman and Taylor Phelan.
In Mia's case, even I was a bit taken aback. As soon as I saw Mia's blind audition, I thought she was in it to win it. However, after seeing her perform "Young and Beautiful," I'm pretty sure that it was the song choice and not a lack of talent that did her in. Lana Del Rey's voice and specific style is hard to reproduce, so had she picked something more suited to her voice, Mia might still be in the game. The biggest bummer of them all now that Mia's gone? Adam's team is totally made up of dudes.
And as far as Taylor goes? Adam gave him an awesome review during his performance of Echosmith's "Cool Kids," but apparently it wasn't enough to carry him through.
Knowing Adam, though, he has a plan — and I'm assuming it'll all make sense in the episodes to come. The one thing I'm absolutely sure of, though? I am never going on The Voice, or any other singing competition show, for as long as I live.
Image: Tyler Golden/NBC