Swift's 'Time' Cover Photo Is A Welcome Change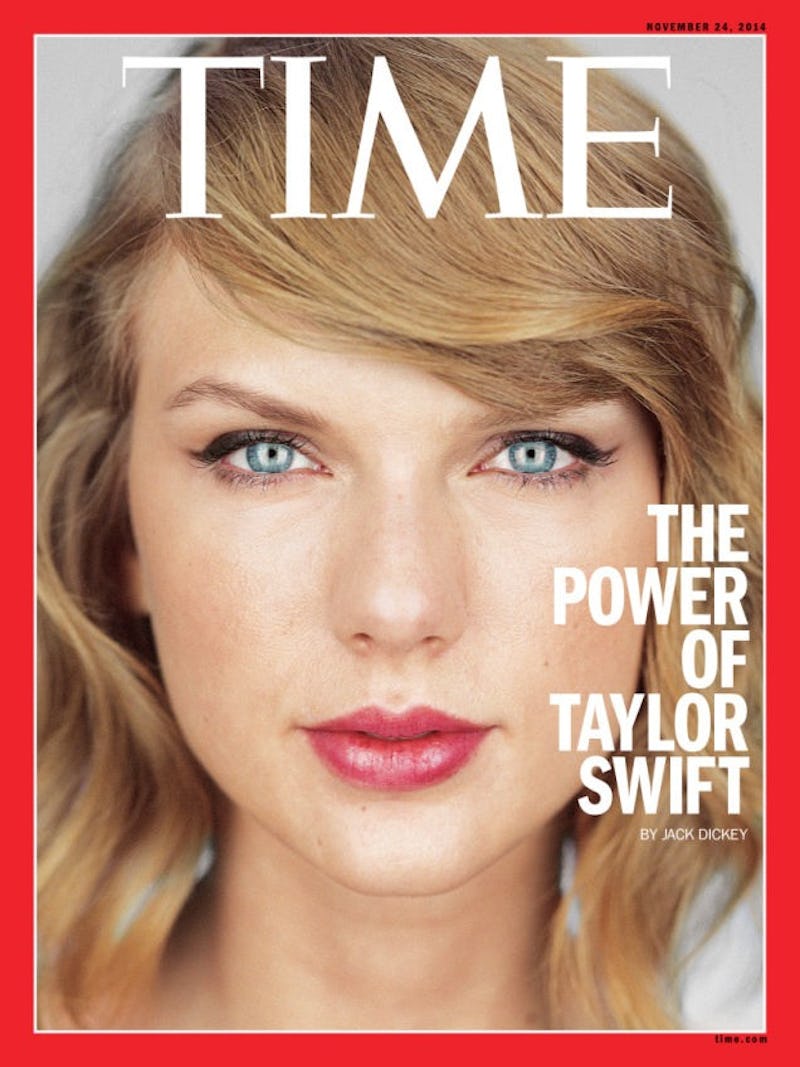 Taylor Swift is everywhere. The country star-turned pop royalty has blown up the music industry with the release of her indie and electro-infused album 1989 and this week, Swift covered both Time Magazine and Bloomberg Businessweek , which not only speaks to her popularity, but her power. She's re-branded herself as a no-holds barred woman in charge of her own path. Sure, the music still makes you dance, can be a bit saccharine at times, and touches puh-lenty on the subjects of love and heartbreak — but still, we are all seeing a new Taylor Swift, one that is finally being taken seriously.
1989 sold 1.287 million, I repeat,1.287 million copies in its first week. That in and of itself is quite the feat. Then she dropped the video for "Blank Space" and broke the Internet in her own total tongue-in-cheek style. What both Time and Bloomberg Businessweek focus on are not how Swift is dealing about her break-ups or how her style is easy to re-create on a budget. Rather, the 24-year-old singer has received the kind of treatment so few women in the music industry are ever dealt: respect. Time titled their piece "The Power of Taylor Swift" while Bloomberg Businessweek opted for "Taylor Swift Is The Music Industry."
It didn't take long before the Internet pointed out that the image of Swift on both is nearly identical, but that's not what actually matters about the covers. What does matter is the fact that Swift appears on both covers with her face taking up the entire real estate. Her gaze is forward, directed right at the reader. It is the sort of cover that is more often reserved for men because it is a powerful and assertive image. More often than not, women are depicted on the covers of magazines showing off their sexy bodies, desirable fashion, and/or they're very photoshopped, and look completely non-threatening. Take a close look the next time you're a the magazine aisle at the grocery store and you might notice just how rarely women are looking directly at you without being completely sexualized.
Swift has been afforded this rare opportunity and it's especially important that it was done for Time and Bloomberg Businessweek. They're not fashion or teen mags, they're hard publications with audiences who would rarely give a pop star much attention. Now she really has all eyes on her, and it's for all the right reasons.
To see just how these two covers differ from the norm, take a look at other magazines Swift has appeared on this year. Both the content of the magazines and the way in which she is posed makes her Time and Businessweek pieces all the more welcome of a change.
Fashion, Novemver 2014
The pull quote on the Swift story is about her love life, not her career. The rest of the cover is a collection of fashion magazine cliches including the question, "Can parkas be sexy?"
Glamour, March 2014
Again, the pull-quote mentions Swift's love life. Here she's also posed to the side with a coy, unintimidating smirk. The issue also promises 10 sneaky ways to lose weight, because eating is shameful, and eating less is shameful, too! Glamour also asks if you've hit sexual milestones, yet.
Nash, September 2014
At least this cover does more than talk about who Swift is dating. However, here we have a body shot from behind, which sexualizes Swift and is a much less "aggressive" pose than facing forward. You might also notice how the most prominent feature of her face is her lips, while her eyes are mostly hidden.
Vogue UK, November 2014
The Vogue cover shows Swift in much less clothing than the other covers as she's sat daintily on the floor in the most pastel hues. I'm surprised she's not accessorized with bunny ears. I also get a real kick (and by kick I mean swift kick to the gut) out of the "style fixes for every figure," because no matter your figure, it needs to be fixed.
People, October 2014
Again with her relationship status! CRIPES! I know the picture is a replica of a famous People cover featuring Mia Farrow... but the pearls and the dolls skin. Oi vey.
Images: Time, Bloomberg Businessweek, Fashion, Glamour, Vogue UK, Nash, People