'Fifty Shades' Has a New Poster & Yep, It's Hot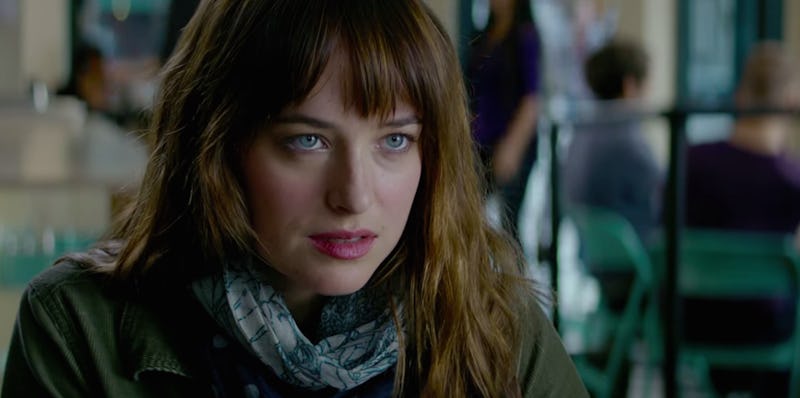 The release of Fifty Shades of Grey is still pretty far off, but it really doesn't feel that way when you consider all of the new promotional material that's been released for the film in recent days. A teaser trailer, then a full trailer, then a new poster, and now this? The studio is really cranking up the anticipation here — which is actually a pretty meta decision when you think about the fact that this movie is meant to deal heavily with seduction and sex. Anyway, it looks like another poster for Fifty Shades of Grey has been released in conjunction with the film's new trailer and, true to this movie's subject matter, it's pretty hot.
Featuring the film's stars Jamie Dornan and Dakota Johnson as Christian Grey and Anastasia Steele, respectively, the poster depicts the two in a passionate embrace of sorts: Which, for this movie, is Anastasia with her hands bound above her head while Jamie pins her to a wall. Considering what's in the book, this is pretty tame, all things considered.
In addition to, to put it simply, accurately representing the film, the poster also details the film's release date: Feb. 14, 2015, aka, Valentine's Day. ICYMI, that's a whole 3 months away.
Yep: Looks like this wait's gonna be a torturous one.
If you haven't caught the trailer yet, check it out below.
Image: YouTube