Can Anyone Stop Damien From Winning 'The Voice'?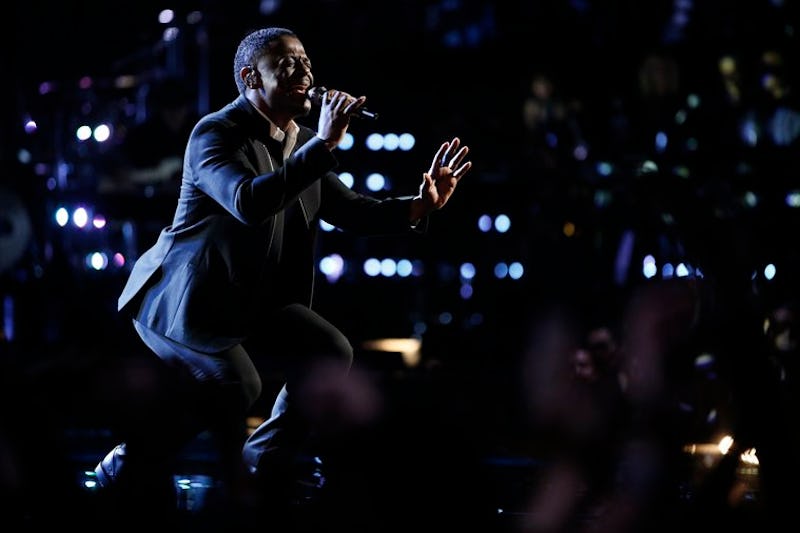 Since this season of The Voice began, Damien has held a special place in my heart. I appreciate how in touch with his emotions he is, and how he is willing, week after week, to be vulnerable on national television. He pours his emotions into each performance, and you can tell he's just meant to be on stage. Oh, and did I mention his amazing, spine-tingling vocals? Because this man can sing. I believe Damien will win The Voice Season 7—and even if all of America loses their minds and he doesn't come out on top, there's no way he won't have some kind of career in the music industry after this.
But before we just hand Damien the crown, he'll have to overcome some stiff competition. In my opinion, Damien is the strongest singer on Team Adam (which also includes Matt McAndrew and Chris Jamison), but he'll have to watch out for Craig Wayne Boyd (Team Blake) and DaNica Shirey (Team Pharrell). Those two have been delivering dynamite performances, and Craig could give Damien a run for his money because while he sings country music, Craig has a gospel edge that comes closest to the TSA agent's own style. But if Damien continues to dominate songs like he did during the live playoffs, then he's got it made.
Here are five reasons why Damien has The Voice in the bag:
1. He Has the Best Voice (Duh)
From Damien's very first audition, it was clear his voice was special. Just 15 seconds into his rendition of "It's So Hard to Say Goodbye to Yesterday" by Boyz II Men, he had three chairs turned — and Blake got the message a minute later. Unlike other Voice contestants, Damien isn't showy. He doesn't add in unnecessary runs or overly-elaborate arrangements. He just knows how to sing really well.
2. He's in a Category of His Own
During the live playoffs last week we said goodbye to Elyjuh René, the only other male R&B/soul singer left in the competition. Now Damien has the entire genre all to himself. Like I said earlier, Craig does have gospel roots as well, but I think the two contestants are still playing to very different audiences.
3. He Sings from the Heart
After hearing Damien's backstory, it's hard not to feel compassion for him. As a TSA agent, he witnessed a gunman open fire at the LAX airport where he works. His coworker Gerardo Hernandez was killed and six other agents were injured. That incident, and the memory of his coworker, has inspired Damien to push forward and pursue his dream of a musical career. Damien frequently gets choked up on stage, and that raw emotion makes him more relatable than any other singer on the show.
4. He's Got Adam
At the moment, I'm still upset Adam picked Chris Jamison over Taylor Phelan during the live playoffs. I really thought Taylor could have gone far, and Chris doesn't seem all that special to me. But, putting that complaint aside, Adam is still a great coach. He's won twice before, and he knows how to help a singer improve while simultaneously building up their confidence. He and Damien could do great things together.
5. He Makes Good Choices
So far, Damien has yet to pick a bad song — the fatal error that has been the demise of so many good singers before him. He's covered a range of artists, from LeAnn Rimes to Sam Smith, and he has been able to showcase the best parts of his own voice through each of these selections. He always makes me excited to hear what he'll sing next, and that's a powerful position to be in.
Images: Trae Patton/NBC; NBC (3); Imgarcade