25 Times Your Roommate Was The Best Person Ever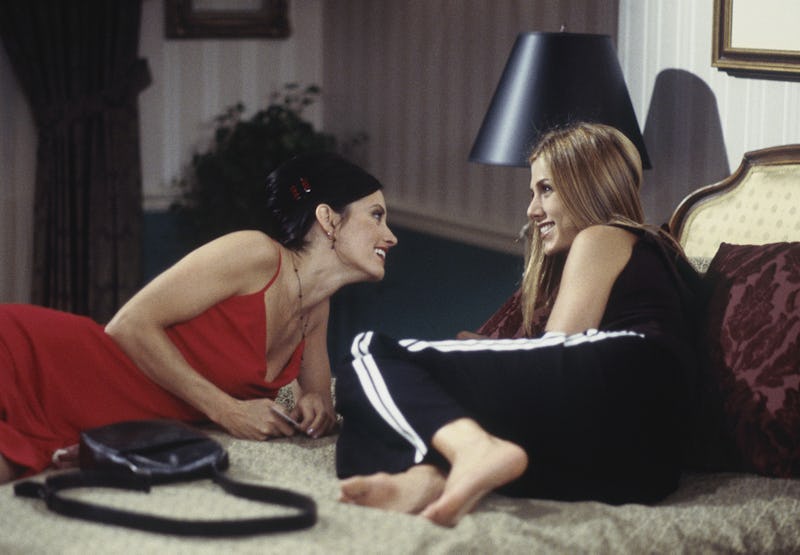 Finding the perfect roommate is never easy (especially if you're me, but that's another story). I want someone who is as clean as I am, respects my space, likes cats, pays rent on time, parties the exact same amount that I do, surprises me with cupcakes sometimes, wears the same shoe size as me, and is perfect in every single way. That's not too much to ask, is it? Of course, nothing is perfect, and so I've had both roommies who turned into froomies, and roommies who turned out to be disgusting, passive-aggressive psychos. Win some, lose some. But even among the coal, there are a few gems. Or coal can shine, too. No, wait, diamonds are forever? Ugh, what I'm trying to say is that even my bad roommates have had their wonderful moments, and isn't that all that really matters? (No—hygiene also matters.) But mostly it's the thought that counts.
There's no greater feeling than when your roommie or froomie steps the eff up and does something utterly amazing and kickass for you. Your heart turns to mush and you just want to drown them in chocolate and hire Justin Timberlake to serenade them, right? Just a little bit? Completely understandable—you need to keep them as an ally! After all, who else is gonna clean you up and dump you in bed on those nights when you've partied just a little too hard?
How does a roommate earn the title of "greatest person in the world"? These 25 things are a solid start:
KEEPING YOUR WINE RACK WELL STOCKED
This person is less of a roommate and more of a god, tbh.
POLITELY IGNORING THE LAUNDRY MOUNTAIN BLOCKING THE PATH TO THEIR BED
They know that you'll get to it soon...ish.
LEAVING A PARTY TO COME HOME WHEN YOU'VE LOCKED YOURSELF OUT
Because they know that sleeping in the hallway isn't exactly comfy-cozy.
KNOWING EXACTLY HOW TO CHEER YOU UP
My favorite sentence is probably, "Want to order pizza and watch The Carrie Diaries?"
RUNNING AN ERRAND FOR YOU THAT'S TOTALLY OUT OF THEIR WAY
I've had roommates pick up medicine for me, return a credit card to someone about to head to the airport, and bring me Gatorade when I was too hungover to move. That's true love, man.
SWITCHING INTO MOM MODE AND CLEANING UP YOUR DRUNKEN VOMIT
Other people's bodily fluids disgust me as much as the next person, but sometimes you've gotta do what you've gotta do. And sometimes what you've gotta do is clean up your roommate's demon vomit and fish his retainer out of the trash. These things happen.
HIRING PROFESSIONALS TO CLEAN YOUR APARTMENT BECAUSE YOU JUST CAN'T/DON'T WANT TO
Mopping? What is mopping?
ASKING PERMISSION BEFORE SEXILING YOU
This doesn't apply as much when you're out of college and have separate bedrooms, but it was so essential in dorm room days. Having time to pack a little overnight bag and dip on out of there before the lucky fella comes over is crucial.
MAKING A SURPLUS FOR DINNER BECAUSE THEY KNOW YOU'RE INEPT IN THE KITCHEN AND WOULD STARVE WITHOUT THEM
Without her it would be Pop Tarts and saltines for dinner...again.
INTRODUCING A CANDY JAR TO THE KITCHEN (NEED I SAY MORE?)
No, I needn't.
TAKING OUT THE TRASH WHEN IT'S -20º
♪ How do I liiiiiiive without youuuuu ♪
RUBBING YOUR BACK WHEN YOU'RE SICK
Bonus points if they make you chicken noodle soup, too.
CALLING YOU A CAB WHEN YOUR PHONE IS BROKEN
...or when you're drunk and can't even find your phone.
HELPING YOU GET DRESSED WHEN CLOTHES ARE TOO HARD TO DEAL WITH ALONE
Prepping for an interview or date is stressful enough, so relax and let your personal stylist make you look your best.
LETTING YOU SLIDE A LITTLE ON RENT WHEN TIMES ARE TOUGH
She's not going to put you out on the street!
BEING YOUR BIGGEST CHEERLEADER
Her positivity will (hopefully) cancel out your self-deprecating negativity!
"GETTING IT" WHEN YOU JUST AREN'T IN THE MOOD TO TALK
I love you but please just let me go into my room and hide under my covers for the next 14 hours, okay?
TAKING QUICK SHOWERS
So you can then take an hour shaving your legs for your FWB's visit tonight.
MAKING YOU EAT ORANGES TO WARD OFF SCURVY
I don't know if anyone who is not an 18th century pirate even gets scurvy anymore, but it's sweet that she cares about your health.
NOT INVITING PEOPLE YOU HAVE BEEF WITH TO PARTIES AT YOUR HOUSE
Sure, Melissa was in her college sorority, but that doesn't make her any less of a boyfriend stealer. And boyfriend thieves are not welcome in your home, which is a rule your roommate respects.
PROOFREADING YOUR WORK WHEN IT'S 3AM AND YOU DON'T KNOW WHAT WORDS ARE ANYMORE
Big ups to my freshman year roommate, who probably was the sole reason I passed that year.
REFRAINING FROM ASKING QUESTIONS OR JUDGING WHEN YOU BRING A STRANGER HOME
And not saying anything when they find you naked in the living room with said strange man...oops?
SHARING THEIR BED WHEN YOUR ROOM IS TOO HOT OR YOUR BED IS TOO FULL OF CRAP YOU DON'T WANT TO MOVE RIGHT NOW OR YOU JUST WANT TO SNUGGLE
Plus her pillows are just so niiiiice.
SOUNDLY SLEEPING THROUGH YOUR ALARM/MORNING ROUTINE
You're not super loud or anything, but it's nice to know that you could blast Icona Pop and she would still be snoozing on.
CALLING THE LANDLORD WHEN YOUR TOILET IS BUSTED
You hate dealing with Phil. Thank god your roommate's got your back.
Images: NBC; Giphy(25)