Anita Chose a Risky Song, But It Paid Off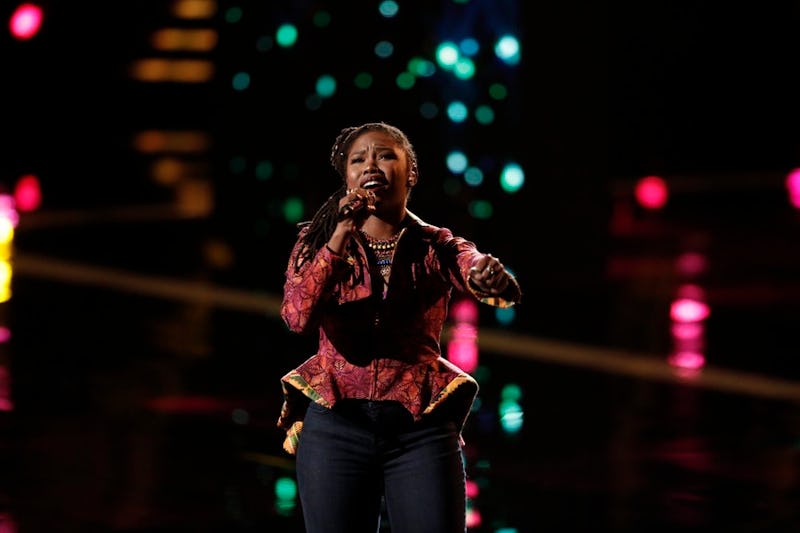 The Top 12 performances ended on the best note possible. Anita Antoinette is the breath of fresh air this season of The Voice needs. Don't get me wrong, this season is packed with talent, but the artists are a lot of the same. There's the cute, boy band types; the fresh-faced, young girls with powerhouse voices; and the good-looking rocker guys. Most of the contestants fall into a category, besides Anita Antoinette. Aside from being the only Jamaican, reggae artist of the season, Antoinette has something about her that sets her apart from the rest of the pack. Her performance of Bob Marley's "Redemption Song" was like nothing we have heard before on this season, and it truly set her apart as one of the most talented performers on The Voice.
I don't know what the coaches were thinking in season three that made them not turn their chairs, but I'm so glad Antoinette had the courage to get back on the stage to audition for this season, because she deserves to be here. "Redemption Song" is in a style that we have yet to hear from Antoinette. It's always risky to choose a Bob Marley song because he's such a legend and has a truly unique style, but this risk paid off. There was so much emotion behind her performance that Coach Gwen Stefani seemed to be tearing up. You can tell Antoinette was pulling from her own experiences, and that made her performance all the better. Her vocals were spot on, too — it almost seemed that we were listening to the track as sung by a more feminine Bob Marley.
I'm not sure what it is exactly, but there's just something about Antoinette that screams "star power." She seems like one of the most fun people to hang out with, and gives that vibe off in every performance she gives. She is super confident, which makes her performances seem almost effortless. If she continues to deliver in the way she did tonight throughout the rest of the competition, I can almost guarantee that we will see Anita Antoinette in the finale.
Image: Tyler Golden/NBC