Luke Wade's Blunder Didn't Stop Him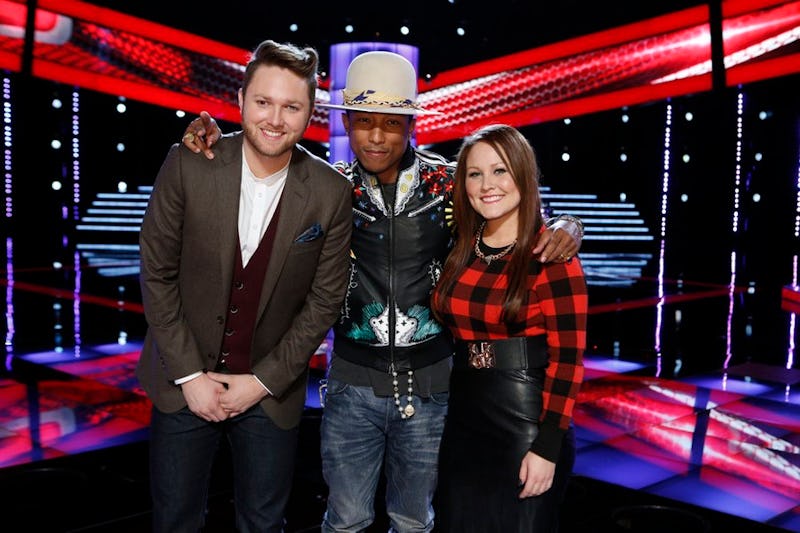 When you've got it, you've got it, ladies and gentlemen. And no mistake is going to hold you down. During last week's playoff rounds on The Voice , Luke Wade won us over with his "Let's Get It On" performance and I was absolutely convinced that he'd be going to the finale. But, that was before Wade flubbed his "Thinking Out Loud" performance during the Top 12 night on Monday. Adam praised Wade for recovering like a pro, but I absolutely wasn't feeling confident that Wade's professionalism would be enough to keep him in this competition. Well, I was worried for absolutely no reason because Luke Wade is in The Voice Top 10 and is still, obviously, a frontrunner in this competition.
I'm just going to get right to the point here — I love Luke Wade and I think he's absurdly talented. If I were in charge of The Voice, I'd probably rip my hair out trying to decide between him and Reagan James. But, there's just something about Luke Wade that makes you want him to win. I'm not sure if it's the fact that, rather than being appalled that he'd make such an error as starting his song too early on Tuesday night, I find it kind of endearing? Or it's because he really did find the way into my heart with that Marvin Gaye cover during the playoffs. Either way, I've said it once and I'm willing to bet my life on it now — Luke Wade will go to The Voice finale.
Clearly my moment of panic and weakness was truly for naught because I never should've doubted for a second that Wade, who is essentially the total package already, would be successful in this competition. But, it still feels good to know that the singer made it through because there are other The Voice fans out there that support him as much as I do and who would be really sad to see him go.
Wade made a mistake, but as Adam Levine pointing out, all artists make mistakes sometimes and it's how you recover from them that matters. And Wade recovered like he'd been born on the stage and he's an old pro. This Team Pharrell singer deserves to be in the Top 10 (well, and to win, of course) and I'm genuinely ecstatic that we get another performance from him next week.
Image: Trae Patton/NBC