The Sexiest Characters Alive... in Literature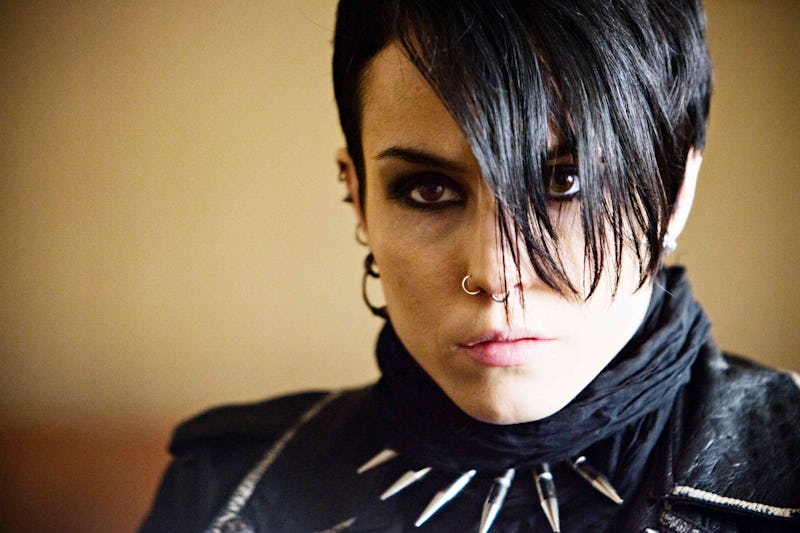 The wait is over, and we can all rest easy knowing that People Magazine's 2014 Sexiest Man Alive is Chris Hemsworth, the blonde Aussie actor who so convincingly inhabited the role of the Norse god Thor and the playboy racecar driver James Hunt in Rush. People said it was "no contest" when it came to crowning Hemsworth, but it's not as if he didn't have any competition. Everything Chris Pratt did in 2014 was pretty damn sexy. He did make the list, but, alas, he didn't win the prize.
Some might say that selecting and placing hot men on a "Sexiest Man Alive" list is a form of objectification, but where's the fun in that? Brit model/actor Jamie Dornan made the list this year, no doubt because of all those 50 Shades of Grey trailers we've all watched 15 times. Some (actually millions of) people would place Christian Grey on a hot list, even though he's a fictional character who likes helicopters and whips. As we all know, fictional characters can feel real when you get lost in a book, so I'm taking a look at 10 literary characters that deserve their own hot list.
You won't see the usual suspects like Mr. Darcy, Edward Cullen, or Anne of Green Gables' Gilbert Blythe (sorry, dude) on this list. You will see male and female characters who are sexy not because of their bulging biceps or brooding stares, but because of their grit, their passion, and, OK, in some cases because they just seem extremely good-looking.
And the winners are…
D.H. Lawrence's Constance Chatterley was a woman who had needs. She was a woman of great passion and she wasn't going to sit around knitting bonnets and letting the messed up morals of her era keep her from living and feeling and going to visit the sexy, taciturn gamekeeper Oliver Mellors whenever she damn well pleased. She's stubborn, strong-willed, and ahead of her time. That's sexy.
Lady Chatterly's Lover, $5, Amazon
If you're thinking, "Why would I read an 800+ page book about some old cowboys," just stop right there. The character of Gus McCrae in Larry McMurtry's Pulitzer-winning novel is one of the best in literature. He's a tough yet sensitive Texas Ranger, and he's easy to fall in love with. He might seem like a womanizer (nobody's perfect) but inside he's a softie. A softie who can herd cattle and rock a cowboy hat and some spurs.
Lonesome Dove, $12, Amazon
ATTICUS FINCH, TO KILL A MOCKINGBIRD
No official "Sexiest Characters in Literature" list would be complete without Harper Lee's Atticus Finch. He wore a buttoned-up suit instead of spurs, but his integrity and open-mindedness made him off-the-charts hot. He took care of business, knew how to raise a badass daughter, and he didn't care what people thought. He somehow makes grave seriousness very appealing.
To Kill A Mockingbird, $7, Amazon
PARK SHERIDAN and ELEANOR DOUGLAS, ELEANOR & PARK
Eleanor and Park don't wield giant hammers or have bulging muscles, but they're one of the sexiest couples in modern literature. It's the way they fell in love that's so sexy, thanks to the insanely talented Rainbow Rowell, who can so perfectly capture the smells, sounds, and feelings of first love like no other. They fell in love so hard it hurt.
Eleanor and Park, $10, Amazon
OK, Richard Burton (aka Mr. Elizabeth Taylor — twice) is technically a real person, but Jess Walter made him into a character in his lush and dreamy novel Beautiful Ruins, so according to the rules of this list, he counts. Most of the novel takes place in Italy, during the time Burton was shooting Cleopatra there, and he pops into the story only briefly — but for that brief moment, he's pretty irresistible.
Beautiful Ruins, $8, Amazon
PHILIP MARLOWE
Private Investigators and detectives are always sexy: Sherlock Holmes, Sam Spade, Nancy Drew, Bruce Willis and Cybill Shepherd in that show Moonlighting. Raymond Chandler gave us one of the hottest P.I.'s of all: Philip Marlowe was a brooding, intelligent, wiseass detective in books like The Big Sleep, The Long Goodbye, and Farwell My Lovely. He had that lone wolf thing going on, which can be sexy... for a while.
Raymond Chandler: The Library of America Edition, $62, Amazon
She's beautiful, conflicted, smart, passionate, and she loves wearing overalls. She's the heartbeat of Zora Neale Hurston's Their Eyes Were Watching God, and she's a woman who discovers her independence at a time when women were supposed to be anything but.
Their Eyes Were Watching God, $16, Amazon
"THE CHINAMAN", THE LOVER
I didn't name the character, but there it is. Marguerite Duras' The Lover is a semi-autobiographical Lolita-esque novel set in prewar Indochina and man is it steamy. A French teenager meets an older, wealthy man and their affair is way sexier than anything Christian Grey and Anastasia Steele could cook up. "The Chinaman" is basically the best lover in the universe, so that cements his position on this list.
Lisbeth is scary sexy. Literally — you do not want to mess with this woman. She's mysterious, she slinks around in the dark, and she's got that private detective vibe going for her. She's fiercely independent and she's got that goth/metal style that's pretty hot. She can take care of herself and kick ass — she's practically a literary superhero.
The Girl With The Dragon Tattoo, $8, Amazon
Screenwriter Nicole Perlman chose to adapt the Guardians of the Galaxy comic books for the screen because the story and characters were so offbeat – they weren't Thor, basically. Peter Quill aka Star-Lord aka Chris Pratt (it's hard to separate them now) has that goofy sexiness going on. He can crack a dumb joke one minute and obliterate an enemy the next. This is also a little shout out to Chris Pratt, who really should have been People's Sexiest Man Alive. But there's always next year.
Guardians Of the Galaxy, $12, Amazon
Images: CBS; Universal Pictures; MGM; Columbia Pictures; Marvel Studios; JoeB94, Annanda Sousa/flickr