NBD, But Here's How To Dress Like Katniss Everdeen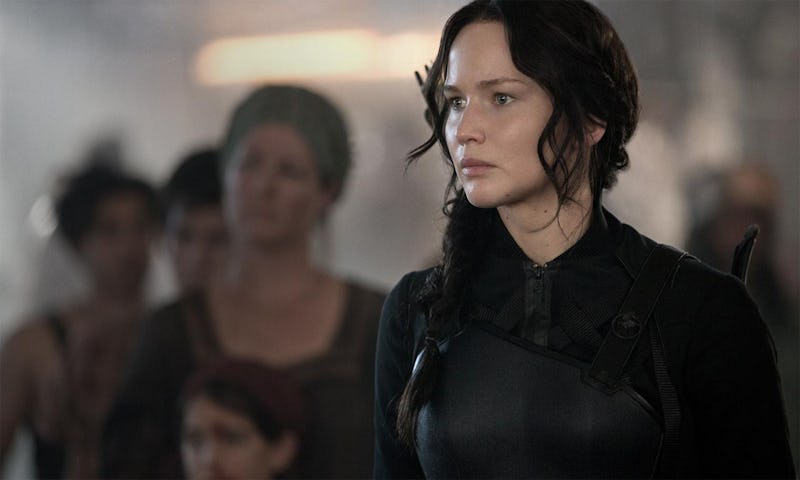 It is Monday and you, dear reader, chose to click on a Katniss Everdeen entitled article. These two facts allow me to assume you likely spent part of your weekend at the theatre watching The Hunger Games: Mockingjay — Part 1, because yes, it finally premiered! Perhaps you even decided Katniss, Peeta and Gale were more important than beauty sleep and ventured out for the midnight premier. It is equally possible you have seen it two or three times already (I get it, you have multiple friends and it wouldn't be very Katniss of you to send them out on their own). Regardless of when, where or how many times you got your fangirl on, the third installment was epic, which means we are obviously still obsessing over it and looking for others to obsess with. Allow me to provide you yet another avenue to continue the chatter as we take fashion inspiration from none other than the queen warrior bee, Katniss Everdeen.
Real talk though ladies, Mockingjay gets dark on us, both literally and figuratively -- which means Katniss Everdeen's look is all black everything. Walking out the door looking like Panem's most rebellious tribute isn't for the faint of heart, but, if you are psyched about a commitment to she-warrior, biker-babe chic, here are five things you'll need to ensure your look is on point.
BOOTS THAT MEAN BUSINESS:
No Mockinjay is ready for battle without a pair of knee-high black boots that prove she means business. Rumor has it, Jennifer Lawrence wore The Frye Company's Melissa Boot in brown for past installments of the franchise, but as I said, things have turned dark. Luckily, these leather lace-up boots come in black and could easily be Cinna's shoe of choice for Katniss's new look.
Melissa Tall Lace Boot, $428, thefryecompany.com
Vince Camuto FAMI Boot, $269, vincecamuto.com
Dessyy Boot, $229.95, stevemadden.com
BUTT-KICKING BLACK JEANS:
The key to any good Katniss-inspired ensemble is a pair of butt-kicking black jeans. Knee-high, lace-up boots are a big look, so sleek jeans with stretch (you can't tuck, roll and swiftly reach back for an arrow in jeans that are too tight!) in a shade of black that is slightly worn out are the perfect compliment.
Skinny Skinny Jeans In Black Frost, $115, madewell.com
BDG Twig High Rise Jean, $58, urbanoutfitters.com
RES Denim Dolly Dagger Moto Jean, $148, nastygal.com
BLACK SHIRT, BLACK VEST, NO PROBLEM:
Ready to take on the Capitol, Katniss is clearly strapped into some seriously protective black leather gear. While we aren't headed into battle with President Snow, we might soon be at war with the winter weather, so we can easily turn this military look into an everyday one. A black leather vest layered over a black blouse or long-sleeve black tee is a great way to fend off whipping winds. Layers and layers of leather and black make for a chic, warm look that is still reminiscent of our girl.
Sleeveless Faux Leather Biker Jacket, $90, topshop.com
Maison Scotch Leather Vest, $277, revolveclothing.com
Favorite Long-Sleeve Crew Tee, $19.95, gap.com
ASOS Blouse, $53.06, asos.com
SPARKLE-TASTIC DRESSES:
Although the all-black, all-the-time look of the Mockingjay is fierce, it just may be that you feel it is a tough look to pull off. Don't worry, no one is questioning your fandom and there is certainly a fun and fancy alternative. We might have left the flashy fanfare behind when Catching Fire came to an end, but I would be missing some major fashion if I didn't highlight a couple of dresses that paid homage to Cinna's insanely beautiful designs. Even though the Capitol Couture collection is no longer available, we can take inspiration from the girl on fire for the upcoming holiday season.
So how about following Cinna's instructions and taking a spin in this fiery sequin dress.
News Flash Red Multi Sequin Dress, $84, lulus.com
Pay tribute to the Mockingjay in this feathered number.
Bleakley Dress, $138, jackwills.com
Take a stand against the Capitol and show the districts that you have been transformed into the Mockingjay, wings not included.
Lipsy Embellished Maxi Dress, $147.81, asos.com
Whether you are Team Peeta or Team Gale (is it even possible to choose?) we can all agree to be on Team Katniss when it comes to fashion. Have fun with your Mockingjay transformation. Go ahead, get your fangirl on!
Image: Lionsgate