Alfonso & Witney Really Want To Win 'DWTS'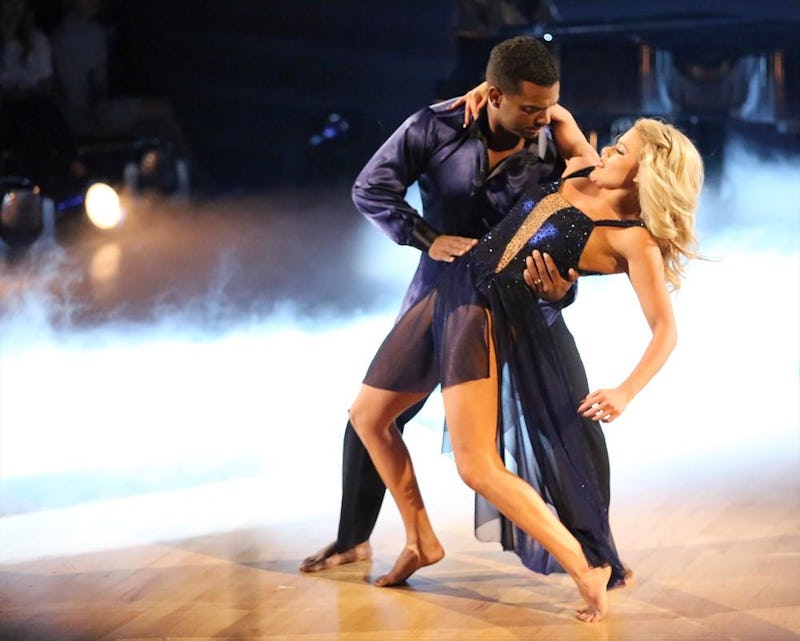 When we lost YouTube sensation and third runner-up Bethany Mota during the Dancing With The Stars Finals, it was devastating and surprising to say the least. But only until I realized how tight the race still is between the three remaining TV stars and that Alfonso Ribiero and Witney Carson could win DWTS altogether.
Where we stand now, Duck Dynasty's Sadie Robertson is the dark horse who snuck her way up from the bottom and Pretty Little Liars' Janel Parrish has been the one to beat throughout the season. But the Fresh Prince of Bel Air star is one of the oldest male contestants on the show, and managed to make it to the finale to compete against two of this season's youngest competitors. After consistently pleasing the crowd with his unforgettable performances and proving himself a warrior through more than one injury, Alfonso and Witney could actually win the Mirrorball trophy in Season 19.
Alfonso sold me in the finals when he admitted that he has wanted to be on the show for almost ten years. For a while, it seemed like his main goal on the show was to lose weight. But being an an entertainer through and through, Alfonso showed that he was clearly born to dance; his love for the art is palpable. The minute he was cast, we all knew we'd see the "Carlton Dance" return without question sooner or later and Witney did not disappoint. The youngest pro this season, Witney proved herself worthy of a victory and she couldn't have done it with anyone but Alfonso.
Alfonso's performances throughout the competition were the kind you crave on Monday nights, the minute you hear the DWTS theme song coming through your TV speakers. As the celebrities dwindle down to one, the competition is the tightest it's ever been, but Alfonso is a clear favorite.
Week to week, you discover new favorites and even become accustomed to celebrities you may not have known even existed before, like Bethany Mota and Sadie Robertson. The difference is that Alfonso's face is iconic to anyone who's ever turned on a television — and since his most notable on-screen moments were of him dancing, there was never a doubt that he'd make it far on the show.
With the only perfect score of the finals, Alfonso and Witney nearly have this competition in the bag. In case it wasn't enough that Alfonso is one of the best performers we've seen this season, he somehow managed to hold his spot at the top through a groin injury, and then a back injury. This late in the competition, it's typical that some of the contestants tire out and get hurt. How could they not? These crazy celebs work their asses off for six straight days learning dance styles most of them have never heard of before, perform them in front of millions of people, and then start all over the next morning. I'd be in a wheelchair if not hibernating by Week 4. But keep in mind that Alfonso is not young or fit by any means and it wasn't just one injury.
When he broke down after his Week 9 performance, much of it, he said, was due to the pain in his back. The fact that he could have pushed through that nearly impossible production and had another performance to worry about, never mind another week, is simply a victory in itself. Alfonso blatantly wants this trophy more than anyone on the show, and you can tell Witney thinks he has a chance.
Don't forget, it will be Witney's first finale on the show, so to take home a victory would be an amazing feat for her as well. The relationship between the two is what got them to this point and neither of them will be any prouder of the other, because winning would be an unforgettable and irreplaceable experience for both of them.
Images: Adam Taylor/ABC; Giphy (3)