#TBT Reads: Charlotte Doyle Is A Feminist Hero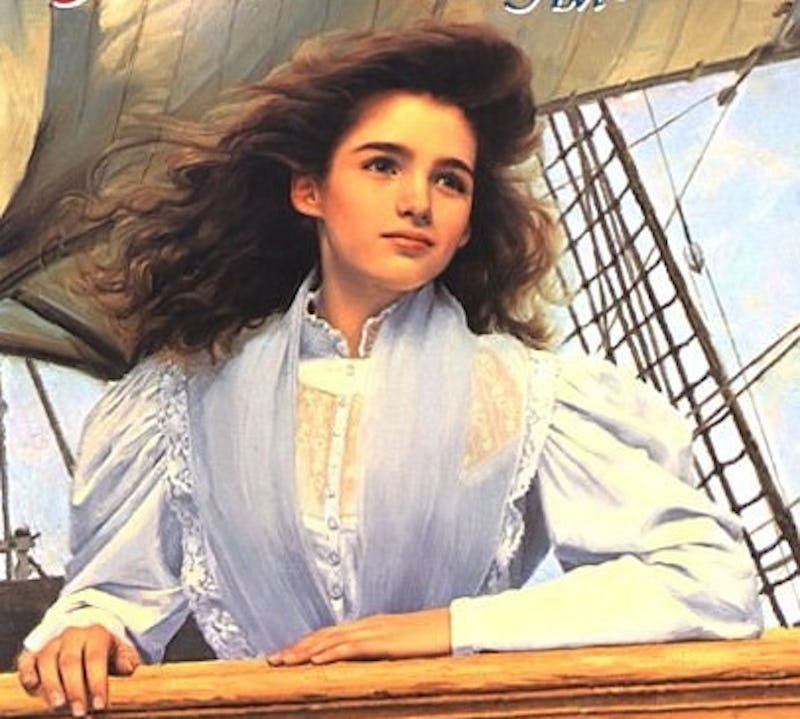 I first came in contact with Avi's The True Confessions of Charlotte Doyle when I (shhh) stole it off my older brother's bookshelf looking for something to read. I was reading page one of several books and putting them back until I came across this one, and soon, I was cross-legged on his bedroom floor, completely absorbed and forgetting where I was. That's the kind of story The True Confessions of Charlotte Doyle is.
I'm not the only one who loved this book. (I'm betting a lot of you did, too.) Avi, whose real name is Edward Irving Wortis, was a Newbery Honor recipient in 1991 and was decorated with numerous other critical accolades for the seafaring adventure story. The story centers around the titular Charlotte Doyle, a proper young lady who takes a sea voyage from Liverpool to Rhode Island. But things go wrong almost immediately. She's not only the only passenger on board, but the only woman at all, and it becomes clear that the crew is planning mutiny. And things only get rockier from there.
Why did we love The True Confessions of Charlotte Doyle?
Remember: I got the book off my brother's shelf and I basically tried to like anything he liked because he was pretty cool to elementary-school-me. But man, I was quickly enveloped in this story. It pulls no punches, and it's a totally wild adventure ride on the high seas. There's mutiny, death-defying acts, stowaways, and murder.
Plus, there's Charlotte herself, and she was pretty awesome to us young women. She goes from prim and proper to handling herself like the best of them on the Seahawk, even eventually being named captain. If she could do that at 13, I could pretty much do anything. And after it all, she takes the time to write it all down, which was appealing to me as a book nerd and writer wannabe.
Why do we still love it?
The True Confessions of Charlotte Doyle completely trashes traditional gender roles, and it was published back in 1990. This is the kind of book young girls (and young boys, too!) need, when instead they are being pushed pretty pink and boyish blue, gender-specified books. It's an empowering story about a young woman that breaks down barriers, and in having a story like this available, it breaks down barriers itself.
This is never more apparent than the ending of the novel. Charlotte doesn't go back to her prim and proper ways. She learns enough about herself and what she wants out of life that when her father criticizes her after reading her account of her sea voyage, she escapes back to the Seahawk to be a sailor. This way, it's not just a story about a girl who tried something crazy one time. It's about a girl who learned something about the world and how she fits in it.
Avi's novel isn't an easy story, either. It's not Disney-fied. There's violence and obstacles and hard truths. One important quote comes to mind.
Something Zachariah told me filled my mind and excited my heart: "A sailor, he said, "chooses the wind that takes the ship from a safe port. Ah, yes, but once you're abroad, as you have seen, winds have a mind of their own."
The story doesn't tell readers that things will always come to them if they just believe it will, or if they try hard enough. It's a hard truth, but it's an important one, that sometimes things just happen to you, and you have to learn how to stand up to the challenge.
If You Loved The True Confessions of Charlotte Doyle, Try Reading...
1. Wild by Cheryl Strayed
Adventurous women who didn't quite know they were adventurous? Check. Plus, Cheryl Strayed's story is just flat-out amazing so you're going to want to read this one to stay in the cultural discussion (especially as the movie comes out) anyway.
2. In The Heart of the Sea by Nathaniel Philbrick
If you're looking for another high seas adventure, the critically acclaimed true story of the wreck of whaleship Essex is positively stunning. The Essex inspired the climax of Moby-Dick, and it is a true epic tale.
3. The Good Girl's Guide to Getting Lost by Rachel Friedman
Like Charlotte, Rachel Friedman has always been known as the good girl. Which is why it was so surprising that she spontaneously booked a trip to Ireland. Her trip lead to more adventures, spanning three continents, and it awakens a spirit in her that shows her more about herself than she knew.
Image: Giphy