Here's Your Ultimate Holiday Wine Guide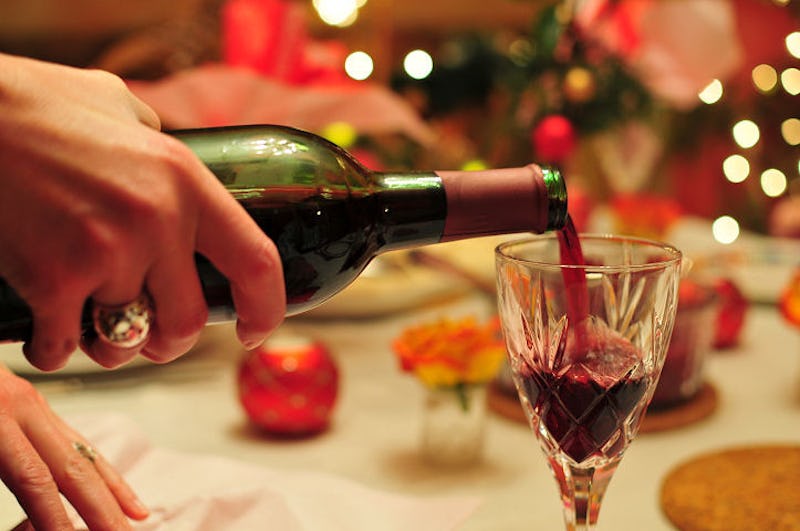 It's a weeknight, it's late, you're still in the office, and you just remembered that you were asked to bring two bottles of wine to your friend's annual ugly Christmas sweater party. It's not that you're totally clueless when it comes to all things vino, but at times likes this, you probably wish you had some sort of holiday wine guide to help you out in a pinch. Like any good friend, you decide to part ways with your never-ending to-do list and head straight to the closest neighborhood wine shop. "One bottle of red and one bottle of white," you mutter to yourself. "This can't be too hard." But then, four aisles and three countries later, you find yourself standing along the perimeter cowering, utterly bewildered by all the names, varietals, appellations, prices, and colors so that everything becomes one big boozy blur.
You snap out of it and in a panic you ask the clerk for his personal recommendations. To your dismay, he begins droning on and on about the soft fruits and subtle tannins of a $27 bottle. "Twenty-seven dollars?! It's an ugly sweater party not the actual birth of baby Jesus!" you inappropriately shriek. Great, now you've pissed off Le Garçon du Vin, you're officially late for the ugly sweater party, and you still don't have two bottles of vino in hand. Le sigh.
Does every fiber of your being want to avoid this uncomfortable situation? If so, read on to find my personal holiday wine recommendations below. I've broken wines down by two categories of necessity — red and white. To make life easier, I've also provided the maker, varietal(s), a snapshot of the label, non-douchey tasting notes, and most importantly, price points. Did I mention every single wine on this list will cost you less than 20 dollars a pop? Now go have yourself a merry little time.
Red Wines
Ripe cherries, raspberries, toasted oak, and vanilla come together to make jammy spiced love in this affordable bottle of 100 percent Zinfandel. Truth be told, I've been a loyal Bogle drinker since I first layed taste buds on this super versatile red back in 2008.
The lightest red on the list, this 100 percent pinot noir hails from Chile. The bright notes of strawberry and cherry make for a great party starter, and let's be honest, that colorful label just screams "add me to your 2014 holiday gift guide." Screw top to boot.
This Italian red blend offers subtle flavors of ripe cherry and berry before a slightly tannic finish. It's not too often you find a great red at a good price with an adorable label — the ideal holiday party gift.
The boldest red on the list, Coppola's Claret (Claret is the British term for a bordeaux), packs a punch with its succulent notes of wild berry, plum, and anise. The smooth tannins are the perfect complement to a cold winter night. Pair this with heavier meats, red sauces, or hearty veggies.
This Spanish red is 90 percent Tempranillo and aged in oak, meaning you'll be sure to taste notes of ripe cherry and berry before a slightly dry finish. Cheap and versatile, as a rule Rioja pairs well with anything from chicken to fish to beef.
This California Petit Sirah takes you to the dark side with its notes of blackberry, smoke, and vanilla. Its depth begs for a glass (or three) by your closest neighborhood fireplace.
White Wines
Everyone likes a pinot grigio, especially when that pinot grigio has smooth flavors of ripe nectarine and peach. This screw top bottle travels well, making this white a fantastic holiday party gift.
This dry riesling hails from New York state and boasts flavors of minerals, lime, and a slight honeyed sweetness. Pairs well with a variety of dishes — from appetizers, to seafood, to spice, to the dessert table.
This light and crisp white blend combines the flavors of 10 different varietals (also known as grapes), offering notes of tropical fruits and white peach. Screw top cap too! #blessed
This screw top half Chenin Blanc, half Viognier blend has been my go-to white wine for the last five years. Its combination of citrus, ripe honeydew, and mild spice makes for the perfect party wine — whether you're casually sipping while chatting or chowing down on some holiday ham.
This 100 percent Verdejo hails from Spain. It's refreshing, clean, and unbelievably easy to drink. A bright, perky crowd pleaser, indeed. Just like you.
Pronounced Al-bah-reen-yo, this easy drinking Spanish white has a soft floral aroma with prominent notes of peach, apple, honeydew, and passionfruit. Thinking ripe fruit? Thinking versatile party wine? Think Albarino.
Images: Vitek Kloc/Flickr; Giphy; Bogle Winery; Vivino; Francis Ford Coppola Winery; Dandelion Wine; PJ Wine; wine-searcher; It's Just Grapes/Tumblr (3); Big House Wines; Vinissimus; Rachel Voorhees; New York Cork Report