Could These 5 YA Series Be The Next Big Thing?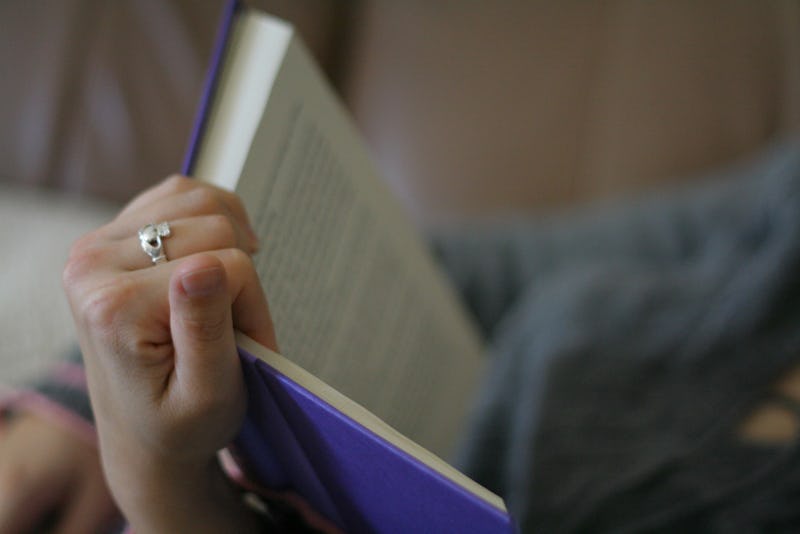 The age-defying allure of a great YA series is undeniable. From the Harry Potter series to The Hunger Games trilogy, we fall hard for the well-crafted world-building and coming-of-age angst inherent in a great YA read. And a series is even better, because as the stories develop, we really get to know and love the characters — and then ball our eyes out when we realize, at the end of the last book, that it's really over. Forever. (I am eternally grateful to J.K. Rowling for the sheer number and satisfying thickness of the Harry Potter novels.) But even the best series must end, and there will be a new one to fill that hole in your life.
So what will be the next big YA series to get us totally fangirling? It's hard to determine what the winning formula will be, but it's probably safe to say it will involve romance, friendship, and adventure (also known as the essential aspects of a great YA series). Personally, I'm feeling some dystopia-related fatigue, but there are plenty of great up-and-coming series that are superbly crafted and contain nary a post-apocalyptic landscape. From high fantasy to contemporary YA, there's a fantastic new series to check out in pretty much every genre.
I'm betting that one (or all) of the following five up-and-comers will be the next superstar YA series... or at the very least a new personal favorite. If you're looking to get hooked, here are a few contenders that have the potential to steal your time... and your heart:
What it's about: In a word, steampunk, with a healthy dose of supernatural. Etiquette and Espionage was my introduction to the genre, and I cannot wait for the fourth installment of the series to come out in 2015. The action takes place primarily in a floating dirigible that doubles as a finishing school for girls. It's a very special kind of school, however, as the girls learn the fine arts of death-dealing, diversion, and espionage along with curtsying, dancing, and dressing. The young ladies of quality are schooled by a host of eccentric professors, including a top-hat wearing werewolf and a dandy vampire.
Why you'll love it: The whole series is a total riot, and the characters have the best names ever, like Sophronia Temminnick, Bumbersnoot (a mechanimal dog), Professor Lefoux, and Dimity Plumleigh-Teignmott. Sophronia is fearless, brave, and loyal, not to mention the undisputed leader of every questionable escapade her close-knit group embarks upon. Tight friendships, high-flying adventure, and espionage in full Victorian regalia... what's not to love?
It could be the next big thing because: Carriger has a witty, totally engaging sense of humor. The dialogue is snappy, the premise and plots of the novels are just crazy enough to be really entertaining, and the steampunk world of Victorian England (replete with vampires and werewolves) is fully developed. Next to Hogwarts, Mademoiselle Geraldine's Finishing School for Young Ladies of Quality is my dream educational institution.
What it's about: Sixteen-year-old Kyra Agnew wakes up behind a gas station with a terrible headache and no clue how she got there. Turns out she's been gone for five years, during which time her parents divorced, her best friend and boyfriend started dating and went to college, and her dad morphed into a drunken conspiracy theorist. Kyra hasn't aged a day. Eventually she teams up with her erstwhile boyfriend's little brother, and they discover a disturbing phenomena of similar disappearances, followed by sudden returns.
Why you'll love it: Because it's kind of weird. There was a blinding light, and then Kyra wakes up five years later. So what the hell happened? See, you're sucked in already. The fact that sparks fly with Kyra's ex-boyfriend's little brother (who was 12, yes 12, when she disappeared) is kind of creepy, but hey, he's 17 when she "comes back."
It could be the next big thing because: Derting is also behind the popular series, The Body Finders , so she already has a pretty loyal following. This series is poised to be big, because, not to get spoilery here, but The Taking tackles a newish topic, and YA readers (at least this one) are ready for something different. Derting sets up the second book in the series perfectly (coming in 2015), and I can't wait to see where she "takes" us next.
What it's about: The first novel in the trilogy, Half Bad , came out this summer, and somehow Green re-imagines a topic as old as time (witches). The protagonist, Nathan, is a guy and a witch, and his daddy issues make everybody else's pale in comparison. Nathan is half-black witch, half-white witch, and it is yet-to-be-determined whether he is essentially good (white) or bad (black). This may seem, very, err, black and white, however, it's anything but simple, at least in Nathan's case. A witch's nature can be determined by the color of his eyes, and Nathan's eye color is utterly unique. Nathan must track down his dad, Marcus, the most evil black witch the world has ever known, in order to come into his own magical powers. But everyone and the government is trying to stop, or kill, him first. And there's a girl, of course.
Why you'll love it: It's different. This is no Harry Potter, people. Well, unless Potter's dad was Voldemort.... but anyway, this is a dark story, with a lot of violence and some downright brutality. Nathan is always the underdog, and not only is he treated like a leper, he's also bullied, beaten, and hunted. There were times while I was reading that I wished I could hold his hand or something. And although there's nothing revolutionary in the love story (at least thus far), the way Nathan talks about Annalise is pure sweetness.
It could be the next big thing because: This is a special story. If the rest of the trilogy is as good as the first book, it's going to be big. Green has an uncanny knack for seeing the world through the eyes of an alienated 16-year-old boy, making him vulnerable and indomitable at the same time. Half Bad generated quite a bit of advance buzz, but it doesn't seem to be catching on with the Goodreads crowd quite like one might expect. But it exceeds the hype.
What it's about: This epic fantasy series centers on Celaena Sardothien, female assassin and champion of the King of Ardalan. Think of it like a YA version of Game of Thrones, plus Graceling , and a touch of Assassin's Creed. And there's a little romance and soul-searching thrown in for good measure. Sounds intriguing, right? There's a lot going on in this series (the fourth installment hits fall 2015) — deadly competitions, shattering revelations, and a bit of a love triangle. Plus some explosive secrets. It will keep you entertained.
Why you'll love it: The love triangle is a bit formulaic, but the rest of the action more than makes up for it. Celaena is a female assassin, and her strong, yet vulnerable, character is hard to resist. At times you want to throttle her because she's shallow and immature, but then she turns around and saves everybody's butt, and you can't help but love her.
It could be the next big thing because: This series is pretty heavy on the fantasy, but so is Game of Thrones, and I think we can safely say it didn't hold that franchise back any. You're going to be rooting like crazy for Celaena, even with her all her annoying defense mechanisms. She's worth it every step of the way.
What it's about: The first novel in this series came out this summer, and it's a fast-paced mystery with a sharp, sarcastic protagonist. Julep Dupree is a con artist. She attends a swanky private school in Chicago, her tuition funded by the nefarious activities of her grifter dad and Julep's own petty scams. Julep has her sights set on a whole new life that centers on Yale — but that dream comes crashing down when she returns home one day to find her apartment ransacked and her dad gone. With the help of her best friend Sam and the school Prince Charming, Julep struggles to stay one step ahead of the hits, family secrets, and social workers, determined to use every trick in the book to save her dad.
Why you'll love it: Hmm, dare I say this? This girl, Julep Dupree, (is that even her real name, because, seriously) gives me a definite Veronica Mars vibe. All sassy, smart, and sarcastic. I rest my case.
It could be the next big thing because: Well, it's destined to be part of a contemporary YA series, which is a big deal. Lots of reviews compare it to Ally Carter's Heist Society series, but I think this one has more heart. You're going to root for Julep and her dad, and you're going to want more at the end.