19 Anna Kendrick Singing Scenes That Will Prepare You For 'The Last 5 Years' — VIDEOS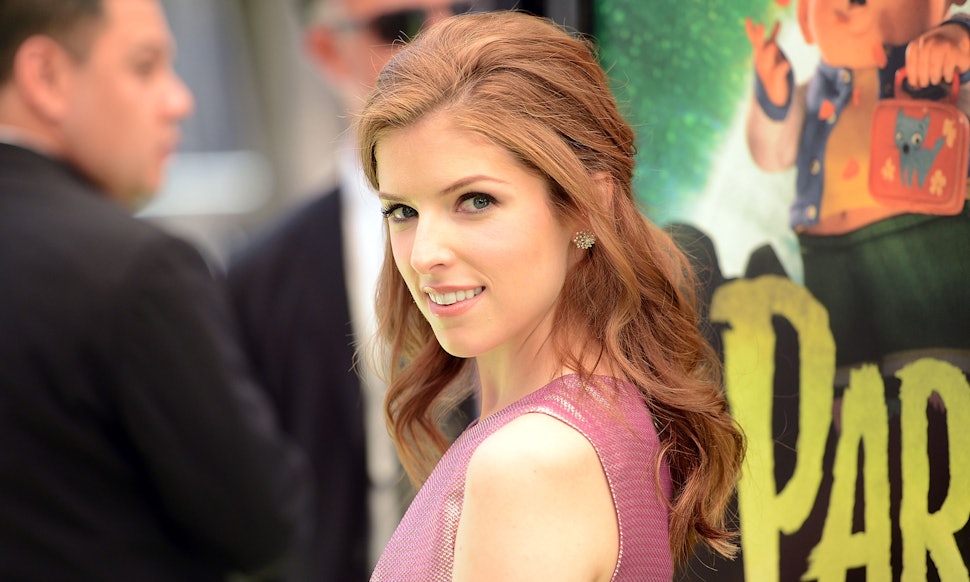 Jason Merritt/Getty Images Entertainment/Getty Images
The world is in for a big treat. In the next year, we'll hear Anna Kendrick sing in not one, not two, but three musical movies. First up, she's Cinderella in Into the Woods later this month, then she takes on backwards romance The Last 5 Years in February. Then finally, she'll reprise her role as Beca in Pitch Perfect 2 next May — "Cups" and all. It's a trifecta of incredible music, and it reminds us all that Kendrick has built her career with song and dance. In fact, just over a decade ago, she kicked off her career singing in Camp, a movie centered completely around a performance camp.
Although her acting performances without music are equally incredible — like in End of Watch, Up in the Air, and 50/50 — it's always an added bonus to hear her voice. Offscreen, she's also a powerhouse vocalist, from her own chart-topping music video for "Cups" to singing for President Obama. It's time that she starts making her own music, perhaps even including a collaboration with Taylor Swift. She may think that singing is "hard as f*ck," but here's to hoping she keeps singing in almost every movie.
Camp — "Ladies Who Lunch" (2003)
usagicassidy on YouTube
Kendrick's character Jill steps in after saying, "She's f*cked, I'm ready, and the godamned show must go on."
Up in the Air — "Time After Time" (2011)
YouTube
Even while singing karaoke drunk, she sounds amazing.
End of Watch — "Hey Ma" (2012)
Eva Bubble on YouTube
This rap-singing with Kendrick and Jake Gyllenhaal is the cutest thing you'll see today.
Pitch Perfect — "Titanium" (2012)
ptroy9 on YouTube
The shower scene that started it all.
Pitch Perfect — "When I'm Gone" Audition (2012)
YouTube
Inspiring YouTube videos everywhere.
Pitch Perfect — "Cups" (2012)
AnnaKendrickVEVO on YouTube
The film took a short clip and made it a full song and music video. You go, Kendrick Coco.
"Cups" on David Letterman (2012)
Thisisbb1 on YouTube
The actress brought her red cups to Letterman for an adorable performance.
Pitch Perfect — Regionals Performance (2012)
TheAverage007 on YouTube
Oh, "The Sign."
Pitch Perfect — "Party in the U.S.A." (2012)
Ahmed Ali Fahad Ali on YouTube
The only way to cure bus boredom.
Pitch Perfect — Riff Off (2012)
Movieclips Coming Soon on YouTube
Whenever Kendrick sings anything that was originally a rap, it turns to gold.
Pitch Perfect — "Just the Way You Are" (2012)
Movieclips Coming Soon on YouTube
Let's remix this business.
Pitch Perfect — Final Performance (2012)
YouTube
Still wondering how Pitch Perfect 2 will top this.
Wicked — "For Good" (2013)
jbasketballgirl16 on YouTube
Kendrick stepped in for Idina Menzel to perform "For Good" from Wicked at Trevor Live in 2013.
"It's Not Where You Start, It's Where You Finish" (2013)
Anna Kendrick Vietnam on YouTube
At the 2013 Kennedy Center Honors, Kendrick put on a show-stopping performance of the Shirley MacLaine classic.
"Have Yourself a Merry Little Christmas" (2013)
YouTube
For Christmas in Washington in 2013, Kendrick belted out this Christmas tune beautifully.
Into the Woods — "On the Steps of the Palace" (2014)
Disney Movie Trailers on YouTube
Cannot. Wait.
Into the Woods — Various Songs (2014)
Disney Movie Trailers on YouTube
You can also, of course, hear Kendrick sing more in the Into the Woods trailer.
The Last 5 Years — "I Can Do Better Than That" (2015)
mariah on YouTube
"You don't have to eat prosciutto" is the best line.
The Last 5 Years — Various Songs (2015)
Movieclips Trailers on YouTube
It will be the perfect Valentine's Day breakup movie.