Kendall and Cara Might Be Shacking Up Soon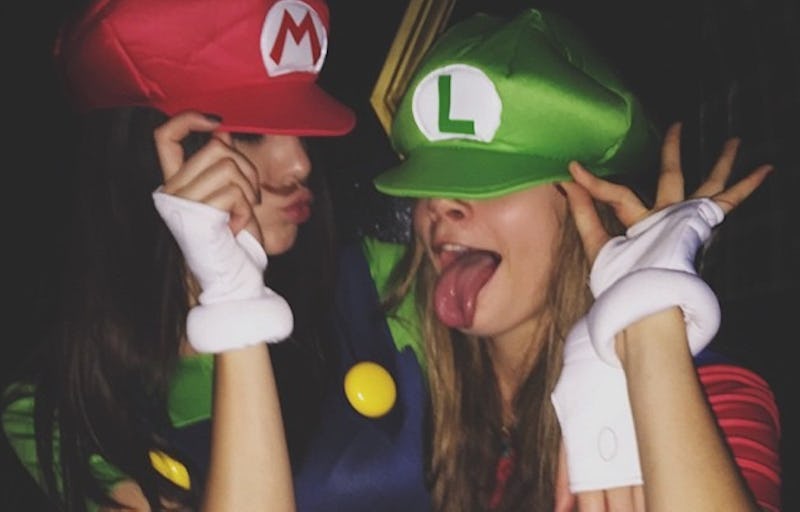 Two of 2014's most talked about (and most re-blogged!) models are solidifying their friendship in a big way. Kendall Jenner and Cara Delevingne might be moving in together. OK, so it's just a very tenuous rumor at this point. But still. How freakin' stylish and fun would that living situation be?
According to the Daily Mail, Delevingne is allegedly planning on moving in to her famous BFF's $1.39 million two-bedroom condo in Los Angeles. A source told Mail, "Kendall and Cara are excited. The flat is infamous in Hollywood circles with weekly games nights and after-parties attended by Kendall's boyfriend Chris Brown, Justin Bieber and her sister Kylie. Party-loving Cara will fit in perfectly."
Given the fact that exactly no one has confirmed that Kendall is dating Chris Brown, I'd say this source is dubious at best. However, I'm more focused on the fantasy apartment Kendall and Cara live in inside my imagination, which is fly as hell. (Also, everyone can do better than Chris Brown, but that's a different article).
The two supermodels have been spending a lot of time together lately, from attending the British Fashion Awards to hugging erotically on the cover of LOVE to simultaneously choosing the Chanel Metiers d'Art presentation over the Victoria's Secret Fashion Show. It's no surprise that their A-list friendship has bloomed so rapidly, and so I wouldn't be shocked if they really did decide to shack up. After all, living in a million dollar apartment is certainly more fun with friends (I'd assume).
Whether there is truth to this rumor or not, I'm still thinking about what I think Kendall and Cara should put in their shared apartment. Since I can't live with them, the least I can do is decorate for them, right? Here are five items these two need in their "humble" abode.
What better way is there for pizza-loving Cara to welcome guests for impromptu sleepovers?
2. A replica of the Chanel lipstick cake
They're both so buddy-buddy with Karl Lagerfeld that I can't see them not possessing some outlandish Chanel decor. Since this cake is too pretty to eat anyway, why not put a non-edible version on a shelf?
3. A squid holiday ornament
Fun fact, this is actually featured on Blake Lively's Preserve gift guide. Something tells me Cara Delevingne would get a kick out of it.
4. Chanel lace bunny ears
So weird, so chic. They can hang them on the wall instead of a traditional piece of artwork.
5. A giant oil painting of their LOVE cover
With two models in one household, you know there will be tons of high-fashion portraits like this one littering the walls.
Images: kendalljenner/Instagram; Etsy; Preserve; Getty Images