9 Types of Holiday Cards You WILL Receive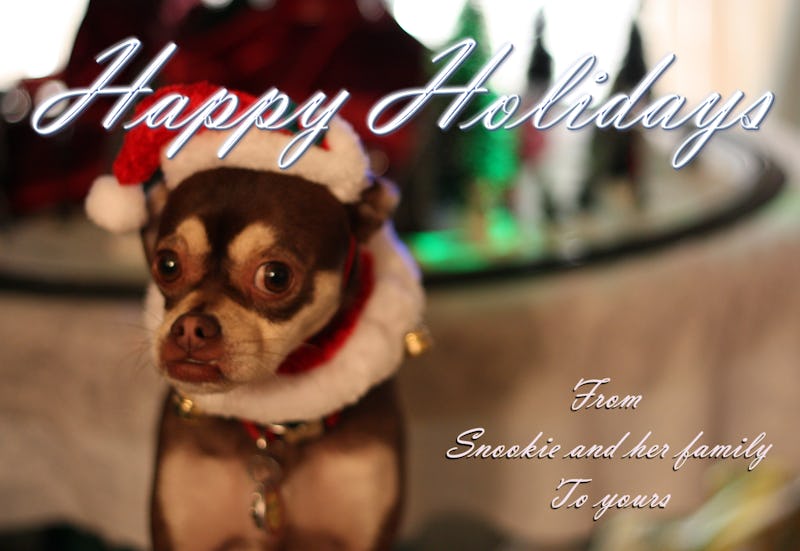 If I were to poll the fine people of this country about what they love most about the holidays, I'm sure the answers would vary. Sure, a lot of people are all about giving and receiving presents, and for others it's the endless supply of cookies hanging around, but for me, deciding what Christmas cards to send is the highlight of the season, and who doesn't love opening a mailbox to see it stuffed with well wishes? Plus, I have a sneaking suspicion that the holiday season is what keeps both stationery stores and the USPS in business. Honestly, I don't think I've communicated through the mail in years, which is why holiday letters in my mailbox are such a welcome surprise. Plus, with so many cute cards out there (and DIY options to boot) spreading holiday cheer is basically the easiest thing ever.
And yet, even with all those options out there, I can almost guarantee there are a few different holiday cards you will be sure to receive this year (and every year, for that matter). I'm sure that the cards have already started pouring in, but if not, start gearing up for your mailbox to be inundated with wishes from friends and family. From the card that's really an essay to the card that arrives two weeks late, you'll be getting all kinds this season and I've got them all here.
1. The One That's A Baby Announcement
New babies dressed in their holiday best are definitely the cutest things you'll ever see. Add them to a Christmas card and boom, it just won Card of the Year.
2. The One That's Way Too Long
We get it Aunt Beth. Your kids had a really good year. Congrats on all of their graduations and accomplishments! Oh, and you were still able to redo the kitchen in the midst of mourning your beloved dog, Ginger? I'm so sorry for your loss, but here's wishing you a lifetime of happiness with those new granite counter tops.
3. The One With A Dog Dressed As Santa
If there's anything dogs hate more than dressing up in human clothes, it's dressing up as Santa or one of his helpers for a holiday photo shoot. But will that stop me? Never. As soon as I get a dog, you better believe he'll be wearing all sorts of holiday sweaters.
4. The One That's Late
Just like you might trickle in to a holiday party fashionably late, this card seems to be trying to do the same thing. Except after a certain point, "fashionably late" is just kind of... well, late.
5. The One With A Family On A Beach
You know the card I'm talking about, with the family all dressed up in white t-shirts and dark jeans, to pose on a beach. It's a classic card, and as cheesy as it is, I look forward to this one the most.
6. The One That's A Wedding Announcement
As annoying as wedding announcements are, it makes sense to announce your engagement and spread holiday cheer all at once. These people are kind of annoying, but they're definitely on to something.
7. The One That's Full Of Confetti
Why. Why do people do this? I didn't want confetti all over my floor but here we are. Merry Christmas to you too.
8. The One That's Super Religious
There is absolutely nothing wrong with a religious card. That's why these holidays exist after all. But there is always that one card that's almost... ominously religious. It's the kind of card that makes you feel almost guilty for not being more religious yourself.
9. The One That's Not A Card At All
Somebody didn't get the memo that holiday cards have not crossed into the modern world of technology yet. They can't be an e-card or a text, they need to be snail-mailed to spread maximum holiday cheer, duh. Ugh, some people.