Kris Jenner Gets Sexy For 'LOVE' Advent Calendar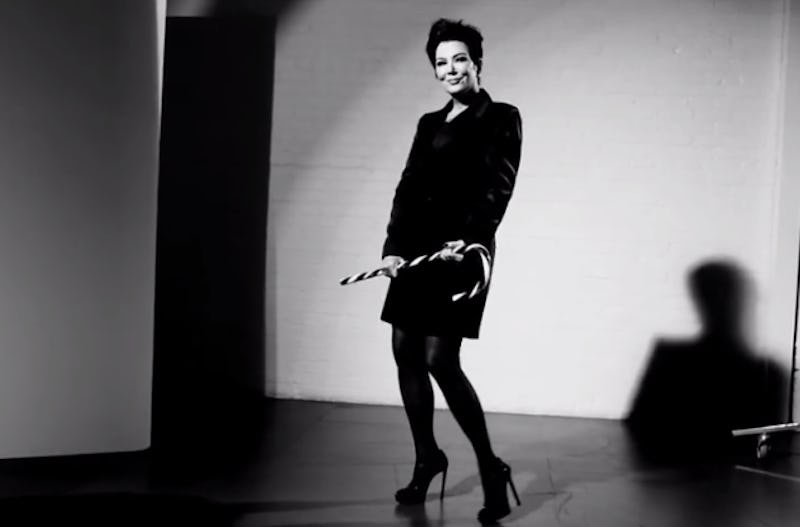 The holiday season is full of fun, both the wholesome and the slightly raunchy kinds. LOVE magazine's advent calendar is a great example of the latter. So far, the "calendar" has featured sexy little videos of the likes of Hailey Baldwin, Ashley Graham, and, naturally, Kendall Jenner. The latest celeb to earn the honor of prancing around with Christmas-related props is none other than Kendall's own momager. Yup, that's right! Kris Jenner landed a spot on the LOVE advent calendar and the results are... weird.
For the most part, Kris's short clip is less gleefully dirty than the videos starring younger women (particularly the one in which her own daughter is playfully spanked by Santa). She dances with an oversized candy cane and makes silly faces while the song "Let's Have a Kiki" plays in the background. But something about the whole thing is just, well, really awkward. Jenner seems uncomfortable. I do like her outfit, however, which is a black jacket layered over a black dress, tights, and spiky heels. Plus her amped-up short hair is fierce.
As Hannah Ongley at Styleite points out, it's truly awesome that " LOVE decided someone over the age of 29 could be sexy." I am 100 percent here for that attitude. HOWEVER. There's also a "desperate to remain relevant" vibe happening here. So. Take a look at the vid and decide for yourself whether it's rad or... bad.