Wait, What Was Gillingham's Deal on 'Downton'?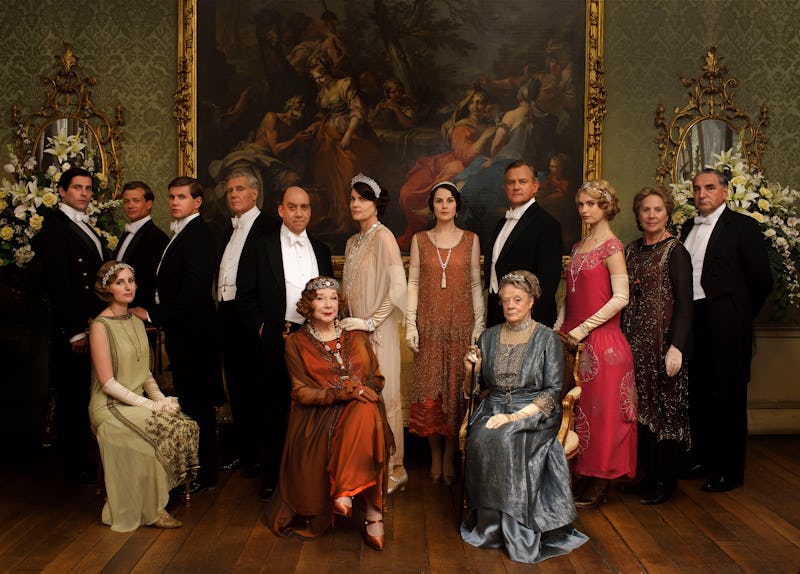 For those American Downton Abbey fans who are playing by the rules, Season 5 with our beloved early-twentieth century Brits comes back on Jan. 4 (and for those who watched Downton Season 5 while it aired in the UK: shame on you, and more importantly, no spoilers, please and thank you). So now that we're finally at premiere time, does everyone remember what happened in Season 4 of Downton Abbey? Although no one that we cared about died in the season (we were all too traumatized after the deaths in Season 3 of Sybil and Matthew), that doesn't mean there weren't some very heartbreaking story lines.
We saw lots of new characters visiting Downton and more socially-charged story lines than in seasons past. There were two romances for Mary and another for her brother-in-law Tom after they both lost their spouses (ahh, damn you British people and your short-term TV contracts!). Cora's American brother came to town and the servants dealt with some staff changes as well as dramatic (and traumatic) incidents. Mrs. Hughes proved to be the MVP of Season 4, as she helped aid members of the household with their, let's say, sensitive issues. There was even a whole poker game scandal, a letter scandal (involving the British royalty), and a missing person scandal (so many scandals!). Not to mention Mrs. Patmore dealing with the repercussions of electronic kitchen supplies.
So, let's take a look at the biggest moments in Season 4 of Downton Abbey before we start in on Season 5:
The Downstairs Saw Some Changes
The conniving Miss O'Brien left Downton Abbey very suddenly (who will keep Thomas in check now?!), so she was replaced by Edna (the maid had gotten too close to Tom in Season 3). Edna, still fixated on Tom, got him drunk and then snuck into his room at night. They slept together and Edna lied to Tom that she was pregnant as a ploy for him to marry her. But Tom was smart enough to get Mrs. Hughes to confront her and Edna left. Thomas Barrow's lackey Miss Baxter then took over, but by the end of the season, she no longer was under his thumb — and was smitten with none other than the bumbling Mr. Molesley. Alfred left to pursue becoming a chef and finally put an end to the Daisy/Ivy/Alfred love triangle. And in the midst of this, we saw Carson and Mrs. Hughes become closer.
Lady Rose Became a Big Deal
With the loss of Sybil, Downton Abbey needed a new young person to fill the void, so cousin Rose took over that role by staying at Downton. Although Sybil may have scandalized her family by marrying Tom, Rose took it up a notch by dating lounge singer Jack Ross. Not only was he an entertainer (gasp!), he was black as well. Mary intervened to ask them to end their relationship, which showed the harsh cruelty of the issues with race and presumed status in 1920s England. Finally, the Season 4 Christmas special revolved around Rose's coming-out ball in London.
Anna Was Raped
In an incredibly harrowing moment on Downton Abbey, Anna was raped by Lord Gillingham's valet Mr. Green. When Rose organized opera singer Dame Nellie Melba to come perform at the abbey (who was a real person, by the way), Green took advantage of the entire estate being distracted and cornered Anna downstairs and violently raped our favorite maid. The story line was controversial, but Joanne Froggatt portrayed the raw emotions that Anna was going through so beautifully and realistically. And the show brought attention to how women were limited in who they could turn to for help (legally and emotionally) at that time. Mrs. Hughes also stepped up in supporting Anna and even Mary got involved.
And though Anna's husband Mr. Bates was the loving husband he should be to Anna, when he found out what happened, he did exactly what Anna was concerned he would do and killed Mr. Green (or so it seems). And though I love Bates, he has a dark side and somehow on Bates' day off, Mr. Green mysteriously died in a "traffic accident." Mary considered reporting Bates to the police, but decided against it and burned evidence that Bates was in the vicinity of the valet when he died.
Lady Mary & Tom Found New Loves
When Matthew's letter appointing Lady Mary as heir to Downton Abbey was discovered (much to the chagrin of Lord Grantham), Mary and Tom took a bigger role in taking care of the estate – yet, they both made time for their own romances.
Lord Gillingham and Charles Blake both focused their attentions on the recently-widowed Mary, who was torn by the two very different men. (Gillingham is a dashing lord, while Blake is more pragmatic and challenges Mary — not so different from her deceased husband Matthew. #TeamBlake)
Tom was able to move on after Edna deceived him and met the outspoken school teacher Sarah Bunting. And it appears both Tom and Mary will be busy with their love lives in Season 5.
Lady Edith Had a Baby
Oh, poor Lady Edith — she literally never catches a break. She finally found love with Michael Gregson and he decided to move to Germany in order to get a divorce from his wife, who is in an asylum. (How very Mr. Rochester of him.) Edith slept with him before he left and became pregnant with his baby. But once he went to Germany, Gregson went missing and she could no longer contact him. After considering an abortion and adoption with the help of her aunt Rosamund (and even her grandmother Violet!), Edith decided to have the farmer on the family's land take her child after giving birth in Switzerland.
Paul Giamatti Came to England
Cora's brother, Harold (guest star Paul Giamatti), hit legal troubles due to the Teapot Dome scandal, and later came to visit his sister in England. His brash American style did not sit well with the Brits, but watching Shirley MacLaine and Giamatti banter sat extremely well with me. The creepy Lord Aysgarth tried to push his young daughter (let me emphasize her youth here) Madeleine Allsopp on Harold for his money, but it turns out Harold actually liked Madeleine, so we may be seeing both of them again.
Of course, more went down in the Downton in Season 4, but, guys, we made it! We finally made it to January 2015! So if you haven't already watched Season 5 (illegally or on British soil), get ready for the Downton drama to continue (legally, stateside).
Images: Nick Briggs/Carnival Film and Television Limited 2013 for MASTERPIECE; downtonreactiongifs (2), firstenchantervivienne, herewestand, pixiedustandcoffeelust, queensmilitant/Tumblr