5 Items For a 'Gossip Girl' Style New Year's Day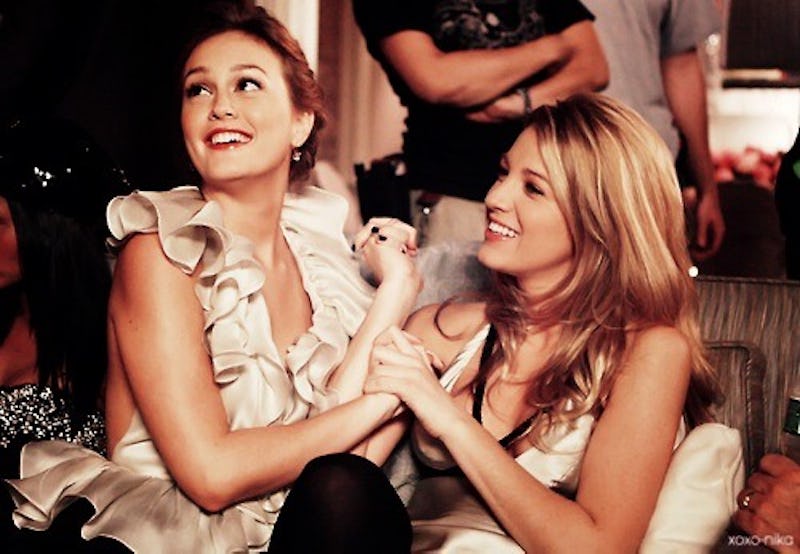 It's nearly New Year's Day, Upper East Siders, and you know what that means: A fresh calendar full of black tie events, amazing mid-morning brunches with a side of blackmail, and all around big drama are upon us — kicked off by this evening's ball drop (which is sure to be one for the books). Just kidding, guys! But, I do believe I would have made an excellent Gossip Girl. Let's give it a go, shall we?
By now, the Van Der Woodsens, Waldorfs, Bass' and Archibalds (anybody who is anybody on the island of Manhattan, obviously), are in full preparation mode for the last night of the year. I mean, they don't just wake up like that. While Chuck is likely still silk-pajama clad and holed up in bed with god knows who (he'll get up just in time to pick out the perfect bow tie and suit combination because he's Chuck Bass) Blair is surely sitting around in her La Perla, mulling over a multitude of pretties from Bendel's and Bergdorf's, simultaneously scheming and shouting orders at Dorota. If fireworks are in the forecast for midnight, she will either be lighting the fuse or smugly observing from a safe distance. Over at the Van Der Woodsen's, your favorite blonde bombshell can be found arguing with Lily, and refusing to go to any party, ever. Don't fret though, Serena watchers, soon she'll run away to Blair's, only to show up later in the evening wearing the most epic outfit this side of 5th avenue. It's New Year's Eve in the city. Let the games begin.
Oh, but what fun is a black tie New Year's Eve without a fancy affair to rehash it all a mere 12 hours after the ball drops? When you are New York City's elite, the first day of a new year comes with a full agenda and a dress code. While we may not be able to live the lavish lifestyle of our Gossip Girl favorites 365 days a year, we can certainly start off with a little opulent imitation. After all, if you can't dream big on January 1st, when can you? So here are the five items you will need for a very Gossip Girl style New Year's Day, modeled by the Queen B herself.
1. PRETTY PAJAMAS
Any good Upper East Side New Year's day begins with coffee in bed while wearing luxurious pajamas. Even those who take their caffeine with a silver spoon need a little time to recover from one too many champagne toasts before facing a new year. Take a cue and start the day snuggled up in silk.
2. NEW YEAR, NEW HEADBAND
Because nothing says, "I'm ready for the new year," like a brand new statement headband. Bonus points if your piece has bling. Every signature look needs an upgrade come January and an OTT hair accessory is the perfect accent for any acceptable first-day-of-the-year outfit. We all know Blair wouldn't be caught dead in last year's hair accouterment.
3. SPECTACULAR SPARKLES
Opulent ensembles and accessories are definitely not reserved for the eve of party. A little sparkle makes for a dazzling debut. After all, you're channeling S and B and they are never afraid to be fancy. Places to go and people to see and all.
4. A STATEMENT COAT AND TERRIFIC TIGHTS
The cold is no match for the New Year's Day schedule of a Queen B. Today, you'll need a statement coat and the fanciest tights you can fashion, because staying warm without sacrificing style will be key while hopping around the city. Sticking to Blair's most famous formula is a sure fire way to show up for the first brunch of the year in true Gossip Girl style.
5. A COSTUME CHANGE
Sure, the fuss of New Year's Eve is almost behind us, but if it's a truly elite opening to the year you are after, an evening costume change is in order. Just because there is no countdown doesn't mean there is no dinner party. Time to break in that new designer dud of yours.
Now ladies, the only thing missing is a Bass on your arm.
Though an Archibald or a Humphrey would also be more than acceptable.
Isn't there somewhere we can rent one of those? Just for the day? Now that sounds like a brand new plot twist.
Happy New Year Upper East Siders.
XOXO,
KP
Images: Tumblr/insidegossipgirl