Why Did Alicia Kiss Johnny on 'The Good Wife'?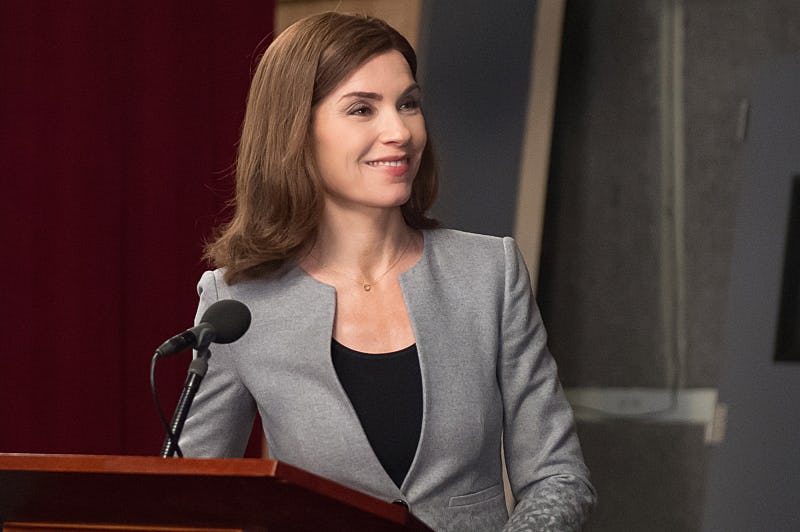 The Good Wife is back! During Sunday night's exciting new episode, "Hail Mary," viewers watched as Diane Lockhart and Kalinda Sharma frantically tried to prove Cary Agos' innocence before he was sent to jail for a crime that he didn't commit. Eventually, the pair triumphed, and Cary's drug conviction was overturned — but if you ask me, that actually wasn't the episode's most interesting plot development. (Honestly, I had a hunch that Cary would escape prison's grasp in the 11th hour. What was the show going to do without him for four years, anyway?).
At the end of "Hail Mary," Alicia Florrick is walking to her car after debate prep when she receives a call from Diane, informing her of Cary's victory. Naturally, she's ecstatic. She laughs; she cries. She even looks to the sky and lets out a rather uncharacteristic, "Woo hoo!" Alicia is so happy, in fact, that she decides to walk right up to her campaign manager, the handsome Johnny Elfman, and give him a kiss. And it's not just a tiny little peck on the cheek, no — it's a full-on KISS kiss. On the mouth! Probably with lots of tongue! When it's all over, Johnny looks absolutely stunned — but Alicia looks absolutely thrilled. Empowered, even. It's like she feels as though she can take on the world.
Whoa. Where did that come from??
For starters: Was Alicia just caught up in the moment? Or does she actually have a thing for Johnny? I'm not entirely sure. Except for maybe once during their first meeting (I think?), I've never really picked up on any romantic tension between the two. It's possible that Alicia's adrenaline levels were just so high after hearing the good news about Cary that she made an impulsive decision — but there could be more to it than that.
Remember: Peter just recently admitted that he had an affair with former neighbor Ramona Lytton when Alicia was pregnant with their daughter, Grace. Ouch — that had to hurt. Standing there in that parking garage, did Alicia decide that she's allowed to have a little fun on the side, too? Was kissing Johnny her subtle way of getting back at Peter? Hmm...
And where do Alicia's feelings for Finn Polmar fit into all of this?? If she felt like sticking it to Peter (either consciously or unconsciously), why didn't she seek out Finn, instead? Well, Finn wasn't present at the time — Johnny was. Again, Alicia's decision to have a make-out session with Johnny definitely seemed impulsive to me. Perhaps the charge she got from the whole thing will inspire Alicia to finally pursue a romantic relationship with Finn! Who knows? Personally, I'm all for it, but some fans still think it's too soon (and I totally get that).
"Hail Mary" once again proved that The Good Wife is the best drama series on network television, hands down. As usual, I can't wait to see what happens next.
Images: Jeff Neumann/CBS; willgardner.co.vu/Tumblr (3); melakafrays/Tumblr (3); rurikids/Tumblr