Elijah & Hannah Forever (At Least for Season 4)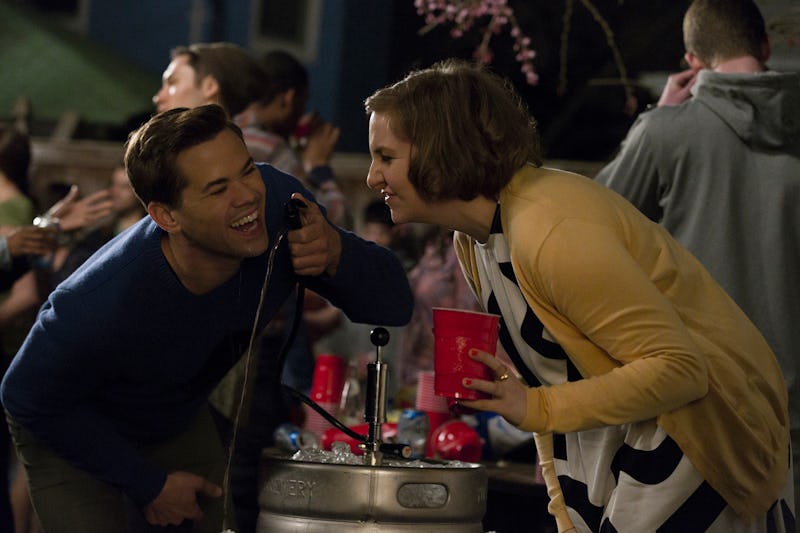 Seeing Andrew Rannells's beautiful, beautiful face in the Season 4 premiere of Girls brought me so much joy that I believe I literally squealed and clapped my hands in the most girly-fashion ever. Life is good because Elijah is back and here to stay since Andrew Rannells is a series regular on Girls for Season 4. Elijah is one of my favorite characters on Girls. When he first appeared on the scene, I thought, "Who the hell is this jerk?" But upon rewatching the scene where Hannah asked Elijah (her ex-boyfriend from college) out for a drink to tell him she had HPV — and he told her he was gay — made me grasp their relationship (and love it) all the more. Now that I know and enjoy their characters (despite all of their insane flaws), I could embrace this scene and how completely terrible they are to each other — and how funny it can be to watch.
I am a complete nerd and usually get real uncomfortable when people do drugs (other than weed) in movies and TV. But despite my awkward feelings, the Season 2 episode "Bad Friend," where Elijah and Hannah do coke, had some of the best moments between them. And both Rannells and Lena Dunham were freaking hilarious.
Unfortunately, that was Rannells's kind of last hurrah for a bit because he was only in four episodes of Season 2 of Girls due to having to film in Los Angeles for a lead role in the NBC show The New Normal. But the NBC sitcom was cancelled only after one season. So in a bittersweet moment, he was able to return to Girls for Season 3 with the plan that if the HBO show was picked up for Season 4 (like it wouldn't have been?), he was to become a series regular.
The supremely talented Rannells told ABC News about Season 4, "It was a really fun season to be a part of. ... Even though I never felt I was tagging along as a guest star ... it was nice to be official."
As for what's on the horizon for his character Elijah, he magically showed up in Iowa in the second episode of Season 4, "Triggering." I have no idea how he just could pick up to party with Hannah in Iowa, but I just hope he continues to do so. (And he seems like he has found his own flow in Iowa based on the "Female Author" episode.) "Any time I get to do party scenes with Lena, it's the most fun ever, this season is no different," Rannells said to ABC. "She does indeed go to Iowa and Elijah gets to tag along with that. I'd like to say he has a little more direction this year, but not really."
It's OK, Rannells. I don't think I could handle Elijah with direction just yet. I'm satisfied with the fact that Rannells found time in his crazy schedule to be on Girls. He was filming the Nancy Meyers's movie The Intern (with Anne Hathaway and Robert De Niro no less) in the summer of 2014. And he replaced Neil Patrick Harris in the title role of the Broadway show Hedwig and the Angry Inch on Aug. 20, 2014 (his run ended on Oct. 12 when Michael C. Hall took over).
But now that he's on Girls as a series regular, let's keep this Hannlijah reunion going! The fourth episode of Season 4 of Girls, "Cubbies," airs Sunday, Feb. 8 and better feature some Elijah.
Images: Craig Blankenhorn/HBO; littlestark, matchingvnecks, zoekazans/Tumblr