How Does Louise's "Revenge" Story Factor In?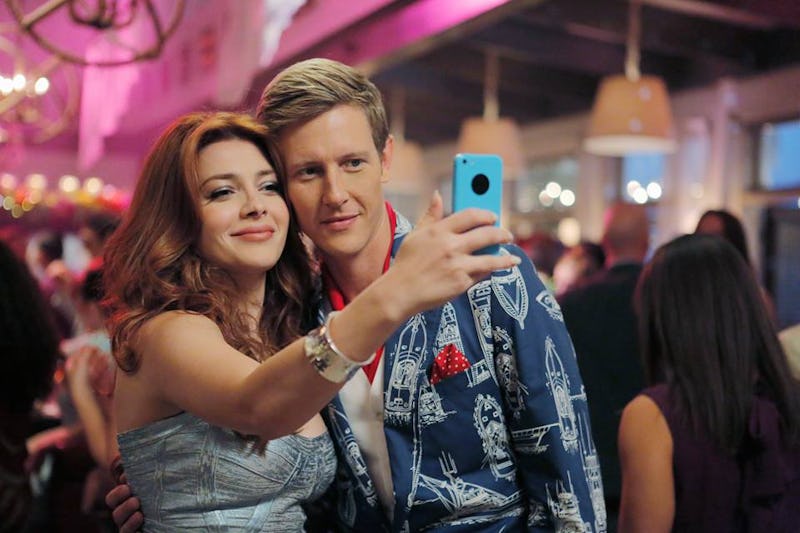 I'll admit it, I've yet to figure out exactly how Revenge Season 4's new characters fit into the series. Bringing David Clarke and his past back at the end of Season 3 seemed like more than enough for me, but, alas, here we are. Last week, following the Revenge Season 4 midseason premiere, Elena Satine was promoted to a series regular on Revenge — which obviously means that Victoria's former asylum roommate is in the Hamptons to stay. But why? On Sunday night's new episode, "Madness," Emily revealed that Louise's family had been poisoning her to create the illusion that she's mentally unstable. Which sounds like a really great and mysterious plot point, but how exactly does that fit into Revenge Season 4?
As of right now — or rather, from what I learned from Sunday's episode — it seems like Louise is just another socialite on this series that comes from a dysfunctional family. (Sorry, girl, but Margaux was the OG out-of-towner socialite on this series.) There's no feasible way for Revenge to connect Louise to what's happening with David Clarke and Malcolm on an intricate, "gotcha"-level. I mean, just because her mother seems like a raging lunatic and a terrible human being, that doesn't mean she's rubbing shoulders with terrorist groups. So, how does Louise fit into all of this and why would Revenge promote her to a series regular when it seems like the series is headed for an ending where all of its main character will bite the dust?
Well, ALSO on Sunday night (Revenge is packing a lot into its episodes lately), Emily and Victoria were kidnapped by Malcolm. You might be wondering how this affects Louise and her place on the show. Here's how — I'm convinced that, without the slow poisoning, Louise is a pretty crafty and intelligent individual. And that makes her the perfect partner in crime for Nolan now that he's going to be tasked with locating and rescuing his original PIC. Because, let's face it — Nolan is the best character on this show, but he can't save Emily by himself. And that's where Louise comes in.
Sure, it's important to find out exactly why her family has been poisoning her (though I really think, like she said on Sunday, it's all about her mother wanting her inheritance because she's a greedy, old woman), but Louise stepping into Emily's BFF shoes is exactly what Revenge needs right now. Nolan and Louise are so delightfully absurd together that it'd only make them better if she were half as crafty as Emily and capable of helping Nolan find her. I mean, we already saw her show no mercy towards Margaux when she literally tried to "steam" her to death — I can't see it taking too long for Louise to pick up a red Sharpie of her own.
Image: Revenge/Facebook