Who Is 'Empire' Mogul Lucious Lyon Inspired By?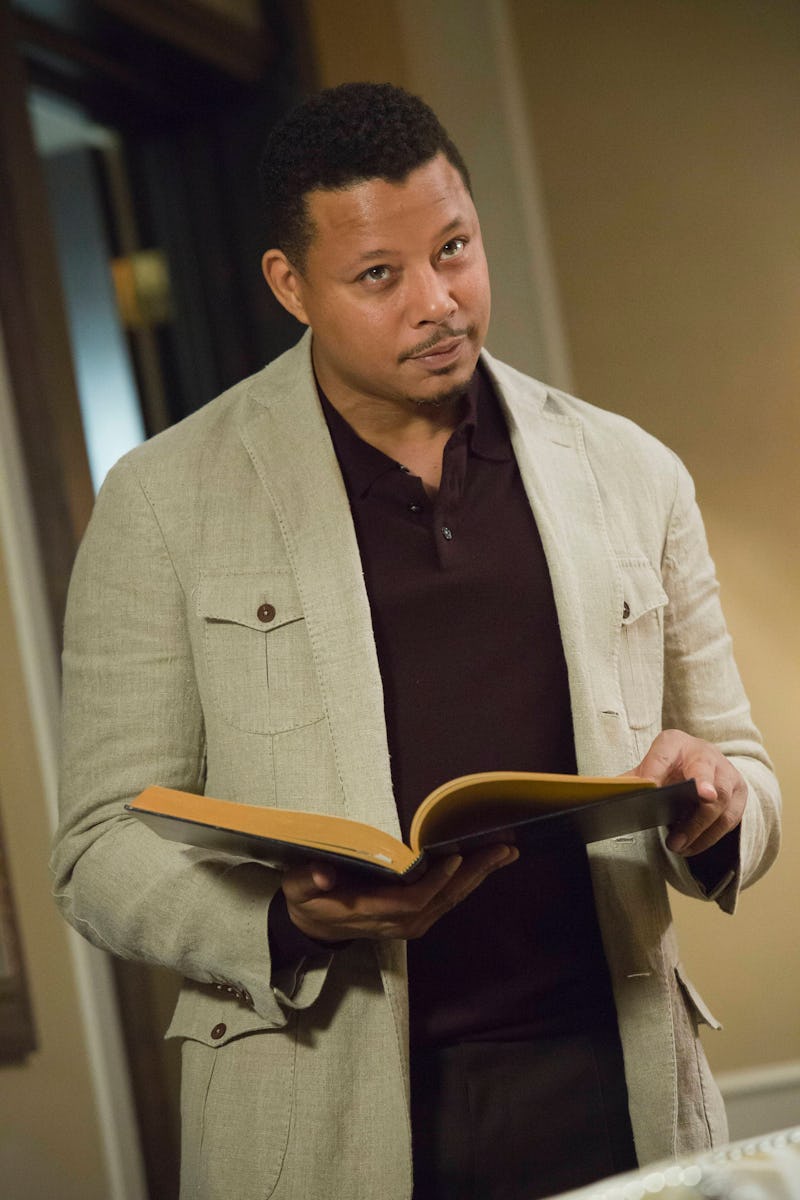 From the level of dish in the new drama Empire, you'd think it would have to be based on real life, but Lee Daniels is being very oblique about who and what he based the Lyon family on, crediting his own family as the closest inspiration. Still, could Terrence Howard's Lucious Lyon be based on someone real? While Daniels and his co-writer Danny Strong may be playing coy, it's clear that they didn't totally make up the idea of a former drug dealer turned-rapper turned-high powered mogul, because it's an arc that real artists have followed before. But without the explicit blessing of any of these rappers, they're keeping it vague.
Already, one such rapper, 50 Cent, is displeased about parallels he saw between his own pay cable music drama, Power , which is loosely based on his own life, and ads for the upcoming episode of Empire. Just like Lucious, Curtis "50 Cent" Jackson was drug dealer in New York City (rather than Philadelphia), as he discussed in an interview with the NY Daily News, before gaining notoriety as a rapper. Now, he's also a producer and actor, and sometimes shows up at the Playboy Mansion to get photobombed by Leo DiCaprio. Basically, living the dream.
There are also some similarities between Lucious and real-life rappers and record executives' career paths. According to People's biography, Diddy (Sean Combs) started out as an intern for Uptown Records, before forming Bad Boy Records, hustling much harder behind the scenes producing records for a living while learning everything there is to know about the industry. Also a rapper himself, Diddy now owns TV network Revolt in addition to Bad Boy Records, and according to Forbes has a net worth of $700 million.
And while Diddy rose in the ranks of the music industry, Dr. Dre was a rapper first and mogul later, not unlike Lucious. Dr. Dre eventually found even more success outside of his music career thanks to Beats by Dre headphones. Last year, Apple bought Beats for $3 million, giving Dr. Dre earnings of $620 million in 2014 alone, according to Forbes.
But Empire has another big comparison that has nothing to do with hip hop — Shakespeare's King Lear, which deals in the exact same plot. Lear is a dying king who's being forced to choose which of his three daughters should inherit his kingdom. Two of them, Regan and Goneril, resort to flattering lies in order to ply the vain old man. But the third, Cordelia, refuses to lie, and the unflattering truth leads her father to cast her out. I guess you could say that Jamal is the Cordelia, with his refusal to let his father's bigotry change who he is. But only Andre really seems interested in taking over the company, and Lucious can see right through it. We'll see if Lucious is still able to choose the right son to carry on his legacy, but I'm sure Empire will be teasing that out until at least its final episode.
If you missed any of Empire Season 1's drama, watch Bustle's drunk recap here:
Images: Chuck Hodes/FOX; Getty Images