Is Bay Staying or Going on 'SaB'?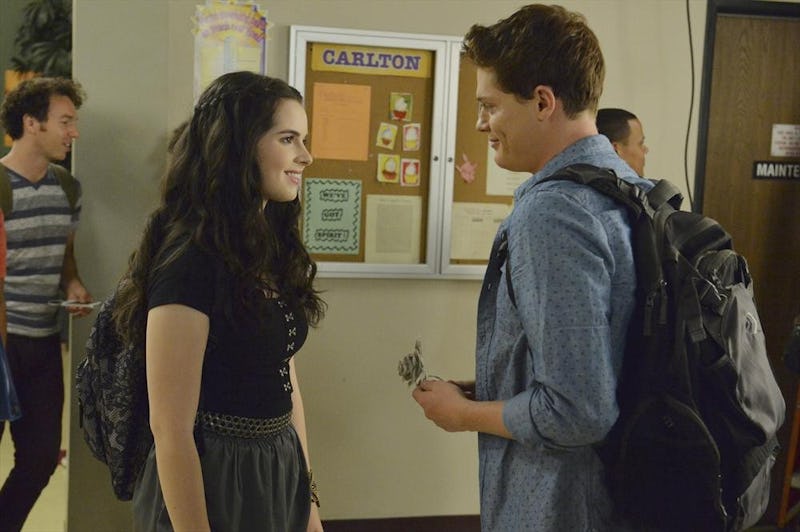 Here's the thing: As much as I love ABC Family shows, I don't have a ton of faith in their ability to create realistic plot lines, which is why I hated the idea of Switched at Birth sending Bay to move to California to be with Emmett as soon as it was introduced. You're telling me this girl has lived a sheltered life with her very wealthy parents for 18 years and is planning to go live as a starving artist across the country? Not only is ABC Family going to make this way cushier on her than it would be in real life, but if it was real life, it's really unlikely that she could last out there. And now that everything has gone south with her whole "pretending to be a criminal" scheme, I don't think Bay will ever move to California.
Last week, Bay accidentally passed drugs on to an inmate, which resulted in a 100 day extension on her probation — which translates to an extra 100 days for which she cannot leave the state. This takes her well past the end of the fall semester and would probably cut into spring, too, so she's officially forced into missing what would've been her first year of art school. Bummer, right? It's a double bummer, considering that Bay did all of this to save Daphne's sorry butt, who probably could have benefitted from 90 days in prison to think about what she's done.
Plus, in the interest of having a TV show accurately show what life post-high school is like, I'd prefer for Bay to detach from a relationship for the first time in the history of Switched at Birth and figure herself out. Her biological father died, she's under house arrest, and she recently had a mini-crisis about her college plans. I'm thinking homegirl could use some time to herself to figure out what she wants and where she wants to be. If Emmett wasn't in California, would she want to go to California? No, because she had her heart set on Pratt. Following your boyfriend somewhere at 18 isn't the same as making a mature decision to move with a significant other in your twenties.
The most likely conclusion: Emmett decides to stay behind with Bay, and a magical, local college that specializes in both film and visual art materializes, creating the opportunity for an effortless happily ever after. And if Daphne transfers in because they just so happen to also have an incredible pre-med program, I'm officially done. Do you hear me, Switched at Birth writers?
Image: Eric McCandless/ABC Family