Britt Might Be on the Way Out of 'The Bach'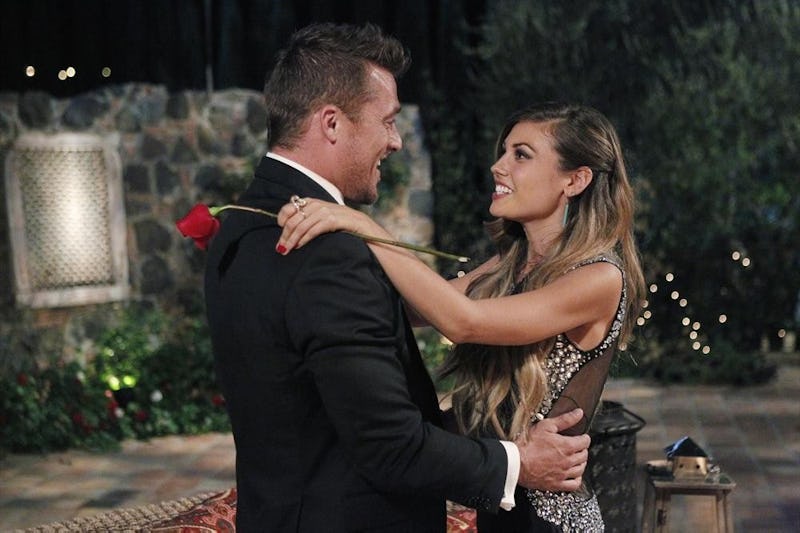 After a relatively uneventful episode of The Bachelor on Monday night, ABC gifted us with a very tumultuous promo for next week. It definitely seems like Chris Soules' overly kissy dating techniques are going to be catching up with him, and one contestant isn't up for competing with so many women for his attention. I'm talking about first impression rose winner Britt, who may actually be going home next week despite the fact that she's been a frontrunner (and one of my favorites) since the beginning. The promo certainly made it look that way, but ABC loves to use Bach sneak peeks to twist the truth. What's going on here? Is Britt actually doomed to leave The Bachelor next week?
While there's obviously no confirmation on what's going to happen until next week's episode airs, all evidence points to yes. Not only did Chris make it seem like Britt isn't going to last much longer when he visited Jimmy Kimmel Life, but the promo make it seem like Britt can't handle the pressure that comes with The Bachelor experience. And expressing her feelings to Chris? It might make him go off the deep end for the first time this season. At what looks like a cocktail party or rose ceremony in the preview, Chris lays down the line: If you can't stand the heat, get out of the kitchen. He makes it clear he's here to find a wife, and anyone who doubts that can go on home.
It's totally possible that Britt will take him up on that, but I'll be disappointed to see her go if she does leaves. From everything I've seen, Britt is a good one and seems to have her life together — something that seems to be lacking with many of her competitors. If she sticks it out, I wouldn't be surprised if she made it to the end. But it definitely seems like that's not an option for her.
The good news? Ashley S. (who barely made an appearance in Monday's ep, much to my dismay) is hanging in for yet another week, and my fingers are crossed she shares more absolutely ridiculous words of wisdom with us very soon.
Image: Rick Rowell/ABC