Will 'Reign' Be Back Next Fall?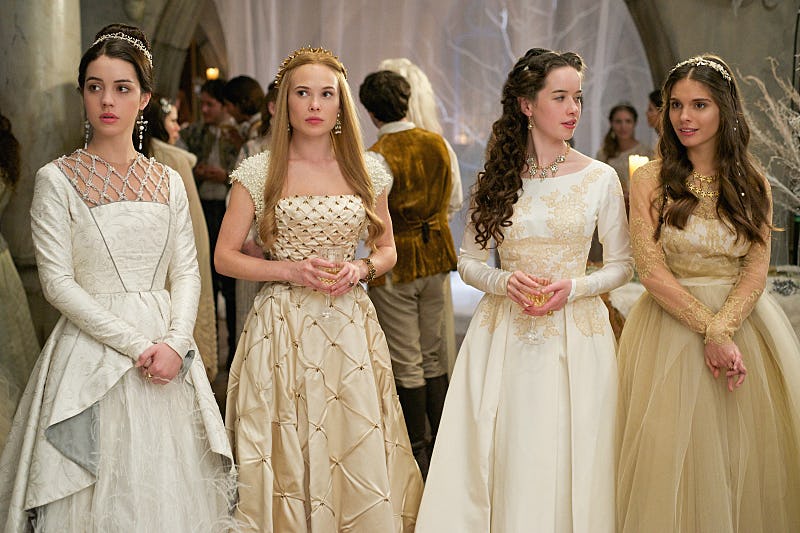 Get ready for more Reign, my friends. (And no, I'm not referring to the weather.) Just a few weeks ago, The CW officially renewed of all eight of its shows for the fall 2015 lineup, which included the likes of Arrow, The Vampire Diaries, The 100, The Originals, Supernatural, Jane the Virgin, and by royal decree… Reign! That's right, folks — Reign will be back for Season 3, meaning we still have plenty of Mary and Francis drama to look forward to in the upcoming year. Of course, I don't mean to completely single out Reign since this is pretty much fantastic news all across the board. However, I must admit it was the show I was most concerned about nabbing a network pickup. [UPDATE: The CW has announced that Reign will premiere on Oct. 9.]
Now, don't get me wrong, I love these characters as if they were my own royal subjects. It's just that the show has struggled a bit to find its footing throughout its second season, what with first the plague and now potential ghosts patrolling the castle. Feels a little too supernatural for a show like this, doesn't it? Naturally, I'm all for any means of bringing King Henry back into the picture somehow, but has Catherine started drinking his crazy kool-aid or is she legit having sex with a spirit? (These are actual questions that I have.) So suffice to say, it's storylines may need a little tweaking, but that nothing a few exciting plot twists can't help to sort out.
Either way, though, I'm thrilled that this CW series and its cast of memorable characters will be sticking around for the foreseeable future. So in honor of this crowning achievement, here are all the things we have to look forward to now that court is still in session.
More Romance
Mary and Francis… Bash and Kenna… Lola and Narcisse — just name a couple and odds are I 'ship them. And while Frary is currently experiencing a slight glitch in their marital bliss, I'm optimistic that it'll make their inevitable reunion all the more satisfying, on many different levels.
More Fabulous Fashion
Granted, the dresses could not be more historically inaccurate, but they are so insanely gorgeous that I could not care less. Seriously, they're completely stunning. I mean, I have no idea where I would ever wear gowns like this, but I sure as hell know that I need to own them like right now.
More Bromances
Nothing, and I mean nothing, beats a good bromance, especially one between two very dashing brothers. You gotta admit, that is one really great gene pool. Mary and Kenna are two very lucky ladies.
More Historical Context
OK, look, I know this show doesn't exactly stick to the actual history of it all, but it's still the most I've paid attention to European history since… well… ever. So I consider any facts I'm able to take away from the series as an added bonus!
Long may this show reign!
Images: Sven Frenzel/The CW; Wifflegif; queen-ofscots/Tumblr; isaisanisa/Tumblr; overrunbyscots/Tumblr