Sex Assault Vics Victimized By Shutdown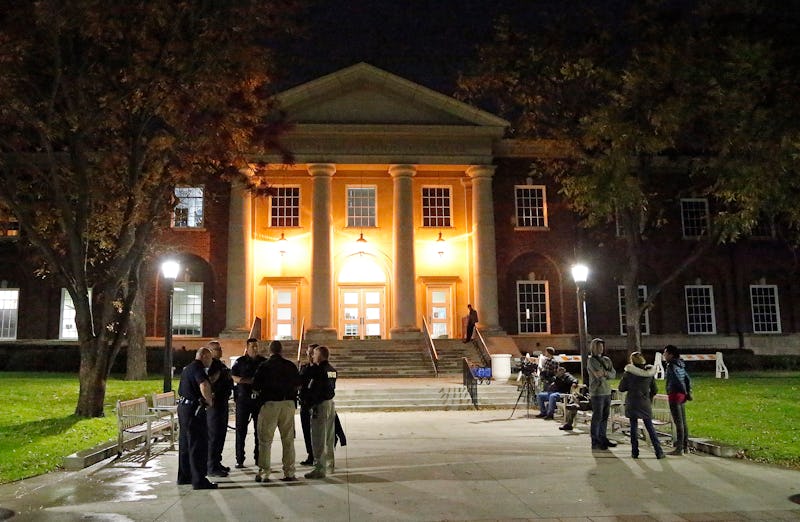 Stewart F. House/Getty Images News/Getty Images
We pretty much all agree that the government shutdown sucks. But it turns out the shutdown sucks even more than you might think. After news that the shutdown is hurting intelligence-gathering and even keeping kids with cancer away from clinical trials, the Huffington Post now reports that the shutdown forced the U.S. Department of Education's Office for Civil Rights (OCR) to suspend its investigations of sexual assault on campus.
More precisely, the OCR is responsible for looking into colleges' and universities' possible violations of Title IX, the federal gender equity law, when dealing with sexual violence.
In an interview with the Huffington Post, Education Department spokesperson Cameron French explained, "OCR investigations are not an excepted activity and have been suspended until the shutdown ends. Approximately 94 percent of department staff is on furlough as a result of the shutdown."
Reviews are currently underway at Dartmouth, Harvard Law, and the University of Virginia, as well as at the University of Colorado-Boulder, the University of North Carolina-Chapel Hill, Occidental College, Swarthmore College, and the University of Southern California.
So what does this mean in practice? Well, first off, complainants who reach out to the OCR receive automated email replies letting them know there's no one in the office. It also means that investigators cannot perform site visits to check up on the work of the schools under investigation.
"Complainants have not been officially notified by the department of the suspension," reports the Huffington Post. How schools deal with sexual assault is a huge deal, and we hardly need the shutdown to make things harder. The shutdown is clearly hurting Americans, and if kids with cancer didn't make that obvious, surely this news does.
Image: Stewart F. House/Getty Images