Is Nasim Pedrad Coming To 'SNL 40'?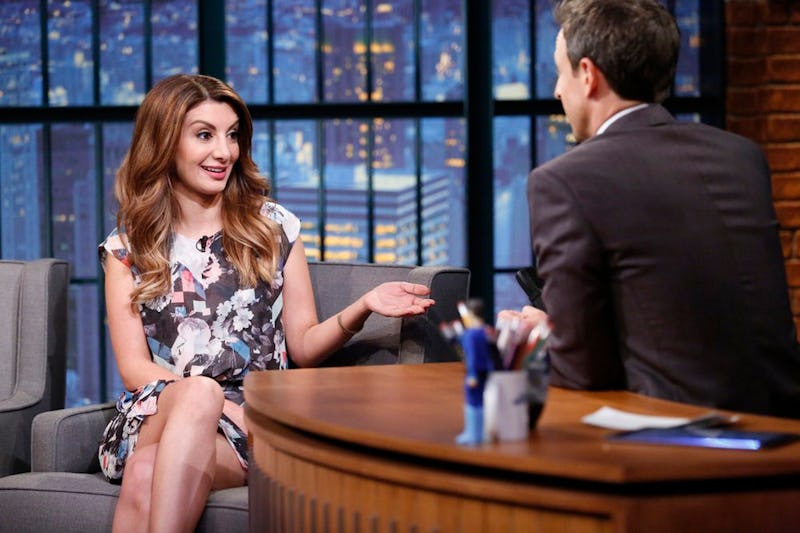 The stars are aligning, quite literally, for Saturday Night Live's40th Anniversary Special. What about Nasim Pedrad — will she be attending the SNL "reunion" this Sunday night on NBC? The long time repertory performer left last year with SNL writer John Mulaney to star in his sitcom Mulaney over at Fox. The show is still running on Sunday nights, there is no word yet on whether Mulaney will be renewed or canceled. Still, this anniversary special is just "one night only," couldn't Nasim Pedrad pop over to New York City and catch up with her former cast mates? By all accounts of who will be attending the SNL 40 event, Nasim Pedrad and her Kim Kardashian impression will not be there as far as we know.
We still don't know a lot about what exactly this anniversary special will entail. Will it be a clip show? Will it be a "round table discussion" like a Real Housewives reunion or Watch What Happens Live with drinks? Will the performers do sketches that didn't make it onto the show, a la "Second Chance Theatre" On Late Night With Seth Meyers? To be honest, I'm sure it took all week for these former guest hosts and former cast members to get wrangled and organized for Sunday's event. It probably was not a one day commitment after all.
So, what has Nasim Pedrad got going on for her this year and this past year? It's quite a lot, actually..
Stand Up
Nasim Pedrad has been touring colleges lately as a stand up commedienne. This month she performed at The University of Texas at Austin, last November at Notre Dame University and just this week at Elon University in North Carolina. It's possible that Nasim Pedrad was unable to fit a trip to NYC in her schedule for this reason.
Other than her uncanny (and not not problematic) Aziz Ansari impression, I don't think "stand up" is what you think of when you think of Nasim Pedrad. This is so cool! Who knew that this was something the actress, writer and sketch performer was into and pursuing these days. Hopefully it will lead to some fun opportunities.
Guest Starring
Besides her regular role on Mulaney, we also saw Nasim Pedrad on Fox's New Girl this season. She plays Winston's partner, who Nick and Coach got weirdly sexist about during the episode. I hope her character returns. Not only does it mean she's keeping busy in her post-SNL career, but I liked her and I want to remove the bad taste that one episode left me with, thank you very much.
Maybe she can keep making the rounds on Fox and show up on The Mindy Project and Brooklyn Nine-Nine next? Please? There have been a lot of Mindy Project cast shake-ups over the years, but it would be awesome to replace Adam Pally with a lady, right? Maybe she won't be at the SNL Anniversary Special, but we need more Nasim Pedrad!
Images: Lloyd Bishop/NBC; Sam Urdank/FOX