11 Random Things People Looked Like At The Grammys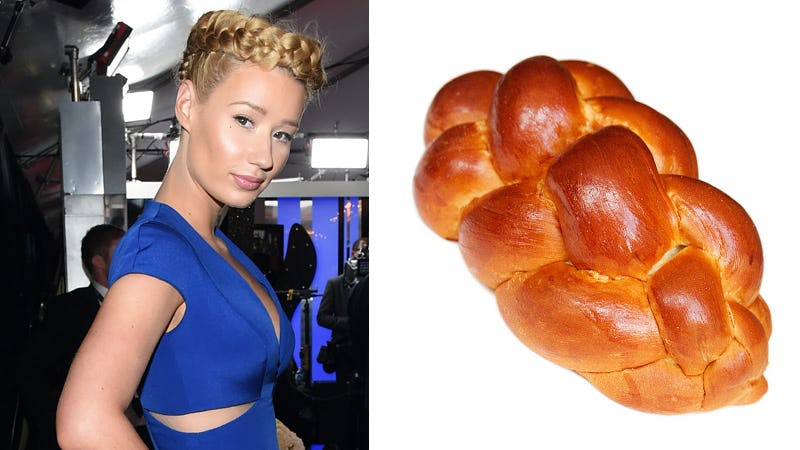 Fashion is a weird thing. What I love about it is simply that it's our most immediate form of self-expression. Whether you're up-to-date on all the latest collections by couture designers or you're one of those people who preaches, "I just don't care about fashion," chances are your outfits say something about you. Through our clothes, we take control of the image we want to put out into the world (not unlike the whole practice of selfies) — we allow people to have this strange [kind of intimate] peak at our inner workings. But at the end of the day, fashion opens us up to critique. Not everyone is going to understand why you still shop at Hot Topic, or why that boho frock from East Meets West is your go-to evening-wear. When it comes to celebs, well, they're in the public eye, so the critiquing will be non-stop — and this is something evidenced in every red carpet of every major awards show. At tonight's 57th annual Grammy Awards, the fashion is proving to be as interesting as ever. And that means the analysis and sartorial picking apart is in full swing.
On Sunday night's red carpet, we're seeing something of a trend. Or maybe it's just a Grammy fashion staple: Bizarre, confusing and almost otherworldly apparel. The Grammy's are pretty much the opportune time for musicians to allow their personalities to shine, so that almost always guarantees that we're going to see some whimsy. Sometimes that whimsy is simply awesome — breathtaking even. Sometimes... it's questionable. But you know what's super fun? Trying to figure out what the craziest celebs actually look like. Because sometimes they channel inanimate objects or concepts far too fun to ignore.
Madonna
Alright, say what you will about Madonna, but she knows how to make a fashion statement. The 56-year-old singer (yes, you read that correctly — and if you're anything like me, your mind just melted a little) is known for her red carpet adventures. Tonight, she's wearing Givenchy Couture. And the simple reality is that she looks like a burlesque matador. A burlesque matador who loves "Like a Virgin" and hit a climactic career moment in 1989.
Charlie XCX
Being something of a fan of bizarre-o fashion choices, I can get down with Charlie XCX's cotton candy-esque Moschino suit/bowtie/fur getup. But others out there are already comparing her to Party Down. Okay, guys. I get it: The white-on-white, pink bowtie combo is slightly reminiscent of Adam Scott and crew, but at least it's interesting!
Katy Perry
Katy Perry — not unlike a Miley Cyrus — is known for her un-traditional outfit choices. On tonight's red carpet, she seems to have opted for something a little more "subdued," (as much as Katy Petty can ever be subdued). But something about her Zuhair Murad gown kind of screams "furry chandelier." She told Ryan Seacrest that she just wants to "shine like a diamond." And she does! But in combination with her lilac wig, I can't help but associate this look with Furby Gone Glam.
Frankie Grande
Frankie Grande loves to confuse us (like when he wore full body paint to the AMAs). Tonight, he seems to be channelling the Labyrinth Fireys — which, you know, is kind of cool. If you're into obscure George Lucas films pre-Star Wars prequels (when everything went wrong).
Sia And Maddie Ziegler
So... Sia and Maddie Ziegler have kind of stolen the Grammy's for me. I'm one of the few people who seems to love Sia's anonymity, and the BFF duo tonight is killing it with those big white locks. "Killing it" in the sense of embodying a certain other nutter, that is.
Iggy Azalea
When it came to her gown, well, Iggy pretty much nailed it in a classic colorblocked number fit for a prestigious awards ceremony. But how about her hair? Hmm. Well, a certain carbohydrate comes to mind. Not to mention a certain character from 50 First Dates.
Joy Villa
Recording artist Joy Villa certainly made, um, an impression tonight. But something about this gown... or more accurately, everything about this gown... calls to mind orange safety rope.
Kim K
Kim Kardashian showed up on tonight's red carpet wearing what some would call a luxe bathrobe (even though it was Jean Paul Gaultier). But she made us all remember a little lord we love to hate: Farquaad. Shrek 4E.
Kanye
It's quite possible that Kanye's velour, maroon tracksuit at his Grammy's performance tonight was a shout out to Juicy Couture (because, you know, the designer is closing all its U.S. stores). Not sure what his thinking was, here, but you gotta love reminiscing about the tracksuits of our childhoods!
Rihanna
Oh RiRi: What can we really say about this tiered baby pink gown of yours? You simultaneously look like a cupcake doll, a Furby and those fluffy scrubby things I wash myself with in the bath. I admire Rihanna's boldness here; I do. But there's such a thing as "too much tafetta."
Images: Getty; Twitter; Lucas Films; That Old House; Home Depot; Amazon; Dreamworks Pictures