'Empire's Vernon Was On A Certain Bobsled Team...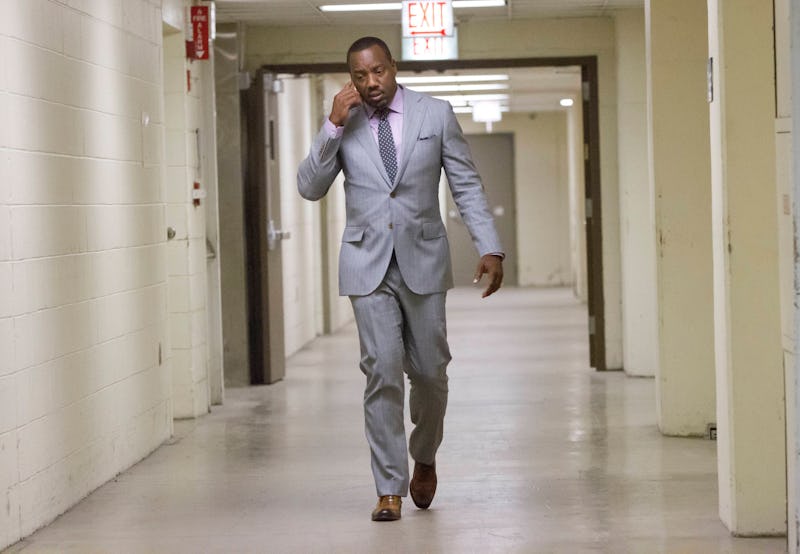 On Empire, Lucious Lyon may think he's untouchable (at least when it comes to the law), but he's about to get a rude awakening. In the show's sixth episode, "Out, Damned Spot," the CEO will finally have to start answering for his involvement in Bunky's death. Lucious' friend and the chairman of Empire, Vernon, played by Malik Yoba, will confront the hip hop kingpin and, for once, and it doesn't look like Lucious will be able to worm his way out. A show-defining moment like this needs a strong actor at the reins, and Yoba is no stranger to decisive characters.
The man who plays Empire Entertainment's second in command has appeared in nearly 70 film and TV projects over the course of his career. But Yoba might be best known for his very first movie: the 1993 comedy classic Cool Runnings , starring John Candy. Cool Runnings is based on the true story of four athletes who just may have been the biggest group of underdogs to ever grace the Olympic stage: the 1988 national Jamaican bobsled team. Yoba played the surliest member of the team, Yul Brenner (not the midcentury actor), who believes, like the rest of the world, that four guys from a Caribbean island could never succeed in the world of winter Olympic sports. Kind of like how no one but Cookie ever believed Lucious would make it big in hip hop.
Check out Yoba's own take on his Empire character, and on Vernon's relationship with the Lyons, in the video below.
Here are some of the actor's other recent roles.
Bill Harken In Alphas
Alphas was a SyFy channel original series that ran for two seasons, beginning in 2011. Like all good science fiction, the show was a little techie, a little creepy, and very entertaining. Yoba played Bill Harken, a former FBI agent with the supernatural ability to control his own fight-or-flight response, a skill which gave him incredible strength and speed for short periods of time. It also made him cranky. The other superhumans — or Alphas — he worked with called him Mean Bill for much of the first season.
Gavin Agnew In Why Did I Get Married? & Why Did I Get Married Too?
In the Tyler Perry film Why Did I Get Married and its sequel, four couples take a vacation together and end up sorting out each other's relationships (which doesn't exactly sound like a relaxing getaway). Yoba plays Gavin, a sensitive architect who's married to Janet Jackson's character Patricia. Like everyone else's problems in the films, the Agnews' troubles stem from their inability to communicate. In Why Did I Get Married Too?, which has a darker tone, they end up filing for divorce.
Ice In Arrested Development
Yoba also had a brief run on Arrested Development before FOX famously cancelled the cult series. The actor played Ice, a bounty hunter/professional caterer who helped G.O.B. track down Michael in Mexico, when G.O.B. believed the younger Bluth was trying to steal their family fortune. Later, as Ice catered a family brunch, he also broke the news that George was killed in a Mexican prison. The character clearly got his money's worth: he later catered George's funeral as well.
Images: Chuck Hodes/FOX; Giphy; FOX