How To Give Your NYE Outfit A Second Life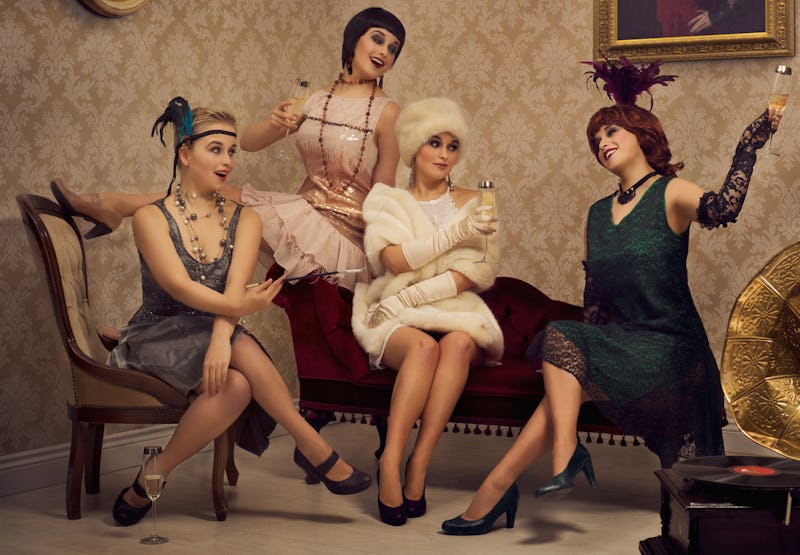 We're well into the second month of the new year, which means the gold and silver streamers have been swept away, the glitter top hats found their way back into the basement, and most of us are well over our hangovers. Most of us.
But while we're already starting to forget what it felt like hailing a cab half past midnight, we can't quite shake the memory of the dress that got us through the night. The glittery, tulle-y confection that matched our pink champagne and made taking the train in high heels well worth it. Now that there aren't too many disco balls in our near future, you might think that it's time to pack the dress away until another fancy night arises.
But I'm here to tell you that that's not necessarily true. What if you can take your New Year's Eve outfits and dress them down in a way that could take you well through your Wednesday morning errands or your Thursday afternoon lunch meetings? What if there's a way to dress down all that sparkle and tulle so you can get more use out of it past the first of the year? Read on and I'll show to you just how it's done:
1. Turn To Knits
Whether you had a tulle skirt, a full dress, or a wildly patterned skirt, the easiest and fastest way to tone it down is to pair it with a thick cable-knit. The cozy, homey vibes of the heavy sweater will calm the flashy tones of your bottom half.
2. Accent With Denim
Did you forgo the dress this year and instead go with a glittery top? Tone down the gold by pairing the piece with casual denim. Opt for distressed skinny jeans and a heavier denim shirt in the same blue to make the eye-catching piece relaxed and unfussy. Then to break up the overload of jean, shrug on a structured blazer or a heavier cardigan for a touch of neutral color.
3. Visit Your Patterned Tops
If you went with a sequined pencil skirt this year, give the piece a laid-back touch by pairing it with a patterned top. Opt for something classic like stripes or polka dots, and preferably in black and white. This will mix with the flashiness of the skirt in a playful way, but the casual cut of the top will help tone down the evening appeal.
4. Opt For A Turtleneck
Or go a heavier route and pair your pencil skirt with a chunky turtleneck. The bulk of the sweater will help attract the eye away from the skirt, giving the look some balance. If you have a more adventurous style and don't want to completely cover the wow-factor of the look, try pairing it with a patterned coat to bring out the texture of the skirt.
5. Try That Hipster Plaid
How about you try toeing the line between casual and ornamental by mixing your glitter and tulle together, but then finding a way to thread a laid-back element through the look? A great way to soften a done-up outfit is to add some plaid. Pop a plaid shirt underneath your evening blouse, and then add some heavy, masculine pieces (like in the form of a watch) to balance out the look.
6. Crop Top Experimentation
Did you wear a floor length gown instead of a skirt? There's an easy way to give it some Wednesday appeal: Pop a chambray or plaid blouse on top of it. To give you a more defined waist, make sure you tie the ends of the shirt into a crop top. And if you don't want the ends of the hem hanging out, just tuck the knot underneath like so.
7. Neutrals #FTW
If shimmering pants were your scene this year, try toning them down by surrounding them with neutrals. Treat them like they were a normal pair of jeans and pair them with cozy knit sweaters and suede booties, but go a step further in giving them a casual touch by blending them in with soft, muted colors. Go for your oatmeals, your nudes, and your blacks and greys.
8. Minimalism, Minimalism, Minimalism
If you went with metallic that evening, give the skirt some weekday flair by going minimal with the rest of the look. Try pairing it with a neutral toned turtleneck and sleek accessories. Opt for clean-lined booties and a structured bag, letting the skirt make the only statement.
9. An Unobtrusive Sweatshirt
Did you decide to dance under the confetti with a flirty mini? The best way to tone down the playful number is to pair it with an unobtrusive sweatshirt. However, to not look like you're in the middle of a walk of shame back home, choose one in a more grown-up style to make it look intentional. For example, choose one in a thicker material, or one cut from neoprene for a more structured look.
10. Break Out The Comfies
Another great way to dress down glitzy pants is to match it with pieces you'd normally reach for on your days off. Try mixing fancy with casual by pairing your trousers with a tailored button up shirt, but then toning it down with a cargo jacket and a thick beanie. Try rolling up your jacket sleeves so the white of the shirt peeks out, balancing out the outfit and tying the opposing elements together.
11. Your Staple Tee
If you had a floor-length, show stopper of a number, try pairing it with a simple tee to take the fuss out of it. If it was a dress, choose a grey or white tee (plain or graphic) and tie the hem in a knot by your hip. If you had a skirt, simply tuck it into the waist and let it billow out slightly, giving it a more laid back vibe.
12. Some Subtle Clashing
Another great way to play down glitter is to mix it with patterns. Whether with stripes, polka dots or tartan, the fastest way to move it out of evening wear and into weekday territory is to tone it down with some subtle clashing. If you have a quieter style, you don't have to go all out with a patterned coat or blouse. Try mixing it in with accessories, like your flats or a clutch.
13. Casual Accessorizing
Still feel too fancy, even when you've paired your pieces with cable-knits and soft tees? Then go all out by pairing your shimmery piece with your typical weekend uniform. Choose a dark hued tee to attract your eye up from the skirt, and pair it with a casual denim jacket and your favorite pair of Chucks or tennis shoes. Add in a pair of sharp sunnies and a wide faced watch for good measure, and you'll be well on your way!
Images: Fotolia; Instagram/Courtesy Users