She Bounced Back From Her 'Idol' Panic Attack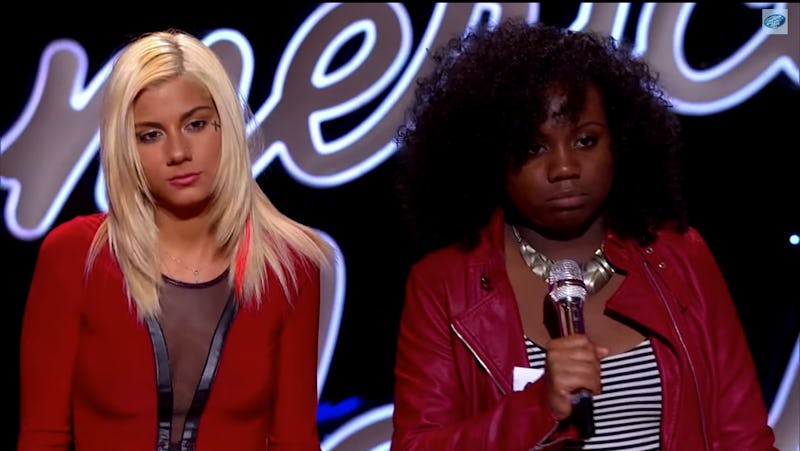 American Idol has been on a "dramatic cliffhanger" kick — probably in hopes of boosting ratings — and last week was no exception. Hollywood Week left off with Alexis Danielle Granville suffering a severe anxiety attack that only Kelsey Poe of The Bachelor would be jealous of. Granville was escorted offstage by medics and her group round team was left onstage selfishly wondering if this would effect their Top 24 chances (K, so they didn't actually say that but one can only assume...) So what came of the panicked performer? After a long week of anticipation and assuming the worst, we finally have our answer. Granville suffered an anxiety attack but was able to bounce back and help her group deliver a cool, stripped-down version of Train's "Drive By."
So how did the audition go for Sal's Gals? Well, it was a split result. Granville made an amazing recovery and earned a spot in the next round. Going with her is my current favorite, Jax. Unfortunately, team leader and Mr. Charismatic, Sal Valentinetti, was sent home, along with single-mom Kelley Kime.
There's no question that Jax should've gone through. She is incredible and deserves to win this whole thing. But Granville? Her performance was okay, but I would not consider it one of the best of the day. I commend her for bouncing up as quick as she did, but her style didn't fit the song. It didn't seem like she even tried to fit her voice into it — her goal was to stand out. She gave an over-the-top performance that fit more of a pop power-ballad than a gritty version of "Drive By." The judges could have seen something that I didn't — it's their job to do that — or they could have given her the pity "yes." Either way, we'll see her in the next round but I doubt she'll make it much further than that.
Image: YouTube - IdolxVoice