16 Valentine's Day Treats You Can Mail To Anyone And Everyone You Love In Time For February 14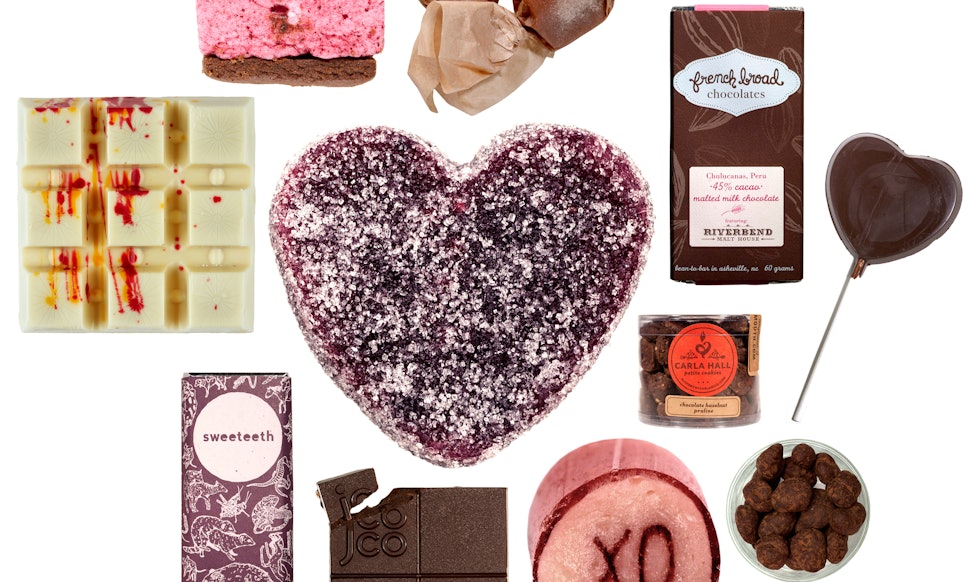 There's no better time of year for sugar rushes and texting your crushes than Valentine's Day. Although most people spend it wining and dining their significant other and paying too much for heart-shaped boxes of chocolate and roses, we're better than that. Whether you're single and missing your best friend, looking for an inventive gift for your boyfriend across the country, or wanting to show your mom how much you appreciate her, there are plenty of mail-order Valentine's Day treats that will satisfy anyone. Britney Spears told us how to e-mail our heart, but sometimes it's better to snail-mail something tasty instead.
From sweet messages on even sweeter cupcakes to a savory cheese basket that's better than a date, check out 16 ready-to-mail gifts for the perfect V-Day.
Image: Mouth
For Your Best Gal Pal
"Kiss Me" Chocolates, $45, Francois Payard
Your friend's lips will be movin' with many thanks when she gets these amazing chocolates. Half are milk chocolate with fleur de sel, and the others are dark chocolate with passion fruit and mango.
For A Date You Want To Impress
Lobster Pot Pie Dinner For Two, $99.95, Harry and David
Let's be real: this could also be a gift for yourself. It's a three-course meal in a box — which ships frozen to your door or someone you love — and includes two decadent lobster pot pies, two "quattro formaggi sides of delicate crab meat, tender shell pasta, and a rich cheese sauce," and a flourless chocolate cake. Great for a long-distance relationship, but you probably will have to buy two.
For A Foodie Friend
Infused Olive Oil, $16 to $22, Fig and Olive
Flavored olive oils taste romantic, but they can also be platonic if you send it to your best friend. Try blood orange, white truffle, meyer lemon, or basil.
For Your Favorite Wine Lover
Rosè Vinegar, $12, Tavern Vinegar
Sometimes drinking wine on Skype isn't enough, and you have to have wine-based vinegar. This rosè is the perfect color for V-Day and has hints of cranberry and cherry.
For The Caffeine Addict In Your Life
Hologram Coffee Blend, $15.25, Counter Culture
We all have one, and this fruit-forward, chocolatey Hologram blend is perfect for your Valentine. They can brew it in a pot or with a cool Bonmac Pro Cone ($20) for pour-over single servings.
For The Cheesiest Person In Your Life
Say Cheese Taster, $45, Mouth
This taster includes a creamy Coupole cheese, fig "salami," roasted pistachios, and Jan's Farmhouse Crisps. What more could you ask for?
For Your Own Chelsea Handler
Vodka Subsription Club, $119.99, Caskers
Three bottles of vodka shipped directly for $119.99 every three months is like living out Chelsea Handler's Are You There, Vodka? It's Me, Chelsea.
For Your Favorite Amateur Bartender
Quince and Apple Cocktail Syrup, $18.99, Caskers
You can both sip cocktails while on FaceTime, preferably using the vodka subscription at the same time. Choose from rhubarb hops, citrus, lime and cucumber, or tart cherry grenadine.
For Your Down-South Grandma
For Someone You'd Give Your Heart To
Heart-Shaped Compost Cookie Cake, $44, Momofuku Milk Bar
My heart is filled with Compost Cookies (a.k.a. pretzels, potato chips, coffee, oats, chocolate chips, and butterscotch morsels). Is yours?
For Someone Who Melts Your Heart
For Your Cross-Country Crush
For Your Childhood BFF
Assorted Rice Krispie Treats, $29, Treat House
These Rice Krispie treats are next level and include flavors like Rocky Road, sea salt caramel, birthday cake, peace love and gummy bears, and s'mores. Send 'em to your preschool pal, or to your first boyfriend, just to freak him out.
For Your Loving Mom
Fika's Date Night Truffle Flight, $32, Dean and Deluca
This truffle "flight" includes coffee, popcorn gianduja, goat cheese, champagne, spicy chile, and cereal. No idea what they taste like, but your mom will feel fancy when she gets them.
For Your College-Aged Sibling
Garrett Mix, $33, Garrett Popcorn Shops
Go for the Chicago Mix (cheddar and caramel), or try a new flavor like dark chocolate-covered caramel crisp. You can't go wrong for your brother or sister, both of whom probably survive on snack food anyway.
For Your "Person"
XO Collection, $65, Mouth
This awesome basket could be Beyoncé approved with a passionfruit caramel bar, chocolate hazelnut cookie bites, XO candies, and much more.
XO Collection, $65, Mouth