11 Titles T. Swift Should Make Her #FridayReads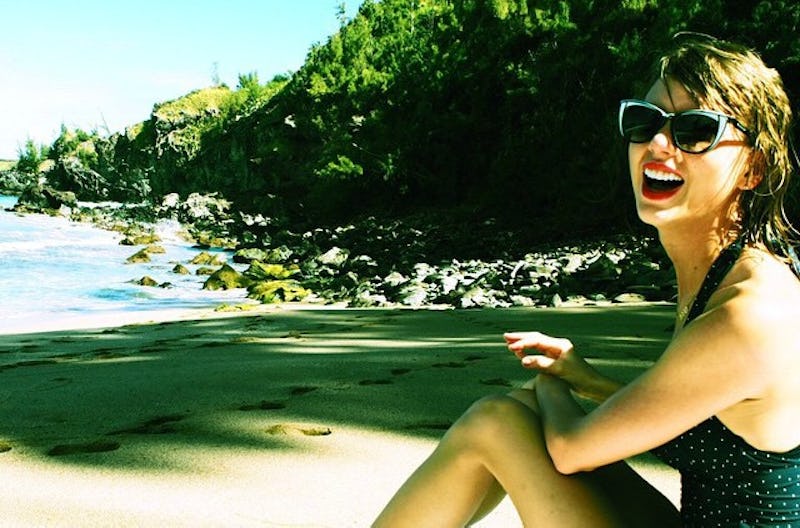 Oh Taylor Swift, how do we love your Instagram? Let us count the ways: Is it your idyllic trip to the woods with Karlie? Your cute snaps with fans? Or perhaps it is your very apparent love of cats? (We approve, obv.) While all these things are well and good, your social media presence is missing one crucial thing: a #shelfie.
That's right, Tay, we're talking books. Highly exhaustive research into your relationship with the written word has only revealed that you may have read The Tale of Peter Rabbit at some point. (Evidence was inconclusive.) Surely, even in a life as busy as yours, there's some downtime to snuggle up to Olivia Benson (the cat version) and sneak a few chapters. You're besties with Lorde — does that mean you're a Hunger Games girl out of support? Or do you consider yourself more of an Austen type? Sci-fi? Mystery? Lit mags? Inquiring minds — OK, mine — are dying to know.
But in case your lack of #FridayReads is just 'cause you don't know which title to pick next, I've got a few ideas in mind. It's hard enough to find your next read when you're not a world-traveling, supermodel-hosting, cookie-baking pop star next door. Since you're my BFF in my head, I'm totally here to help you out. From nonfiction to memoir and more, here are 11 picks for a good book when you're feeling happy, free, confused, and lonely... at the same time.
Turn Around Bright Eyes by Rob Sheffield
I know you're already questioning my credibility, Tay, and thinking: Why would I read a book about people miming pop stars when that's what I ACTUALLY DO EVERY DAY ON THIS PLANET? But let's be real: America knows you're the most GIF-able lip syncing and shimmying lady at every music awards show, so it stands to reason that you'll be able to relate to music critic Rob Sheffield's story in Turn Around Bright Eyes. It's about how he finds love after an enormous loss, all while reminiscing about classic karaoke jams. (Plus, it's got those eighties vibes I hear you've been fond of lately.) And if there's one person who can hit that weird high note on "Livin' on a Prayer," Taylor, it's you.
The Love Affairs of Nathaniel P. by Adelle Waldman
I think it's great that you're spending your time lately focusing on your fans and friends over any troublesome dudes, but it's always a wise idea to reflect on the follies of our pasts with some quality literature. Enter this book by Adelle Waldman, who was praised for so artfully nailing the heretofore mysterious inner-workings of the educated millenial male urban dweller. You'll gain more insight for future lyrical inspiration — and breathe a sigh of relief that you're taking a break from the dating world for now.
Women in Clothes by Shelia Heti, Heidi Julavits, and Leanne Shapton
Thank god we're in 2015, a time where cheer captains and bleacher-sitters can get together and agree they can wear whatever they want regardless of a clueless dude's perception of them. So it seems fitting to add Women in Clothes to your coffee table. Authors Shelia Heti, Heidi Julavits, and Leanne Shapton asked hundreds of women about their dressing habits, closets, and fashion influences, and the result is a beautiful, oddly calming tome of how ladies dress today. It came out in 2014, but I have a feeling this one — can't help it — will never go out! Of! Style!
Boy, Snow, Bird by Helen Oyeyemi
It's natural to get caught up in your own Romeo-and-Juliet-esque tale in your late teens, until you realize the story boils down to some bad communication skills and highly dramatic (Get it? We're talking about a play) characters. But rejecting that tale doesn't mean you can't keep a little of that magic, almost fairy-tale-like feel of a sweeping, intricate story — so here's Helen Oyeyemi's Boy, Snow, Bird. The narrative, focusing on the life of a young woman in the 1950s who escapes her father and becomes part of a new family, hums with beauty throughout. It's not a typical happily-ever-after deal, but you'll be riveted regardless. If you love Oyeyemi, you'll be tickled to know she has another excellent book called Mr. Fox, as in "they are the hunters, we are the" — oh, never mind.
The New York Regional Mormon Singles Halloween Dance by Elna Baker
Boys, boys, boys. They only want love if it's torture, amirite? This hilarious memoir from comedian Elna Baker thankfully lightens up the ages-old tale of trying to make it in the romance department. Even if you didn't grow up LDS, it's easy to find similarities with the plucky Baker as she tries to make it in the big city (It's been waiting for her!) while trying to find a beau to match her new life. It's the perfect read to pull you out of those never-ever-ever-getting-back-together doldrums.
Just Kids by Patti Smith
Sure, you've been named New York's Global Welcome Ambassador, but TriBeCa apartment living does not capture the full experience of living in the best damn city on Earth. (Biased, sorry.) Pay homage to those who came before by reading Just Kids by Patti Smith, the singer's widely lauded memoir about her relationship with photographer Robert Mapplethorpe in the late sixties and seventies. It won't totally absolve you of Big Apple residents' criticism of "Welcome to New York," but it's a start.
Brain on Fire by Susannah Cahalan
Tay, I'm recommending this book to you because it's so good in that gripping, Grey's Anatomy-marathon kind of way. In Brain on Fire, up-and-coming journalist Susannah Cahalan comes down with a mysterious condition that eventually leads to a lengthy hospital stay. She keeps getting worse, and doctors can't figure out what is wrong, and I guarantee your face will be stuck in a did-I-just-win-this-Grammy expression of shock throughout this book. And then you'll wander around for a few days, wondering if every small twinge or headache is the one that leads to total brain destruction. Follow up with extra hang-time with Meredith Grey (also the cat version) and call me in the morning.
Wild: From Lost to Found on the Pacific Trail by Cheryl Strayed
I apologize to the excellent, award-winning author Cheryl Strayed for this, but I have to say it. Throughout this wholly gripping memoir, you'll just be asking yourself: ARE WE OUT OF THE WOODS YET ARE WE OUT OF THE WOODS YET ARE WE OUT OF THE WOODS? Phew. But in all seriousness, the story Strayed tells about her decision to hike the Pacific Crest Trail after her mother's untimely death and her own years of self-destruction will break your heart and put it back together a few times before you reach the last page. And while Laura Dern and Reese Witherspoon do a bang-up job playing Strayed's mother and Strayed herself in the film adaptation, you better read the book first. And then you'll be IN THE CLEAR YET ARE WE IN THE CLEAR YET IN THE CLEAR YET GOOD. Okay, moving on.
The Misadventures of Awkward Black Girl by Issa Rae
Girl, I know you're tight with Lena Dunham, but you should check out this book from Internet-famous Rae if you want to keep up with the funny-ladies-writing-memoirs genre (seriously, when will Barnes & Noble start a section for this? Please?). She'll make you bust a gut and take your mind of the stresses of touring, then make you nod in recognition at life's little misadventures as you read about Rae's adventures finding friends, work, and love. I know awkward is your thing, girl — this book will help you own it.
The Sorrows of Young Werther by Johann Wolfgang von Goethe
So you capped off 1989 with "New Romantics" — why not try some old ones? The Sorrows of Young Werther is considered to have sparked the Romantic era in Germany with its 1774 publication. As a young artist who feels love to the fullest — and the most painful — you'll empathize with Werther's plight and grab a few of his musings to write in your notebook, digging how perfectly they capture the feeling of unrequited love. Were he real, you'd be like, "Baby, I could build a castle/out of all the bricks they threw at me," and he'd be like, "Ugh, I totally get it."
Corduroy by Don Freeman
You rocked the Paddington Bear look before, but can we make this year all about green, one-shouldered overalls? Just a thought, girl. Call me and we can coordinate for book club next week.
Image: Taylor Swift/Instagram