The 'Bachelor' Ladies Will Tell All About 5 Things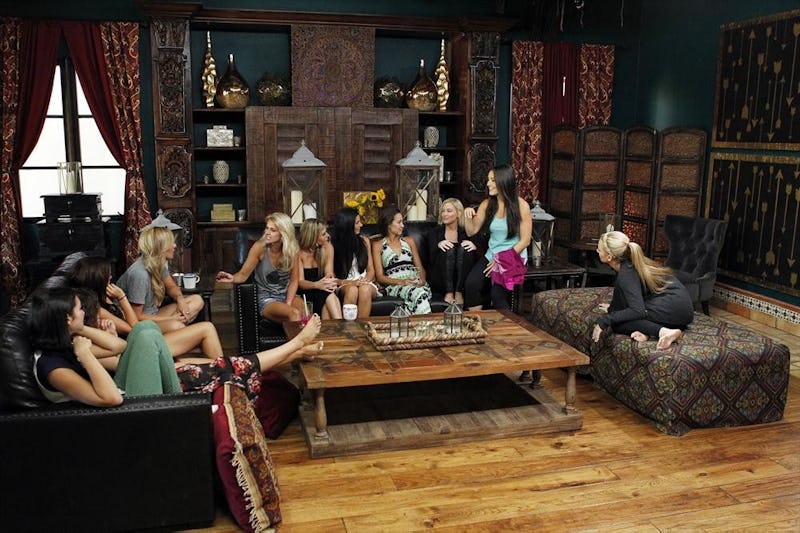 While I love watching the actual Bachelor season, The Bachelor: Women Tell All episode is where we finally get to see what actually happened while on-set and learn things about The Bachelor season that the editors cut out — often, this includes a lot of things that make scenes much less dramatic than the version that hits the small screen. According Ashley I's interview on Jimmy Kimmel Live!, the women are getting back together on February 21 to film Women Tell All and the special will air on March 2, if the show sticks to its usual schedule: airing Women Tell All between the fantasy suite episode and the Final Rose.
We've already heard Kelsey Poe's side of the story on the special Sunday Bachelor when Chris Harrison brought her back to talk about the controversy over how she was portrayed, but it's always better when it's not just her, but all the other women are there to respond to the things each other says. The Women Tell All episode is a chance to finally hear people talk about everything that happened on the show, confront each other and open up about how they felt going through the process. It doesn't hurt that we usually get some juicy gossip too.
Secretly, I am always hoping that it turns into a Real Housewives reunion, but things never usually get that out of control. Alas, there are certain things we can already expect to see on this predictable special episode:
Kelsey & Ashley I. Come To Blows
Ashley told Jimmy Kimmel that she hasn't seen Kelsey since that moment they were on the bed in the desert together, but she did say that the Women Tell All filming was coming up and that it's going to be interesting to see how the two interact after that moment. Since it was probably the most dramatic moment on the show it will definitely be one of the topics covered.
Kelsey In The Hot Seat
Like Tierra from Sean Lowe's season, you know Chris Harrison is going to bring Kelsey into the hot seat again, let her explain her side, while the other women finally get the chance to say the things that they said in talking head interviews openly and to Kelsey's face. It should be very, very interesting.
Britt Explains Her Tense Moment With Chris
Britt and Chris seemed so into each other before she had a breakdown in Des Moines, Iowa. Women Tell All is her chance to talk about that moment and what exactly happened. Britt sort of explained why she freaked out when Chris gave Kaitlyn the rose, but this will give us some more insight, especially since Chris clearly was smitten with Britt for almost the entire season.
The Ladies Will Tell Chris Off About That Big & Rich Concert Date
The women will finally confront Chris about how messed up it was for him to take Britt off on her own date in the middle of their collective group date. The women always get a chance to put the Bachelor on the hot seat for something he did during the season and this seems like it could be it.
Chris Harrison Will Ask Dumb Questions
I'm sorry, but next to Vanna White, Chris Harrison has quite literally the easiest job of all time asking people how they feel and if they were in love, so we know without a doubt that these super deep questions are coming.
Images: Rick Rowell/ABC; Bachelorabc/Tumblr (2); Giphy